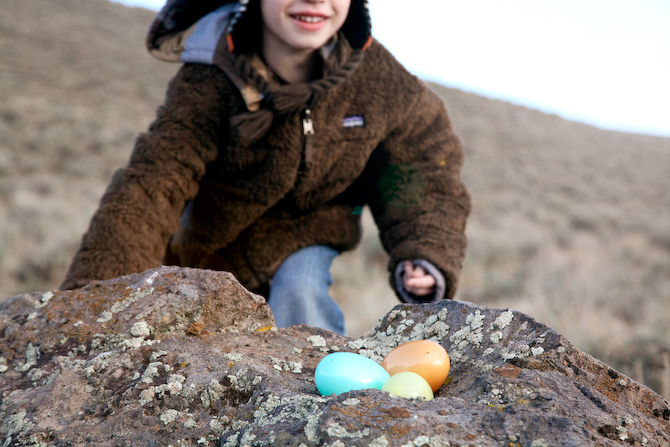 The first Easter that I clearly remember involved a basket, some plasticky green fluff, a bunch of chocolate, a candy shaped like the easter bunny, and a book about kittens.  All in a park.
The best Easter I remember involved a car, 15 or so puzzling clues, a compass, a few 7.5 minute maps and a highway map, binoculars, a bottle of water, some plastic eggs, and a picnic in the desert.  Best.  Easter.  Ever.
So fun we did it the next year.  And the next.  It became a tradition. The day before Easter, my mom and dad would drive all around northern Utah leaving plastic eggs hidden in interesting and obscure places.  Three or so eggs at each place, replete with chocolates and jelly beans, and one egg with a 'clue' to the next location where eggs and candy could be found.    They'd give us a clue to start with, follow us around for the first few, and then leave us on our own for the last ones.  The last clue would lead us to a place known only to them.  When we'd arrive, exhausted and excited from our morning of treasure-finding, they'd be waiting there with an extravagant picnic lunch.
One year went something like this:
Clue 1: Lq wkh Edfnbdug.  (A little letter-shifting code for:  In the Backyard.)
Clue 2: Look In Between the Ridges of the Arch to Reap Your reward.  (i.e.:  Look In Between the Ridges of the Arch to Reap Your reward; i.e.: LIBRARY).
Clue 3: Drive three blocks east from here.  Turn north.  Drive one block.  Turn north again.  Drive 3.2 miles.  Turn east.  Drive 1 mile.  Flip a u-eey.  Drive 2.6 miles.  Park on the west side.  Commence searching. (more…)