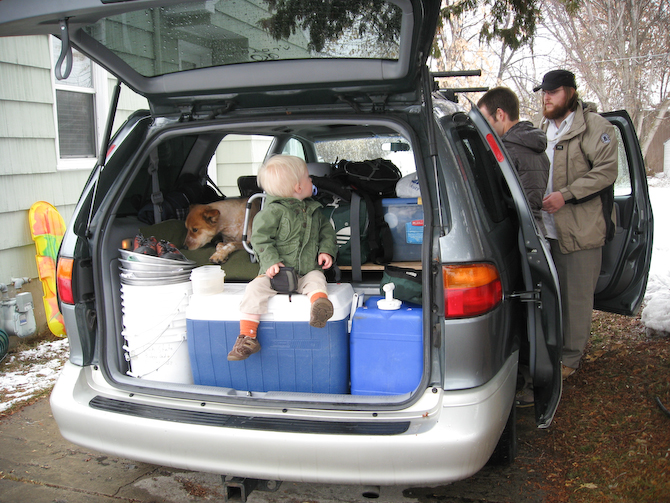 When we had our giveaway a few weeks ago one of the most mentioned camping tips was to make some sort of camping box. A large waterproof tote that holds the majority of your camping supplies. The idea behind such a box is that you always have the bulk of your gear packed and ready to go. I could not agree more.
The problem is that it's hard to keep ALL your camping gear together all the time (because a lot of stuff gets used for day adventures as well).  Some stuff gets put away between adventures, but some stuff we've bought two of; it's worth it to buy an extra set of supplies and make a kit that ALWAYS stays together.
I've already done posts that list out all the items needed to make:
A Mobile kitchen: a bin that houses all our cooking essentials and a few other odds and ends.
Mini Survival kit:  a go-everywhere kit with random survival and medical supplies (although we still also bring a larger first aid kit).
You can also easily make dedicated camping kits for personal hygiene and dog supplies (see lists below).
To make packing the rest of the gear easier, we try to keep most if it together. We turned a corner of our garage, and a corner of our guest room closet into 'gear closets'.  They house the aforementioned camping kits, as well as our sleeping bags, sleeping pads, tent, tarp, climbing/kayaking gear, backpacks etc. When it's time to pack, everything is easy to find.
When preparing for a camping trip we throw our mobile kitchen and survival kit in the van and use the checklist below (download a PDF of this Ultimate Camping Checklist here) to gather/remember everything else. (more…)