Written by: Lindsey and Olivia
Olivia Bag /uh-LIV-ee-uh • ˈbāg/: a flexible container of random items compiled by Olivia for jimmy rigging anything (and just about any body) that breaks while out on an adventure.
The idea behind the Olivia bag (known to some as a 'survival kit') is that whether you're hiking, backpacking, river-rafting, biking, or doing some other outdoor activity, the emergencies will generally fall into three categories:
1) Your equipment breaks.
2) You hurt yourself.
3) Something is inconvenient and annoying and needs an inventive remedy.
In all categories, the point is to fix the problem as best you can on the spot, making something that is 'good enough', and will get you back to the real world for a proper fix. I know it seems crazy, but I've used darned near every item in these bags at one time or another!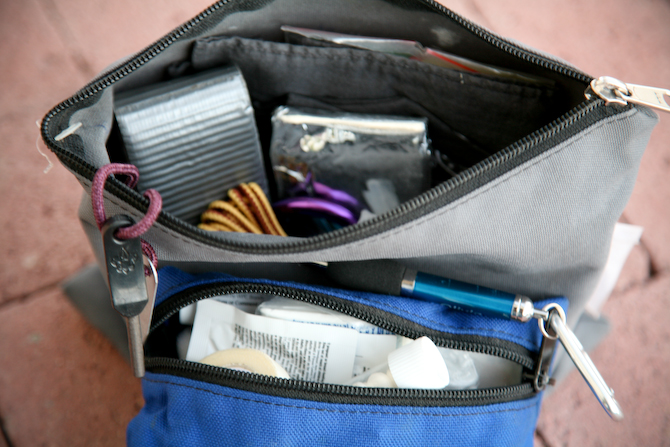 I assure you that all these items fit into a small (5×6 or so) zipper pouch. You can use a make-up bag (found at most stores in the beauty isle, or at thrift stores), or something like a Pack-It Sac available at most outdoor stores.  You can even put all the small items into their own little baggies, purchased in the hobby section of your favorite "mart".
My Olivia bag is actually divided up into two bags (pictured above). The first (larger bag) has all the non-medical essentials (known as the "Olivia Essentials" below). The second is smaller and fits snugly inside the first. This bag has all the first aid supplies (listed below as the "Olivia Medical"). (more…)