Written by: Lindsey and Olivia
To help ease some of your outdoor paranoia's, here are a few simple guidelines for the most common 'dangerous' wild animals.  Maybe knowing more about the ones in your area will make it easier to get past any latent fears and take advantage of the outdoor areas near you.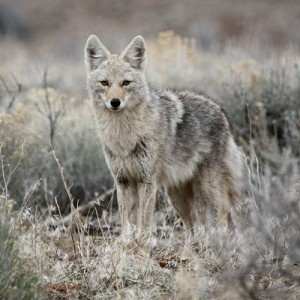 COYOTES AND WOLVES
Range: Coyotes are found throughout North America, even in downtown Los Angeles! Â Wolves (the Grey Wolf) is found throughout Canada and in the northernmost states of the U.S.
Coyote attacks are extremely rare. I've had several strange encounters with coyotes lately; thankfully they have not seemed intent on hurting me.  Wolf attacks are also extremely rare.  I only found four cases where a wolf/wolves had killed a person in the last twenty years in the U.S., and two of them were from 'pet' wolves on chains (one was a runner in Alaska).  There are a few more cases of attacks where everyone survived, including this story from Canada.  Interestingly (and sadly) wolf kills are not uncommon in Russia.
If a coyote approaches you, try to look big, make loud and sudden movements, and throw rocks.
Don't run. Like most canids they may chase a moving object.
Make sure you stay between the coyote and your children.
If a coyote is barking at you, back off slowly. If it's spring she probably has pups and just wants to make sure you stay away.
Wolves in the lower 48 are still rather uncommon, but should you and your kids run into a pack in Alaska, don't run and don't turn away. Â Make noise, make yourself large, but don't be overly aggressive. Â Find a stick and some rocks to use against the animal–aim for the nose. Â Wolves don't climb trees well, so get yourself up in one quickly if you can.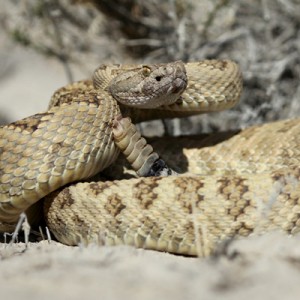 VENOMOUS SNAKES
Range: Species of rattlesnakes and rattling relatives are found throughout North America.  In addition, there are a few species of Coral Snakescattered throughout eastern and southern U.S.,the cottonmouth/water moccasin, which occur in the southeastern states of the U.S. up into the lower half of the Great Plains, and the copperhead, which occurs along the east coast, and throughout the southeast.
What to do before you see a snake:
Hike in shoes, the higher the tops the better.
If your worried you also might want to consider wearing pants.
Avoid hiking in tall grass, swimming in swampy water, and putting your hands and feet onto cliff ledges you can't see.
Schedule hikes early in the day, before it gets hot.  Many snakes like to come out in the heat of the day, and lay in the sun where you may walk.
Learn how to identify poisonous snakes.
Be aware of the sounds and movements around you. Â Rattlers will try to warn you if you are disturbing them too much, but if you don't hear the sound, it does no good!

(more…)