My next door neighbor is my best friend in town. Â We meet up several times a week for popsicles, hot chocolate, or chit chat about what's been going on in our lives. Â His name is Elias and he's 11.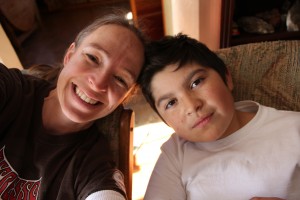 Did I mention I don't get out much?
It doesn't matter, he's as entertaining as any adult, and full of jokes and wild ideas. Â You should hear his plans for the shed in his back yard… it involves a two-story swimming pool, a fire pit, and tiles made out of natural sandstone. Â He's a whiz at doing math in his head (but not questions about time). Â He loves electronics, making up stories, and mapping out routes in his head. Â Elias has Asperger's Syndrome.
I won't even pretend to know what this means from Elias' point of view, or what it's like to be his mother. Â He and I have a different sort of relationship… but I do know this: he struggles in school and gets picked on a lot. Â So much so that he now hates school. Â I don't have to pretend that this makes me sad. (more…)