Awhile back The Heritage Council published the results of a survey that examines the differences in playing outdoors between generations. Parents were asked where they played when they were children and where their children (ages 7-11) now play. Although playing at home, in a friend's home indoors, the garden and the school playground are still the most popular locations for playing across the generations, it's no surprise that there were decreases in the number of kids who played in fields, wild spaces and the woods.
I was however a little surprised at first when "supervision" emerged as the number one barrier to children playing and experiencing the outdoors.
This is something I've thought about quite a bit in relation to how I was raised compared to how I'm raising my own kids. I feel like I ran wild (to which I will be forever grateful to my Mother), and although I want my kids to have the same experiences I did, I'm just not sure I'll be comfortable with the same level of supervision my Mom was.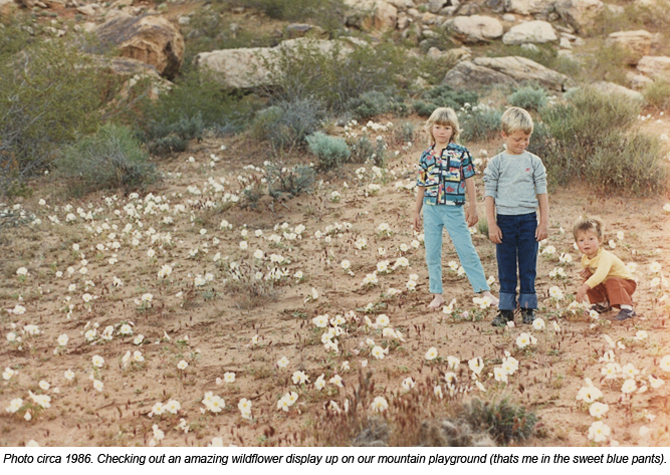 To make my point let me dissect the first paragraph in my About Me page.
I grew up in Southern Utah.
My kids were, until recently, growing up in a gated community, in the biggest little city in the world, Reno Nevada.

I spent my childhood outside; skin as brown as the dirt, hair bleached blond in the sun.
I have naturally fair skin, so this was obviously back in the days before sunscreen. With all the hype over sun exposure I'm only slightly less paranoid than the next Mom about maintaining sunscreen applications, keeping hats on, and providing protective clothing.
We lived on the edge of town where there was plenty of room to run.
In most places the space that once outlined the "edge" of our towns now mark the beginning of another town. In the few places where there may be some open space it's generally privately owned and pegged with a no trespassing sign.  (And you know, with all the lawsuits now days, who can blame them?)
My favorite activities consisted of hiking to a cave atop the mountain near our house,
A few details about that cave at the top of the mountain:  There's a good 20 feet of 5.5 climbing route to get to the top (which we free climbed) and once you squeeze through a crack into the cave, there's an opening on one side with a 75+ foot drop.
tubing down the irrigation canal,
On one occasion I distinctly recall tubing down uncharted territory only to find the canal was about to go under a culvert in the road. Luckily my older brother and his friend pulled us all out, scraped up and crying. Pretty sure we vowed not to tell my Mom about that one…
snorkeling at the pond with the crawdads,
Let me remind you this was before the days of life jacket paranoia.
skim boarding down at the river,
Do you know how many homeless people (i.e. 'strangers') lived down there? We knew of at least one. We also use to cover our bodies in mud and try to scare cars on the bridge; can you get arrested for something like that nowadays?
and playing with my (dare I admit it?) barbies.
Aaaaand, let's not go there.
I'm wondering if my fears, as well as the fears of the parents in this study are justified. Are children who spend time unsupervised outdoors really that much more at risk than we were? Is this a legitimate fear or is it a fear based on our increased access to information? Some kid gets kidnapped in Europe and I'm sitting here in Utah in a heightened state of paranoia! 
I'm not advocating that as parents we totally let our guard down, but we can't discount the benefits of allowing our kids to spend time outdoors unsupervised; time for their imaginations to run wild, time to think and problem solve for themselves, a chance to adapt to new situations, to gain some independence, etc. Right?
When I was googling around to see what other people thought on the subject I found this article entitled Why Your Kids Should Play Outside. The author lists reasons for and against playing outside. His thoughts on why kids should play outside: learning to play, sunlight, improving immunity, different senses, and he goes on to list several other reasons that are spot on! I was equally impressed with his reasons for not playing outside: predators, bullies, getting hurt, West Nile virus, etc.
But this is where we as parents come in. True, my kids are only 1, 3 and 6 right now, so letting them roam too far off outside unsupervised isn't an option at this point, but it's something I've obviously started thinking about. The way I see it by spending time outdoors with my kids now allows me to teach them the foundational rules of 'safe' outdoor play. If I do this well, when they're older, they can explore on their own; within the safety of the rules I set up for them of course.
I may not be able to follow my kids around with mosquito spray, but I can teach them to put on a long sleeve shirt. My parents may not have come up to "the cave" with us but we'd hiked together along cliffs enough for me to know how to maintain safe boundaries.
I could go on, in fact I could write a whole book on the topic of children's decreased access to nature (i.e. nature deficit disorder); luckily someone beat me too it. If you haven't read Richard Louv's book Last Child in the Woods you should. I'll admit, it's been awhile since I've read it. I need to read it again, now that I have kids of my own I'm guessing I'll get even more out of it.
So, how do you handle the dilemma of outdoor supervision with your kids? What skills do your kids need before you would feel comfortable letting them explore unsupervised? What are you fears? Your rules?
I'm thinking a separate post is in order for the answers to these questions. Unfortunately I don't have all the answers, this is where you come in. Ideas?