Today I'm joining a a group of outdoor bloggers in listing our favorite campgrounds in the US and Canada (be sure to scroll to the bottom to see more lists of great campsites).
I've mentioned before that I'm not really a campground kind of girl, but every now-and-then I've found myself in a low key backwoods campground where I actually didn't mind having a few neighbors and sometimes even a bathroom. Â Here, in no particular order, are my favorites (in the West, where I've most often found myself pitching a tent).
1) Â Kodachrome Basin State Park. Cannonville, Utah.
Kodachrome Basin is just outside of the Grand Staircase-Escalante National Monument, and just down the road from Bryce Canyon National Park. This campground tends to be relatively quiet (as in not a lot of people). They have toilets, showers and picnic tables and quite a few trails (many of which are good for kids). It's a small park, but very picturesque and it's close to all sorts of amazing exploring opportunities.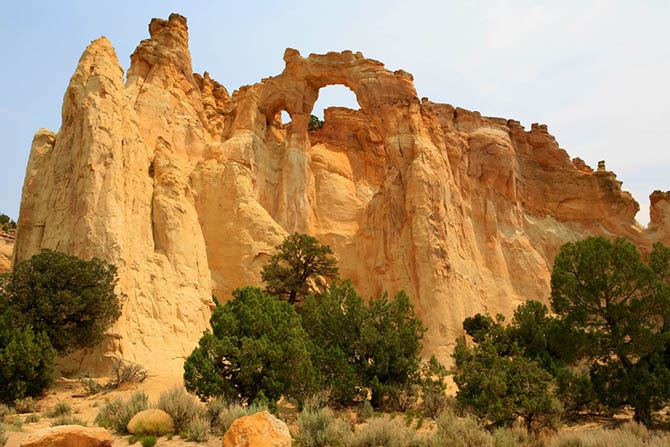 2) Â A Campsite near Lassen Volcanic National Park, California.
I have no clue what this the name of this campground is, but I can tell you that it's between the Cinder Cone trail in Lassen Volcanic National Park and Highway 44. It's a little Forest Service campground tucked away and apparently not advertised. It's such a great little spot with big trees, a little stream running by and just a few miles outside of the park. I posted about this trip here.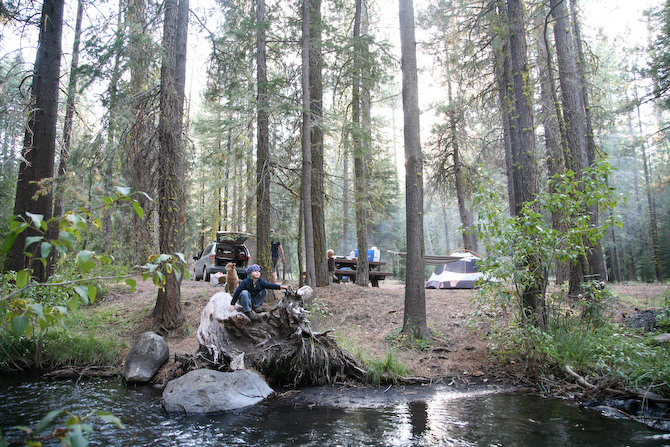 3) Â Coast Camp. Point Reyes National Seashore, California.
I really like all the campgrounds in Point Reyes,  mostly because you can't drive to them, you have to hike in. Coast Camp is my favorite because it's an easy hike in for kids, 2 miles along an old dirt road, or you can bike there, or push a stroller. It accessible but provides that added element of adventures to anyone willing to give it an effort. The campsites themselves are nothing to write home about, but whole experience is what's worth it. It's really close to the beach, and some tide pools, and it's got the best rope swing I've ever had the privilege of swinging on.
4) Â Anza-Borrego State Park, Arroyo Salado Campground, California.
You have to hit Anza-Borrego State Park in the spring, during wildflower season. It's warm and colorful when most of the rest of the country is still cold and drab. There are quite a few different campgrounds in the park, but we always migrate towards Arroyo Salado because it's never crowded, probably because it lacks a few amenities. It's got a pit toilet, but that's about it. Still, we get down there every spring we can.
5) Â Buckhorn Draw. San Rafael Swell, Utah.
This place is pretty darned awesome. The place we camp doesn't have toilets and tables, but there is a campground at San Rafael Bridge Recreation Site that does have some amenities (toilets, tables, flat spots but no water). It's a long dirt road in, so you have to be dedicated to finding beautiful scenery well off the beaten path. The campground is right in the heart of petrogluphs, climbing, hiking and off trail exploring.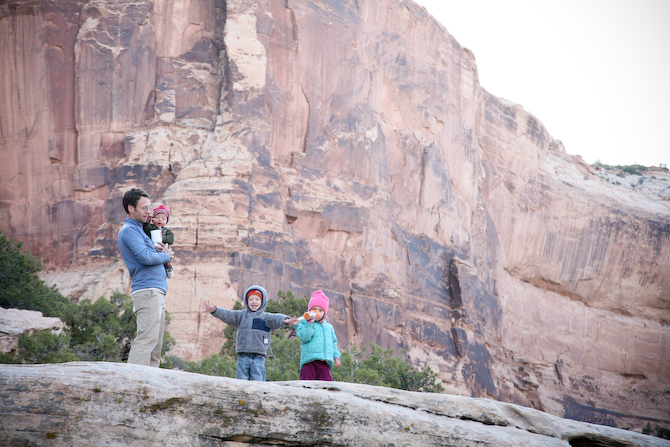 6) Â Gold Bluffs Campground. Orick, California.
This campsite is amazing, especially in the winter when it's totally empty. There are not many campsites left on the West coast that let you set up camp so close to the beach. They have showers, restrooms, fire pits, water and picnic tables. They don't have RV hook ups, in fact large RV's are not allowed in. It's a sandy campsite well off the main highway (off a dirt road) with golden bluffs on one side of the campground and the ocean on the other. Sometimes you get Elk wandering through your camp and the campground is by one of the most beautiful places in all of Northern California, Fern Canyon (which also just so happens to be the perfect hike for kids).
7) Â Loma Linda Campground, Summerhaven, Arizona.
This place isn't too far outside of Tucson, and the drive from the valley floor all the way up to 9,000 feet on Mount Lemmon is incredible. Â The campsite features all the amenities (i.e. tables, bathrooms, etc.) Â It is a little pricey, but worth it for one night, just to watch the sunset from so high up. Â It can be crowded in the summer, but the off season isn't bad at all. Â There are a number of other campgrounds on the way up to Loma Linda as well that may be just as nice, and numerous hiking trails. Â And if you're the extra adventurous sort, I highly recommend the dirt road off the back side (north side) of the Santa Catalinas and winds its way down to Oracle.
8) Â Gibson Reservoir Campsite, near Augusta, Montana.
I stayed here before starting a backpacking trip into the Bob Marshall Wilderness to see the infamous Chinese Wall. Â I had the whole place to myself… and between the incredible views, the little reservoir, and the crisp air in August, I was in heaven. Â The drive up the Sun River to get here isn't too shabby either. Â Facilities are minimal, but (when I went) it was also free!
9) Â Desert Pass Campground, near Las Vegas, NV
While the night sky isn't the best you've ever seen from here, this little oasis in the desert is pretty cool, and pretty isolated considering the giant city not too far away! Â We've enjoyed combining the contrast of a night in Vegas with the serenity of camping in the desert, and this little place provides the perfect contrast. Â The Desert National Wildlife Refuge is not well-traveled so you can expect lots of peace and quiet, and this little place features Ponderosas and a nice breeze–quite a change from the Mojave desert surrounding it! Â In the spring, the flowers can be stunning, and there are Big Horn Sheep and lots of birds that migrate through. Â The road in here is bumpy, but exciting. Â Make sure your spare tire is in the care, and inflated, and that you bring extra water! Â  There are several trails up into the mountains… a nice summary can be found at this website.
10) Â Aguirre Springs Campground, near Las Cruces, New Mexico.
The best thing about this campground is it's proximity to so many fun and unique things. Â Aguirre Springs is in the Organ Mountains, which rise from the desert floor suddenly, and spectacularly. Â There are trails to the tops of their jagged peaks (we recommend hiking up there very early for sunrise or sunset), and this place is open year round (we recommend visiting between September and May because that is when it is least visited, and when the desert is coolest–and we mean both kinds of coolest). Â The view is phenomenal, and a half an hour away is White Sands National Monument which is good for several days of fun! Â The campground is cheap, with clean but simple facilities and plenty of picnic tables and tent sites. Â As an added bonus, the giant boulders scattered around camp make for fun exploring for kids.