Have you heard of this?
When I say napping outside, I'm not talking about letting your child finish thier nap in the stroller after a walk or  letting them fall asleep in a pack while you hike – although those are both great ideas. I'm talking about people who put their children outdoors to take nap every single day, no matter what the weather. No matter where they are, which is often right outside their own home.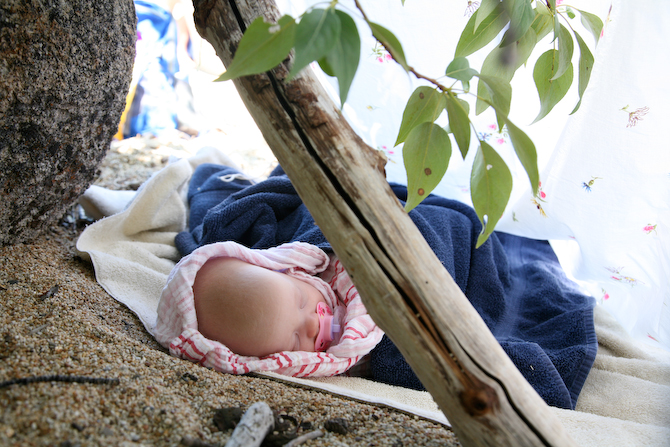 I first read about this idea on DesignMom, in a post about a trip she'd taken to Sweden. She described the country as "one big Waldorf school" where kids spend a lot of time outdoors. They play outdoors, spend school time outdoors, and yes, their kids take naps outdoors. It's sounds like the OutsideMom's version of a utopian society to me.
After reading this I was intrigued, so I tried it out with one of my own children when he was just a few weeks old. I put him to sleep in a baby Moses basket and set him outside under the trees in the yard for a nap.
To be honest I think I would have felt more comfortable putting him to sleep off the side of the trail than I did in my own backyard. I didn't have a porch, so he wasn't right next to the house where I could keep an eye on him. I was constantly checking on him and eventually just went and sat outside instead of staying in the house and doing anything productive – which is what nap time is usually for.
I'm not sure where I went wrong. Was it just my good old American supervision gene kicking in?  I was worried about the neighbors dog eating him. I was worried about the ants finding him, a bird pooping on his face, a sudden gust of wind, a loud motorcycle driving by, a rogue kidnapper…
Maybe I was just paranoid because I it was so… unconventional. If it were a good idea why wasn't everyone in my neighborhood putting their kids outside for a nap? 
Probably because I don't live in the Nordic Countries.
A fellow blogger friend of mine (and native Norwegian and outside baby napper) Kari Svenneby recently brought the idea of napping outside back to my attention when she sent me the article: Babies Who Nap in Subzero Temperatures.
Apparently "the theory behind outdoor napping is that children exposed to fresh air, whether in summer or the depths of winter, are less likely to catch coughs and colds".   Of course you'll need to dress your child properly, maybe get one of these cool napping buggies, but it actually seems like a pretty good idea.
What do you think?