It is so close to springtime here. Â The grass is mostly green. Â The Fox Sparrows are back in front of the house. Â Robins are perusing the lawn for tasty grubs. Â The Red-tailed Hawks that live in the Cottonwood just down the road are searching the fields for voles again. Â Mud Season has just about passed and I don't have to wipe the dogs' feet every time they come in the house. Â Flowers will be unfurling their splendid banners any day now!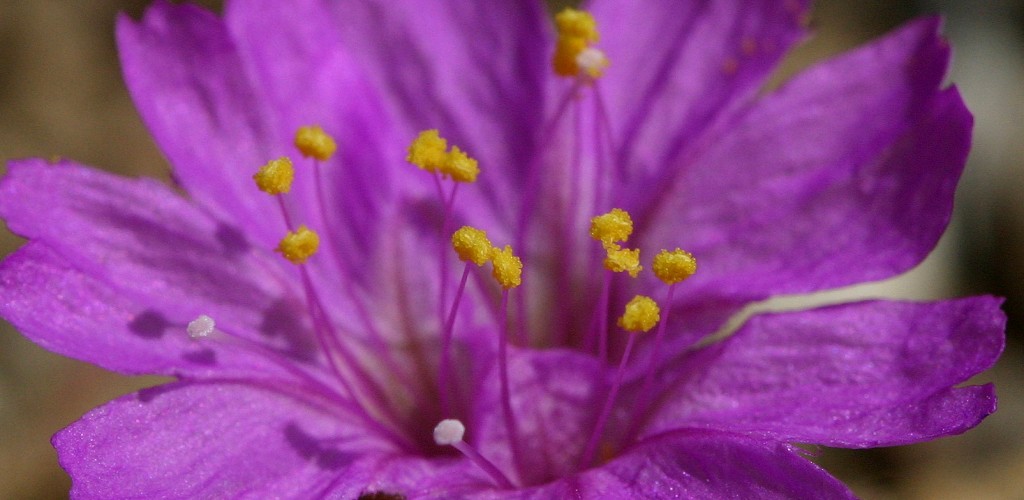 They may already be blooming where you are… and if you aren't sure, there are a number of excellent websites that can keep you up to date on the blooms occurring in your neck of the woods. Â Here are my favorites, arranged by region (this list is hardly comprehensive, but is a start). Â There are more 'reports', and they are more frequently updated, in the west and southwest. Â This is not because people in those regions are more in love with flowers, it is because the start and peak of the wildflower season is less predictable and 'flashes' more in the desert. Â If you don't keep your eye on it, you'll miss out completely! Â In the east, rainfall is less variable from year to year and flowers are more constant. Â As such, the types of wildflower websites I chose for each area differ–in the east they are more likely to be lists, or ideas for good places to go. Â In the southwest, they are more like "This Just In" news bulletins.
Browse the links, look at the flowers, and be inspired to take a walk outside this weekend looking at nature's short-lived gems! Â Depending on where you are, bring a plant press, and keep some memories for later.
NORTHEAST/MIDWEST
The AdirondackAlmanack has bloom dates for wildflowers in that area, as well as lots of other fascinating information about this range of mountains.
Franconia Notch in New Hampshire features a lupine festival in June, but there are many other wildflowers blooming there in the spring/summer.  In fact, the Appalachian Mountain Club put together a nice list of the ten best wildflower hikes in the White Mountains (note the list was compiled in 2008–still accurate, but dates listed are not for this year!).
In lower Michigan is the only wildflower sanctuary run by the Forest Service.  They put out an interpretive brochure for the place (Loda Lake) complete with bloom dates for all of the flowers.  Michigan national forests also feature several other wildflower viewing areas in the Huron-Manastee National Forest.
Pennsylvania has a website with pictures of wildflowers along many trails, including when they bloom. Â Hit the 'browse' button for the list of trails.
Also if you live in the east, make sure to check if there is a Rhododendron festival in your area (or coastal west)–not to be missed!
EAST
The national park service keeps careful tabs on when the cherry trees will bloom in Washington D.C. each spring. Â In a good year, this is truly a sight to behold! Â This year it was last week (though probably still pretty nice to look at…)
The Great Smoky Mountains have wonderful wildflower displays in the spring. Â While not as ground-carpeting as what you might see in the desert southwest, the diversity is incredible, and includes many fragrant trees (something you don't see much in the west at all!)
The Blueridge parkway puts out a wildflower report every week or two in the spring (not yet this year), and a fall colors report in the autumn. Â Type in wildflower report in the search box to see the most recent reports. Â Shenandoah National Park features a wildflower weekend every year too, highlighting those things blooming in the area.
SOUTHEAST
ROCKY MOUNTAINS
TEXAS
I mentioned it above under identification, but the Lady Bird Johnson website also feature updates on flowers blooming in Texas (especially central), with 'forecasts' each spring based on winter rainfall.
Wildflower Sightings allows people mainly in Texas to write in with their most recent information about wildflower blooms. Â It doesn't include a ton of information, but does include at least a smattering of updates that may be helpful in the spring.
The DesertUSA website includes some of Texas also… see my description of it under Southwest, which is the main focus of the website.
The Texas Department of Transportation also features a wildflower update page–believe it or not some of the best displays in desert environments is along roadways, because of all the extra water that runs off the pavement instead of sinking into the soil!
NORTHWEST
 The Oregon Wildflowers website allows you to log your own report on what you saw, or look through trip reports for a given area.  You have to know what you're looking for here as there is no 'browse' feature, but the website is nonetheless helpful if you already have a rough itinerary in mind.
Currently Blooming Wildflowers or Washington and Oregon is a comprehensive website with links to many regions (focused mainly along the Columbia River) in the northwest. Â Many of the links are for last year because flowers aren't yet going strongly in this region yet… but check back soon!
Some of the national parks in Oregon and Washington include on their websites wildflower updates. Â Here is the wildflower report for Mt. Rainier.
SOUTHWEST
I live in the desert southwest, and have been doing research on flowers in the southwest for many many years now.  The DesertUSA website is an excellent resource for finding out what is blooming in Arizona, New Mexico, Nevada, Texas, and California.  It is updated constantly in the spring, and has helped me find blooms on many occasions.  Highly recommended.  Peruse the rest of the website for interesting information on all things desert.
Arizona state parks also have a 'ranger cam' which shows how areas are looking each week, and the desert botanical gardens maintains links to all state parks and their blooms each spring from March through April.
There is also a website for the Sonoran desert in Arizona, updated religiously in the spring.
CALIFORNIA
ALASKA
There are very few wildflower schedules or reports of Alaska. Â Considering the plethora of gorgeous blooms much of the state gets each year, this is too bad. Â I did find Reny's wildflowers, and if you filter for Alaska, you can see what is common in some regions.
Also, GORP has a top ten list of wildflower viewing areas in the U.S., and talks about a couple of beautiful areas for flowers to check out in Alaska.
And here are my favorite websites for wildflower identification (and all things wildflower-y)
The Lady Bird Johnson Wildflower Center  Someday I want to go here.  In the meantime, the website is wonderful.  Covering topics as far ranging as photography and wildflower cultivation, this foundation is one of the best sources of flower information in the U.S.  They have a very nice identification guide (under explore plants) and often give updates on what is blooming in central texas.
The PLANTS database  Run by the USDA, the PLANTS database is the most complete record of plant records in the United States.  It includes common names, scientific names, old scientific names, all varieties, titles of books that talk about that plant, and distributional information… for EVERY SINGLE PLANT.  There are pictures, and within the last few years they added state by state checklists that you can download.  Truly a remarkable website.
Flickr  The Flickr community has put together a collection of pictures of wildflowers of North America.  While identification may be difficult using just a picture, many of the images are very very nice and include notes from botanists about identification.  If you think you know what a flower is, searching for matching images here might help validate your guesses.  Or just browse the beautiful images for the heckuvit.
Celebrating Wildflowers The forest service runs this website, which includes activities and links to all things wildflower throughout the U.S.  While not too specific in terms of regional identification, it does provide links to websites that are very useful.
The National Parks Traveler has an article on wildflower viewing in national parks that might hit some areas that I missed.
Did I miss a favorite online reference of yours? Â Please share it for our readers!