I recently moved down the street from a lake. A bonafide honset-to-goodness lake. I've been toying with the idea of getting into stand up paddleboarding (SUP). Preferable with my kids. So I knew just just the person to go to for advise. Danielle and her husband own Sweetwater Paddle Sports in Southwest Florida and run a SupMommys group, a class where Moms AND their kids come to learn the ways of the paddleboard.
Thanks for sharing your wisdom Danielle. Can't wait to try this out.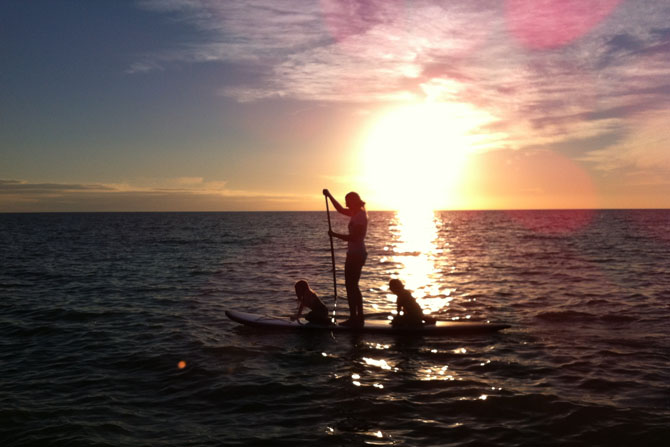 How did you get into Stand Up Paddleboarding? Â 
I grew up in Naples, Fl (on the beach), then lived in the Virgin Islands with my husband for a few years. Being on the water has always been a part of who I am.
Three years ago my husband and I got the urge to try stand up paddleboarding since surfing is rare on the southwest coast of Fl. After a few times out on a board my husband and I decided we wanted to open our own stand up paddleboard shop, Sweetwater Paddle Sports. We've been open for 2 years, have been crazy busy and are now expanding!
What made you decide to start your SupMommys group? 
I had full access to stand up paddleboards after we opened the shop, so I wanted to take advantage of the lifestyle and teach my kids at a young age. I soon realized how hard it was to bring 3 kids under the age of 4, beach toys, beach equipment, a small lunch box and the paddleboards to the beach.
Knowing that our shop delivers boards, I asked my husband if he could deliver them to the beach for me. Â It made my beach trip a little easier. I fell in love with being able to paddleboard with all 3 kids on the front of my board and one day I invited my close girlfriends and their young kids to a playdate to the beach with paddleboards. They all loved it and the kids loved it.
After that I thought about all of the other moms I knew who would love this sport. Like me, these moms do everything with their kids (no babysitters). I wanted them to have a good experience, rather than a stressful one, so I thought of the SupMommys class. A class where I bring everything down to the beach: an umbrella, toys, a treasure map with buried treasure for the kids, and my husband delivers the boards and possibly life jackets.  The mom just have to bring snacks, water and anything else she may need.
What kinds of things do you do in your classes?
The SupMommys class is done 2 ways.
1. For large groups classes we bring more help and set up 3 stations.
Station1 – The Beach Station: Kids (no more than 6, all wearing life jackets) come to this supervised station to play with beach toys while their moms are at Station 2.
Station 2 – SUP Basics: The moms get to go out on the paddleboards with an instructor learning the basics of stand up paddleboarding.
Station 3 – SUP with Kids: Kids go out on paddleboards with their moms in the water next to them, helping them get a feel for being on the board. There's an instructor in the group showing the moms the best spot on the board to put their child, and we even teach the kids who are willing how to paddle by themselves.
After everyone has completed the stations we all go out together, moms and kids on boards together.
2. One-on-one "lifestyle" classes.
One mom and 1-2 of her kids, and me and my kid(s) go out together. I start with a beach intro and I instruct the basic motions. Then we move into the water with the kids on the board and the mom in the water holding the board. This lets the kids get a feel for the board. Then we jump right into learning how to paddle with kids on the board. Â It's really for those moms who want to be able get their own board and make it their lifestyle to paddle as a family. If someone is looking for lessons to paddleboard before they bring their kids on the board I usually have them take a lesson through our shop.
So the Moms actually have their kids ON their board with them. Is that safe? 
Yes, I encourage moms to bring their kids on the board with them. That way they can find their balance. For me I have all 3 of my girls on the board so I have to stand further back on the board. As for safety, I am not certified in any way except CPR so I make sure during class that all children are wearing lifejackets even if they're good swimmers. We never paddle out far during class, no farther than being able to touch when the kids are on the board. Â What the family does after the class on their own time is up to them and their comfort zone.

How many kids can you fit on one board?
I love paddleboarding with one kid. Â Two kids is a great number to put on the board. Â Three is a bit heavy, but I can't leave one behind! Â I have done it with four but just to see if it was do-able. It is but not fun if you plan to paddle far.
At what age would you recommend starting to do this with your kids?
Our SupMommys class is geared for kids ages 2-6. Once they're around 7 they can actually start using kid paddleboards. Most of what I teach is based on experience. I started my youngest at 18 months and she was very calm on the board. However, my girls are used to the beach, water, and being around paddleboards. From my experience, 18 months is a bit too young for most kids. Â Two years old is a better age to start.
What advice would you give Moms who want to start doing this with their kids?
Bring a bucket, some sand , shells and maybe a small beach stick or shovel on the board  for the kids to play with.  My girls love to bring out children size fishing nets and pretend they are catching fish.

Always bring snacks and tons of water, even out on the board as long as you don't litter :)Â 

Try to teach your kids about the ocean/lake while they are out there with you. Talk to them about keeping our beaches /lakes clean and why it is important. – – Look for sea life or lake life. 

My girls love being able to stand up in between my legs and paddle by themselves.

If you are planning a day with just you and your kids, pack light! Snacks, a few toys, water, bring a drycase or ziplock bag you can put your keys/phone in and wear a small back pack.

Mornings are best where we live. Winds are calmer and water is usually flat in the mornings. 9am-11am is a good time block

You don't need a certain brand of a board, however look for boards that are 11-12ft long, 32″-33″wide and something with a deck pad (soft for sitting on and better grip)
Anything special we need to know about the technique behind doing this WITH your child on the board?
There is a sweetspot on a paddleboard (a good guide is the handle in the center), this is where you start and find your center of the board. If you're too far forward your nose (the front of the board) will be in the water. If you're too far back of the sweet spot on the back of your board will be in the water.
When you start putting kids on the board you need to think about their weight and where they are sitting on the board. It's best for first timers to start off kneeling on the board with their kids closer to them in the center of the board. If your kid(s) want to sit more towards the front then you move towards the back until your board is flat in the water. Meaning the front isn't underwater and the back isn't under water. Same logic goes for standing on the board.
As for using the paddle. One hand goes on top gripping the handle, the other hand is about shoulder width apart down on the paddle. Both arms are straight as you paddle but when you have kids you need to be aware of their sweet little heads as you are switching sides. Before you venture too far, it is important to know how to hold the paddle, turn the board, and be stable on the board, without feeling like you are stiff on the board. Â Use these basic instructions and mold them into what you as a mom feel comfortable doing with the kids on board.
Also, it's important that parents know water safety: currents, wind conditions etc. You don't ever want to bring your kids on the board with you if it is too rough or windy. Safety first. Remember if it's windy and you go downwind first you are going to have to paddle extra hard going back against the wind!