Starting today we here at Outsidemom have joined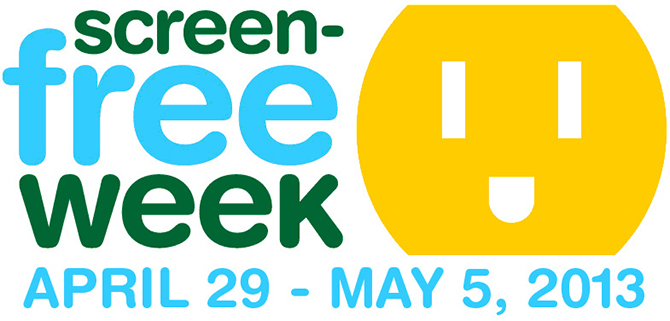 Frankly, we're thrilled, and have already begun the initiation (i.e. Lindsey is on a field trip all day, and I'm headed outside for spring cleaning just as soon as I hit the Publish button!).
So what is Screen Free Week? Â In our own words, it is a week to remember that not all of life revolves around the many digital gadgets in our lives: phones, tvs, computers, dvd players, video games, etc. Â It is a time to ween ourselves, even if just a little bit, from hours spent sedentary and vegetative with something that engages a little more of our brains and bodies. Â I love that screen free week is in the spring, when being outside is so thrilling anyway. Â It makes setting my apps and programs and tv schedule aside that much easier. Â So what will we be doing during screen free week? Â Who knows…
But here are some possibilities!
1) Â An overnight camping trip and the first weenie roast of 2013. Â Our bags were packed for this months ago…
2) Â Flying a kite. Â Is there anything better?
3) Â Watching for spring wildflowers, maybe pressing a few, or telling scientists what's blooming in the empty field nearby.
4)  Pulling out the summer water toys and the kiddie pool.
5) Â Checking out the wildlife in the pond behind our house.
6) Â Putting up some new birdfeeders.
7) Â Practicing our biking skills… and maybe hooking up the old trailer bike.
8) Â Going on a hike… one that the kids plan, with a map for their little hands.
9) Â Taking a trip to the library and reading in the backyard (here's our favorites for beginner, intermediate, and advanced readers).
10) Â And, though it isn't ambitious or life-changing, I'm dropping Jeopardy for an extra half an hour in the backyard throwing the tennis ball for my doggies. Â The red-winged blackbirds are back, the sun is the perfect warmth about then, and the doggies love me so much more just for being outside with them. Â I sit in my husband's luxury camp chair with some cold lemonade and am truly content. Â At 9.5 months pregnant, this activity appeals to me more than anything else these days.
A final thought or two… it is easy for adults to see the inherent value of stepping away from the screen.  Children have a harder time figuring out why you're punishing them by taking away their precious time with their favorite video games.  Make it a celebration, and make the incentives for not being in front of the screen as great as the screen itself.  Cut back on their time slowly–ten minutes a day and by the end of the week that'll be an hour!  Invest in a few new outdoor kid gadgets–some new toys that can only be used outside.  Whatever you do, don't use screen time as a reward (i.e.," if you go outside for an hour, I'll let you play on the computer for 15 minutes").  Keep the two ideas separate.  Also, keep it simple.  The backyard, a tree in the park, the zoo are all fine outdoor options.  You don't have to drive across the state to a campground to enjoy screen free week.
And finally, when they cry and beg and make your life miserable for having pulled the plug, remember the reasons you're doing this.  Screen-free time is one of the healthiest things you can do for your children.  It shows them what you really value, it lowers their risk for a number of diseases (both now and when they're adults) linked to obesity, and it teaches them how the world actually works and engages parts of their brain that screen-time simply can't reach.  (Here's some extra articles about the television and brain development if you're interested.)
See you next Monday!