We've talked before on the blog about feeding children while backpacking. But today we have a new perspective from someone who's dealt a lot with feeding a wide range of appetites in the backcountry. This is a guest post from Lauren Caselli, a Manhattan desk-jockey-turned-wilderness-junkie and former guide for Alpengirl Camp.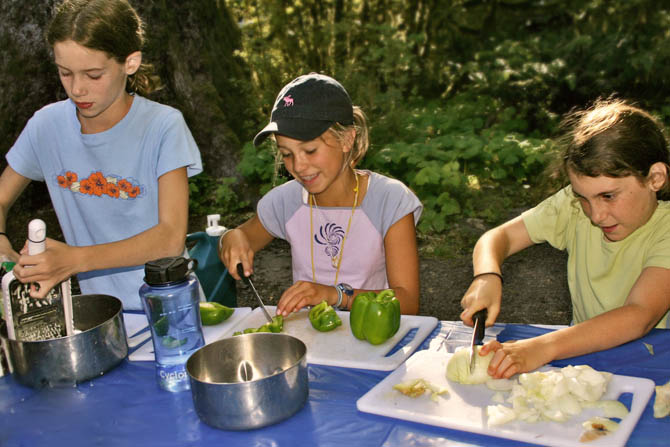 Backpacking with kids and teens can be a rewarding experience. They think that every sweeping mountain vista is super rad, they have good energy, and they are surprisingly strong enough to carry most of their own weight.
But at the end of the day, when they've hiked miles with heavy packs in all kinds of weather, they're still kids. They still get tired and cranky. And they definitely still hate spinach.
So what's an outdoor mom to do when she's got picky eaters in her tent?
Here are a few tips that I've learned as a guide for an all-girls adventure summer camp to keep even the pickiest of pack-carriers happy, and gives enough variety for everyone to go home and still appreciate pasta.
Make meals that can be put together after cooking
Your ten-year-old doesn't eat tomatoes, but your twelve-year-old hates cheese. And, by the way, your 14-year-old decided last week that she's now a vegetarian.
If you have a range of palates, but don't have the space to carry a grocery store, you need to be crafty. Offer a meal that can be put together by each camper individually. Burritos or tacos are a great option here, because campers have lots of ingredients to choose from and they can omit what they don't like (beans, rice, canned chicken, cheese, guacamole, salsa, etc.).
Pack fresh food + non-perishables 
Even as an adult, pasta every day gets old and all that processed food is enough to make you, uh, clogged. So why not mix it up with a few fresh vegetables and fruits to kick off your trip.
Apples, cucumbers, celery, and carrots are all examples of fresh foods that pack well, won't perish after the first day, and will put a little well-needed freshness into your meals. Plus, whatever vegetables your kids don't eat, you can have. And you never thought you'd tell them that they didn't have to eat their veggies.
Snacks, snacks, and more snacks 
Let's face it – it's rare that you go to a PTA meeting or soccer practice without someone bringing a treat. Kids today are conditioned to snack, and usually eat less during the actual meal, since they know snacks are available. If you make a tasty backcountry quinoa and your teen turns up her nose, at least you know that she won't starve when you hand her a Cliff bar and an apple before she turns in for the night.
When in doubt, go with pizza 
Yep, we said it. Sometimes, you just have to let go of your gourmet backpacking menu plan and give into the demand for pizza…or in the case of the camper, calzones (much easier to make than a pizza). It may sound ambitious, but calzones in the backcountry are definitely doable. And, no surprise, kids love it, it's filling, and all you need to pack is a small bag of flour, baking soda, yeast, and pizza fixings.
What are some of your tricks to planning a menu for the pickiest eaters? Comment below; I'd love to hear all about it!
________________
Lauren Caselli is a writer and former guide for Alpengirl Camp, an overnight, outdoor summer adventure camp for girls ages 11-17 in Montana, Hawaii, Alaska, Washington and Norway. A Manhattan desk-jockey-turned-wilderness-junkie, she left her NYC apartment for the wide-open valleys of Montana. After 22 years in the traditional education system, Lauren learned more about her passions, her values, and herself during 18 months of wilderness exploration than she ever did in the halls of her public school.