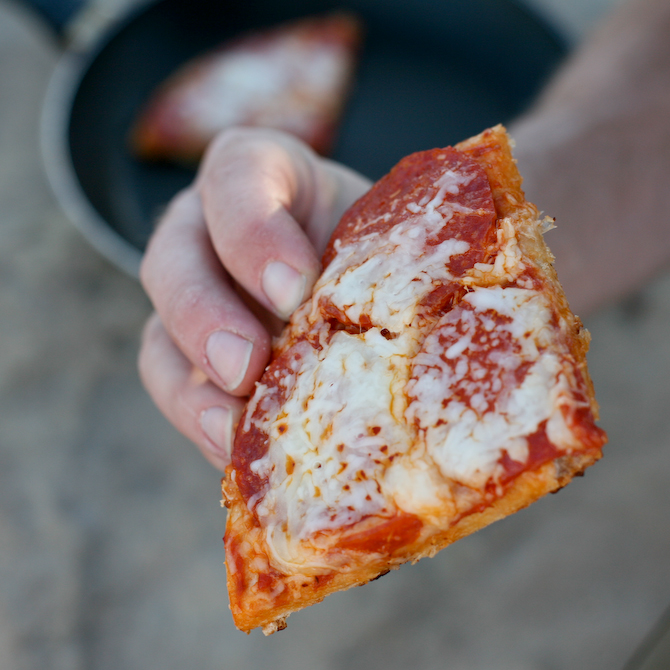 As I mentioned last week, it sorta felt like we were short on adults for our camping trip last week. I had a feeling this would be the case so I tried to think up really easy meals.
As I walked past a boboli crust display in the grocery store I got an idea… Turned out it was actually a pretty good idea. Â Pizza while camping is totally a lazy man sort of meal. Â  Also turns out Olivia had a few more lazy-man pizza ideas to add.
All these recipes are similar in that they involve your basic pizza toppings. They differ in that there are 4 different ways you can make the crust depending on how much time you want to put into it.
First some thoughts on a few key toppings.
Cheese. Bring a block and a grater, gate it at home beforehand or buy pre-grated. Cheese is actually a really great food to bring camping, a lot of cheeses even do well for a few days with no refrigeration.
Sauce. Bring a jar, buy pre-packaged, or make it beforehand and bring it in double zip-loc bags.
Toppings. If you're limited on hands (i.e. your small children outnumber you) it works well to chop all toppings at home and stick them in the cooler. Â Also, any left-over pizza toppings are great on crackers for lunch the next day (i.e. cheese, pepperoni, peppers, olives, etc.).
More Toppings. Consider chicken alfredo, BBQ chicken, margarita, or any other pizza you might like. If you have a big group make a pizza bar! I also noticed that you can buy pre-cooked chicken in the store or you can cook it at home and bring it.
LAZY MAN'S PIZZA
Ingredients:
Boboli crust. Or some other pre-made crust (I got 8″ crusts so they would fit in my pan).
Sauce and toppings.
Directions:
Get out your crust.
Spread on the sauce, cheese and other toppings.
Place it on a frying pan, set it on the stove and turn to low.
Put a lid over it (so the cheese will melt).
As soon as the cheese is melted it's done.
STOVE TOP PIZZA
Ingredients:
Bisquick
Water
Sauce and toppings
Directions:
Take the bisquick and mix up a slightly drier dough using water (I mix it in my coffee/hot chocolate mug).
Grease the bottom of your cooking pot and throw the dough in, pressing it flat so that it covers the whole bottom of your pot.
Cook it over a medium heat.
When one side is brown, flip it over, then add the tomato sauce, cheese, and all other toppings.
Add a lid and cook until cheese is melty and your mouth is watering.
PITA POCKETS
Ingredients:
Pita Pockets
Sauce and toppings
Directions:
Cut the pita in half.
Fill the inside with sauce, cheese and toppings, and put in your pot (again, put in a touch of olive oil first) with the lid on.
Flip once to make sure everything inside gets warm and the olive oil browns both sides of the pita.
Enjoy!
NOLS PIZZAÂ (named after the book from which it came)
Crust Ingredients:
1 tsp. dry yeast
1/2 cup lukewarm water
1/2 tsp. sugar
1/4 tsp. salt
1 cup flour
Directions:
Dissolve yeast in warm water with sugar and salt.
Add flour and mix to make stiff dough.
Oil a fry pan, and spread dough in pan with oiled fingers to form crust.
Turn up edges to hold sauce.
Pour sauce over crust, and top with cheese and any other toppings.
Cover and bake on a stove on low heat until crust is golden brown, about 20 to 25 minutes.
Alternative cooking method: Put crust in pan and cook for about 10 minutes; flip, spread with sauce and cheese, cover, and continue cooking for another 10 minutes.
 Anyone else ever tried pizza while camping? Any other variations? A dutch over perhaps?