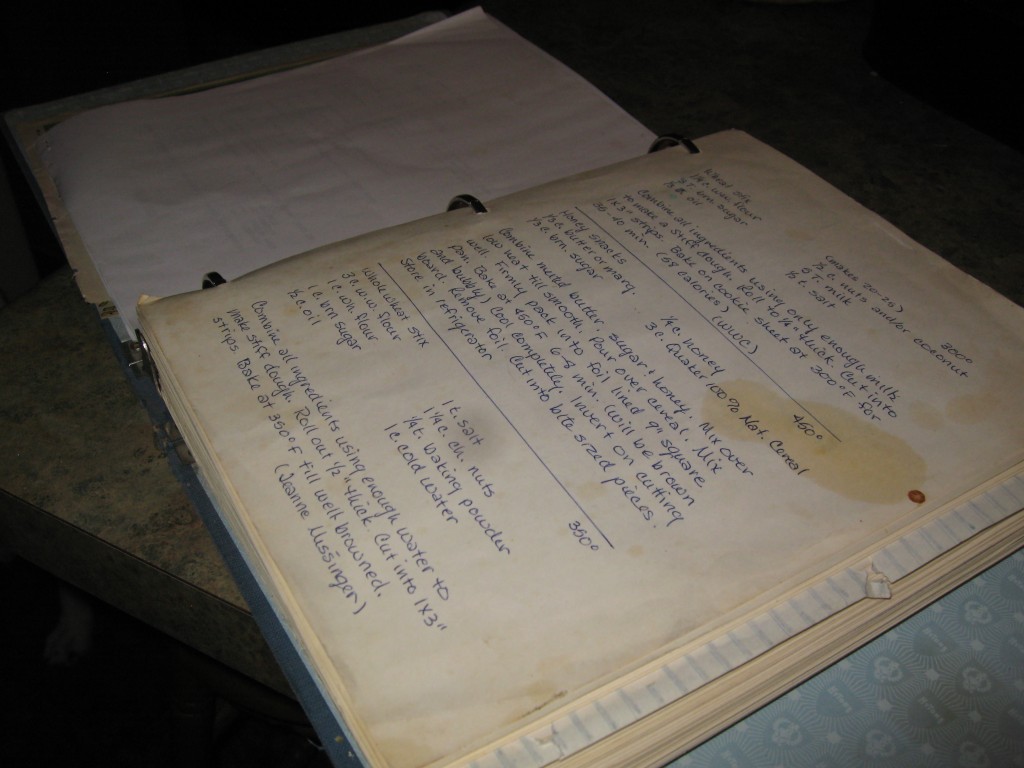 We've talked on this site before about making the perfect granola bar. Â (We are still looking for good recipes, by the way!) Â While these aren't technically granola bars, they are pretty darned good! Â My mom has been making these 'bread sticks' for years. Â They're wonderfully filling and so easy to make, but (even better), they're also incredibly versatile.
What you'll need:
1) Â 5 cups of various flours: Â white flour, whole-wheat flour, oats, flax seed, millet, whatever suits your fancy. Â The whole wheat makes them denser, the flax seed gave it a slightly nutty taste (which I liked). Â Try your own combination and see what you like best! Â This weekend we made them with 2 cups each of white and whole-wheat flour, 1 cup of oats, and a few tablespoons of flax seed.
2) Â 1 cup of sweetener: Â maple syrup, molasses, brown sugar, white sugar, apricot syrup, honey, or whatever else strikes your fancy! Â We used maple syrup, cane sugar, and honey.
3) Â 1/3 cup of fat: Â Butter and vegetable oil are obvious choices (olive oil tastes a little funny in these…), but try what you'd like! Â Peanut butter is a good option too. Â Whatever you do, don't leave it out or the taste is gone.
4) Â A pinch of salt: Â 1 to 2 teaspoons should do the trick.
5) Â Milk: Â Just enough to bind everything together… it will be about 2/3 of a cup, but if you used peanut butter as your fat you probably won't need as much milk. Â You could use soy, water, almond milk, or something else if you'd like. Â I haven't experimented with these.
6) Â Toppers: Â Nuts (walnuts, almonds, pine nuts, etc.), dried fruit (cranberries, cherries, coconut flakes, blueberries, apricots, apples, etc.), sweet treats (peanut butter chips, chocolate chips, m & m's, etc.)
Heat the oven to 300°.
Mix your dry ingredients and the salt together in a large bowl. Â Add in the sweeteners and mix. Â We found that mixing by hand was the most effective way to thoroughly combine the sweetener and the dry ingredients. Â Add in the fat, mix again. Â Then add enough milk to bind everything together–you're looking for the consistency of pie dough.
You have two options with the 'toppers': Â you can mix them in with the dough, or you can press them into the dough once it is rolled out. Â It depends on your choice of toppers–nuts are harder to cut through and best sprinkled on the dough after it is rolled out. Â Fruits and chocolate goodies are easier to cut through and can be incorporated into the dough.
Anyhoo… Â pour the dough onto a lightly greased cookie sheet. Â Press it flat with your fingers, and then use a rolling pin to roll it to the edges of the cookie sheet.
At this point, press your nuts into the top. Â We added the sour cherries at this point too because we wanted to do two flavors on one sheet, but we could have mixed them in earlier. Â Use the rolling pin to get the nuts deeply seated.
Use a knife to cut the bread-sticks into 'bars' (and if you're putting whole almonds in, press them on after the sticks are scored. Â They're too hard to cut through!).
Bake for 30 minutes–until the edges are slightly brown. Â If you like crispier bites, bake them for 15 minutes longer.
Let them cool slightly. Â Store in a ziploc so they don't dry out.