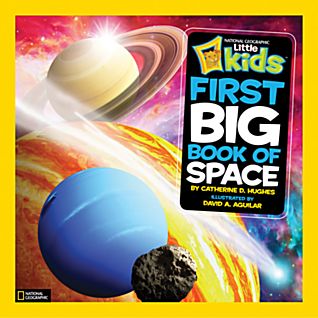 Ari (my kindergartener) brought National Geographic's Little Kids First Big Book of Space home from the library last week. Not sure what I'm more impressed with, his book selecting skills, or the actual book? I've read this book a few times now. My kids love it. I love it. We're buying it.
My boys, especially my oldest, have always had an interest in all things space related; but I find that I have a hard time explaining all things space related.
The universe is so big and amazing and complex that it's hard to put into 3-5 year old terms. This book takes a bunch of interesting factoids combined with beautiful illustrations and lays it out perfectly.
We learned about all the planets (including dwarf planets), the asteroid belt, comets, stars, nebulae, galaxies, the future of space exploration, etc. I was most excited to learn that we have space craft set to land on a few different planets in the next five years. 
I also learned that I want to take an astronomy class.
This book is well worth the trip to the library, or the book store, or amazon.com…
National Geographic also makes a few other books in the 'Little Kids First Book Of' series. They have one about Animals, Why and Dinosaurs.
I'm also in the process of searching for more space related books for kids. If you know of any, leave a comment.