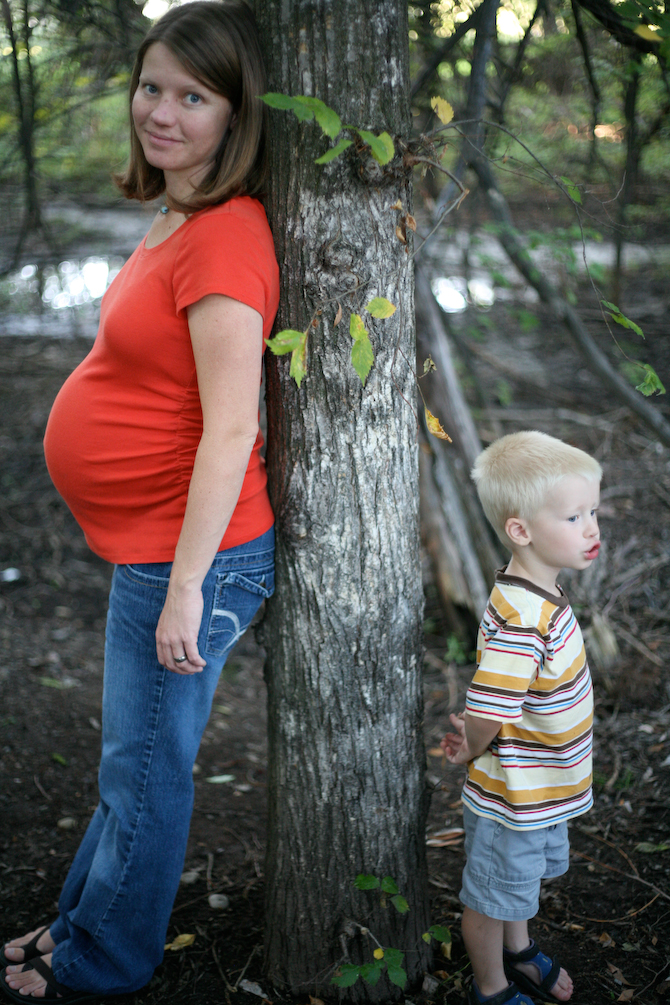 Thaleia wrote to us the other week with the following excellent question:
Do you know of any sane pregnant women who tent camp with 3 children ages 3/9/10? Just wanting to find out :). What gear is a must have for comfort?
While we can't relate directly to this situation, not yet having nine or ten year olds, we can definitely relate to camping, camping with kids, and camping while pregnant! Â Between the two of us, these are our suggestions:
1) Â Do not sacrifice comfort. Â Pack heavy. Â Now is not the time for lightweight backpacking or extreme camping. Â Pregnant women have a hard enough time being comfortable at home, let alone in the boonies, or in a campground where the only place to sit is a picnic bench or the ground.
An extra thick sleeping pad is essential.  If you've just won the lottery, or have a rich uncle to help, get a Paco Pad–the luxurious sleeping pads used by river runners who seldom worry about bulk and weight.  Slightly cheaper but also nice is a Big Agnes pad–also bulky, but they combine air chambers with insulation for extra padding… they may even have ones now with padding especially for women with hips.  And if you don't want to spend that kind of dough either, consider a plain old air mattress.  You may even find  that an air mattress is more comfortable than your bed, depending on the relative squishiness of both!  Three notes:  it will never ever ever fold up as small as when you bought it, and don't let the dog even sniff at it or it will develop a hole, and finally read the note below about mummy bags–air mattresses can suck the heat out of you!.  Also nice is one of those egg-carton foam pads if you can get your hands on one… or put all three together and sleep like a Princess.
Pregnant women (depending on how far along they are) can't always sleep on their backs for long periods… bring some pillows to prop yourself as needed. Â Dedicate some cheap pillow cases to camping purposes… double up your favorite pillows inside two cases, and bring them (all of them) along for the camping trip.
Don't skimp on a comfy camp chair.  Our favorite is the Picnic Time Reclining Camp Chair, which is durable, padded, and adjusts to three different positions.  It is heavy, but so are you when you're pregnant; a match made in heaven.  An extra pillow for lower back support if you need it is also nice.  Whatever chair you pick, getting one that is of normal sitting height and not close to the ground will make you a happier camper.
Elevate your camp kitchen if you need to so that you don't have to bend over it. Â A couple of small pieces of lumber can elevate the camp table just the few inches you need.
2) Â Bring easy-to-put-on clothes.
Camping in the cold? Â We found this jacket insert to make your favorite down coat last just a little longer.
Bring slip on shoes or boots for getting up in the night and getting around camp without too much fuss.
Mountain-mama maternity makes thermals for pregnant ladies (as well as many other fine products that I am constantly drooling over). Â Alas, I've just been wearing my husbands thermals and giant sweatshirts. Â I am so stylish it kills me.
2) Â Belly too big for your mummy bag? Â Who needs 'em anyway? Â Throw the bag over the top of you instead of zipping it around you, and put a wool or other dense-fibered blanket below you instead. Â If you're sleeping on an air mattress and its chilly outside, this is a good idea anyway, as the cold air in the bed can suck the heat right out of you!
3) Â Pack in small doses and don't strain yourself… Â forego the giant six gallon water jug for several cheap gallon jugs from your local supermarket. Â Put the 'kitchen box' into two boxes that you can easily heft. Â Get somebody else to move the cooler or leave it be in the back of the car.
4)  Don't try to go it alone.   If you're too overly concerned about the camping endeavor, the fun is just ruined.
Bring a friend or your partner to help you tuck everyone in at night, making sure hats and socks are on, bathroom visits have happened, and that headlamps are easily accessible.
Since you have some slightly older kids, you've got helpers to move water jugs, take down tents, and re-stuff sleeping bags too.
I listened to a lady talk about camping while seven months pregnant. Â The sleeping was perfectly comfortable but getting to a standing position from a bed so low on the ground was a pain in the gut, and caused her to leak. Â A little help getting to a standing position may keep your undies dry.
5) Â Let the kids take care of themselves. Â The outdoors is your greatest kid-entertainer. Â Bring a few props and let them fend for themselves while you relax in camp (set up a hammock–nothing so comfortable when your belly is big!). Â We've discussed before how to wash a kid while camping. Â If you can still walk and hike, take them on a scavenger hunt… a little hiking and lots of looking.
6)  Obsess about eating, but not about cooking.  If you're a camper from way back, it'll be tempting to pack the food just as you always have, and when you get to your campsite, you may be disappointed that you didn't throw in a little extra.  Don't forget that you'll (likely) want to eat more while you're camping just like you do at home, only the pantry won't be right there.
Don't forget to keep drinking. Â Even though it means you'll have to get up in the night, don't forego drinking just because you're in a new place and have a lot on your mind. Â Plus, you may be in the sun and losing more water than normal.
Plan simple dinners.  Anticipate being more tired than usual and not wanting to put much effort into dinner.  Keep it simple and easy to clean up.  Tinfoil dinners are a good idea, or things you've prepped before you left that can be quickly thrown together.  We recommend haystacks, burritos, and prepackaged soups for the easiest filling meals.  Hot dogs are, of course, also good and easy to clean up–but not quite so good for the pregnant lady (so they say).
7) Â Don't fall over while peeing in the woods.
Use a tree for support, or hang yourself over a rock or fallen tree. Â It isn't dignified, we know. Â But you're pregnant–is there anything dignified about this process? Â Besides, who's watching?
Alternatively, buy a cheap portable toilet seat. Â You can dig a cat hole underneath–the bags aren't required, and it'll save you having to stay balanced while squatting.
On a separate note, put yourself closest to the tent door for those midnight bathroom trips.
8)  Beware of mosquitoes and ticks.  This is a tricky subject.  Bug sprays may not necessarily be good for a pregnant lady and her growing baby, but neither is Lyme Disease or West Nile Virus.  If you are in an area where mosquitoes or ticks are prevalent, use a spray with a low dose of DEET, or use a natural alternative like citronella oil.  Wear long sleeve shirts and pants to keep mosquito bites to a minimum, and spray the clothing hems as much as your skin.  And for ticks, avoid bushes and scrubby areas where ticks are likely to be lurking, and check yourself twice a day for the little suckers.
7) Â While we're at it, check at this awesome camping high chair. Â If the child not in your belly is still using a high chair, this looks perfect.
What did we miss?  Share your stories of camping, and your tips for staying comfortable and relaxed, while pregnant!