Claire sent me the following question (via ask outsidemom). I have a lot of thoughts on this, but would also love to hear from other Chariot owners who could offer some insight on her questions.
I'm thinking about buying a Chariot, primarily because I'd love to ski this winter and I'd like to be able to get some cycling in once my son is big enough. I'd love to hear some detailed reviews, tips, experiences from other women who use a Chariot too. I'd love to hear what skiing is like with it – hills, response to snow conditions, reaction of kiddos… And what using a bike trailer is like too – can you hear your kiddo, how does it handle with a road bike, tips for keeping kiddo safe and happy.
-Claire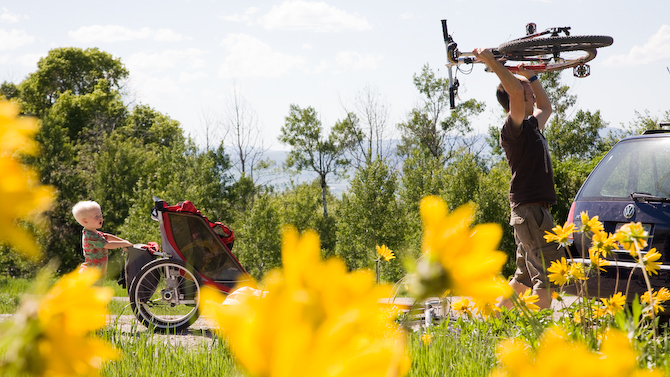 A few weeks ago I had a Chaco shoe giveaway on my blog and asked people to enter by telling me: "What is the one outdoor baby/child item you wouldn't want to live without." The item that claimed the first prize? The Chariot.
First of all I just have to say that we own the Cougar 2, and own the bike trailer kit, the jogging kit, the infant sling, baby supporter and we made our own skis. We currently have 3 kids ages 6, 3, and 7 months. Here are my thoughts on the Chariot:
1. Biking
On the Pavement:
The outdoor family activity we do more than anything else (aside from wandering around in the desert) is biking. The bike attachement has made it possible for us to be able to continue doing so. We've done a stretch of the coastal highway and have used it a lot to ride around town and run errands. It works great, and all three of our kids have absolutely loved being in there. Although when they were young there were times when they didn't exactly love wearing a helmet…
On the Dirt:
We've also use it for mountain biking. We have the Cougar 2, so we can't tackle single track, but we've biked on old jeep trails and wide dirt, gravel or slick-rock trails. The chariot performed perfectly. I can't say I've ridden in it personally, but our kids have never complained. The shock system on the Chariot seems to really pad its passengers. In fact our two-year-old even fell asleep in there while we biked on a mostly slick-rock trail (pictured to the right).
The trailer handles really well, and I have no complaints about turning, going over bumps, or any other maneuvering issues.
You can't really carry on a conversation with your child if your zooming down the road, especially if you have the rain/wind cover on, but you can still hear if they are screaming their guts out or fighting.
2. The Infant Sling
The infant sling, in my opinion, sets the Chariot apart from other conversion strollers. My babies were able to start riding in the Chariot at just a few weeks old. It's been a life saver as far as staying mobile, and all my kids have liked being in the sling.
My kids never liked the baby supporter (although I had an older model). It always worked better for us to use the infant sling until our kids were about 18 months then we just started strapping them in like normal. We finally just got rid of our baby supporters last year.
3. Chariot Packing
Chariot packing: a sport similar to backpacking, only you put all your stuff in your chariot and roll your gear down the trail instead. Just this fall we were out hiking and discovered the perfect little campsite at the end of an old OHV trail. We went home, loaded up all the gear we would need for an overnight family camp-out and pushed it up to our hidden camp spot. I bet Chariot hadn't envisioned this option when they drew up their plans for an all-purpose stroller.
4. Winter Excursions
Getting out in the winter is always a little tricky with little kids. They get cold. They get tired. It's understandable. I love having a warm and roomy place where they can get out of the cold, snuggle up with their blanket and take a nap, have a snack, all while we stay mobile.
Note that we made our own chariot skis instead of purchasing the ski kit. The chariot ski kit does great on groomed trails, but doesn't do well in any sort of powder. Even the homemade version isn't great on powder, but because you can make it with thicker skis it does better. Still it get's a little tippy if you try to tackle hilly or uneven terrain.
Check out how the chariot handled for Velo Mom on a yurt ski trip.
5. Jogging
I must admit, my husband used this more for jogging than I did. I exercise to get away from the duties of motherhood, so I didn't use it very often. The jogging wheel makes it hard to turn the chariot, you have to actually pop a wheelie and turn the whole stroller to take a turn, but it glides along nicely… its just more bulky than something like a Bob.
6. Multi-Child Mobility
I use the Chariot even more now that I have three kids. As in, I use it just about every single day. Riding bikes with the kids and commuting my oldest son to and from school. I even stick my littlest one in it when I'm working in the yard and wheel her from one area to another. She's comfortable and content in there and with three kids and two hands I rely on this a lot as a safe warm or shady place to keep the baby while I deal with the other kids and their mobility.
I even hook the chariot up to the back of the trail-a-bike for longer excursions to the park. People laugh at our bike train, but hey, it works great!
Do I want the Cougar 1 or the Cougar 2?
This a serious decision every parent has to make. We didn't make this decision because our Chariot was a gift (best gift ever). We got the Cougar 2. The first few months we owned it I sorta wished we had the Cougar 1, only because I felt like we were pushing an SUV with all this room and only one tiny infant. But it quickly grew on us. We could push the child and load the stroller with groceries, or pack the child and the gear we would need all day, or pack the child and the dog and ride to the dog park , push our kid and a friend's kid, etc. Plus we knew we wanted to have more than one child and thought it would come in handy. It has.
Ever since then the only time I've wished we had the Cougar 1 was so we could bike on some wider single track trails. But overall I'm SO GLAD we have the Cougar 2, especially now.
The key to making sure your child is happy in the chariot:
1. Start them young so they get use to it, this is especially key if you want them to nap in there
and
2. If you're going to have them in there for a long time give them something to do, toys, games, snacks, etc. Make it fun.
It is SO worth the investment.
Any additional thoughts, please add!
Also, check out this Chariot review by Cragmama or this one from Tales of a Mountain Mama.