The last time I gave handmade gifts to my friends for Christmas I was 11. I hand painted them all little wooden rabbits.
Twenty plus years later I decided it was high time I made another batch of handmade gifts. I first came up with this idea because I wanted to make something 'bikeish' for my much missed mountain biking buddy in Reno. After making a bracelet for her I loved it so much I made more. Who knew  you could make something so ascetically pleasing out of  an old bike chain and some utility cord.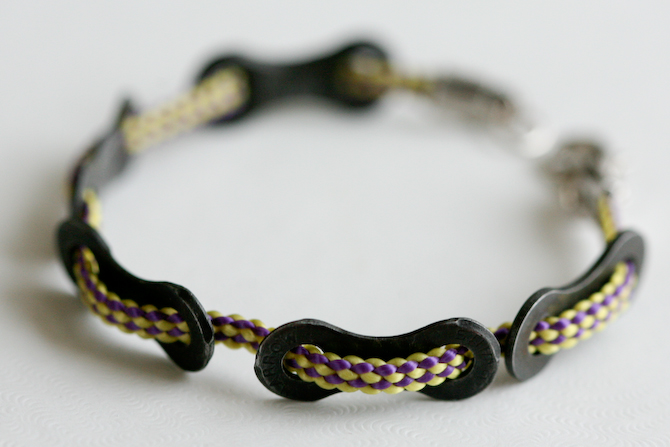 Here are the supplies you will need:
An old bike chain (I had one out in the garage in our box of spare parts, you can also get used chain at your local bike shop).
Beading pliers (or something similar).
Cord Clasps (bought at any craft store, there are a variety of options).
3 – 5mm utility cord (bought by the foot at REI, I used 3mm).
Chain tool (you can get these are discount stores with a bike section, but be aware that the cheap ones, like the one pictured below, are a pain in the you know what).
A good degreaser.
Here's a photo of the goods, minus the degreaser.
Step 1: Rip apart your chain. To do this you will need a good chain tool (unlike the one pictured above). Take the chain completely apart until you have a pile of chain parts.
Step 2: Clean. (note that at this point you could go to step 3 and just pull out the chain pieces you'll need, I washed all the chain peices just incases I wanted to use them for something else later). Put the chain pieces in a tupperware with a lot of degreaser and let them soak. I let mine soak for a few days, but not on purpose, I'm sure a few hours would do the trick. Pull them out, lay them on an old rag and wipe them vigerously. Then put them back in a fresh batch of degreaser to sit some more. Keep doing this until the chain links are all clean. 
Step 3: Sort. Â Pull out all the flat chain links, unless you did this as step 2 (pictured below).
Step 4: Get the clasp ready. Using the beading pliers, take off all the extra chain on the cord clasp (see photos of step 7 to see what pieces you need to keep). Better yet, find a better cord clasp, I know there are more options out there.

Step 5: Cut Utility Cord. Cut the utility cord to the desired length, burn (melt) both ends with a match.
Step 6: String. String the chain links onto the cord.
Step 7: Attach the clasps. Using the beading pliers attach the clasps, one half to each end (as seen below). Note that because I didn't know the wrist sizes of my friends I sent them with one clasp unattached so that they could adjust the length as needed.
Whala! Your're done.