We've started a tradition of having our kids make a new Christmas tree ornament every year. I like having our tree decorated with meaningful bits of child craftiness from Christmas gone by.
This year I was searching the web for ornaments ideas that we could make, and that also had the following characteristics: 1. kid friendly (as in they would enjoy making them), 2. would allow the ability (i.e. surface area) to write our names and the year on the ornament, and 3. something that might also get us outside in order to collect our ornament making supplies.
I found several options, so I thought I would share.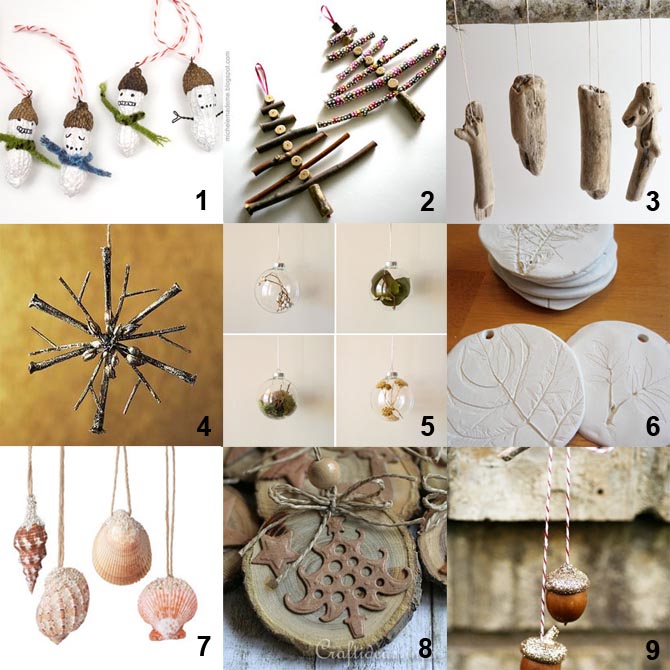 1. Peanut Snowmen. You can buy these on Etsy, but it would also be fun to make something like this. 2. Twiggy Christmas Trees. Check out the site for instructions, I think these are the ones we will do this year. 3. Driftwood Ornaments. Drift wood is cool all by itself, wish I lived near some. Also, check out that site for more holiday decorations with driftwood, the post is pretty cool. 4. Snowflake Ornament. Not really any instructions here, but a cool idea to make your little something like this. 5. Hanging Ornaments. I really like these! I was thinking it would be cool to use small red sandstone pebbles and tiny pieces of 'sea glass'  you can find on the beach at Lake Tahoe. 6. Clay Leaf Prints. My kids would really like this one, and that website is really cool!!. 7. Hanging sea shells. We've gathers a lot of these over time, their all sitting in a jar, this would make them more useful. 8. Tree Cookie Ornaments. This site give you instructions on how to make these, or, just cut some tree cookies and let your kids draw on them? 9. Hanging Acorns. There is just something so simple and pretty about this ornament. I just really like it, and they would be fun to gather.
And don't forget to use that Queen Anne's Lace you collected last summer…