Giveaway is closed, thanks to all who entered. Congratulations to the winner MAURA LANSFORD!
My son has two pairs of Chacos now. The Zanda and the Z/1 EcoTread. I reviewed the Z/1 this summer, and after running around the desert and sloshing through slot canyons I've deemed the Z/1 the greatest kid shoe ever. And why shouldn't they be? Chaco sandalas are the greatest adult shoe ever too, in my opinion.
This time around Chaco has provided me with a pair of Zandas to review, which have been my sons primary footwear since summer (pictured below assisting him on a rope swing).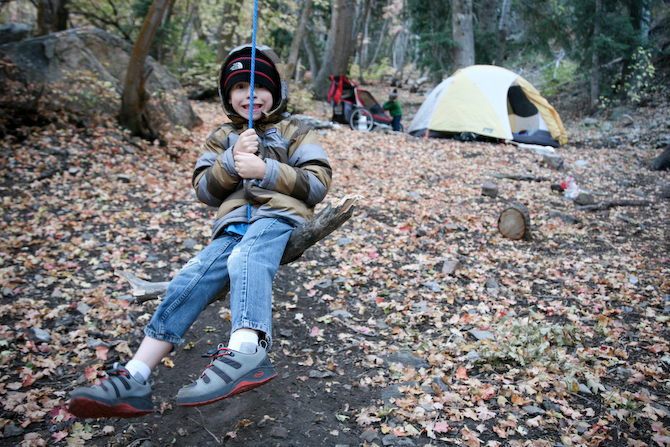 A few words I would use to describe this shoe:
Tough
It's made on a Chaco foot bed so the sole is super thick and hardy. Your child will definetly outgrow the shoe before he/she wears down the sole.
Muli-Seasonal
He's hiked with them in the summer and never complained about hot feet, he's also worn them through last weeks snow storms and didn't mention cold feet. They have padded mesh screens on top which let air in, and their not gore-tex, so walking through the snow isn't an option, but walking on top of packed snow was fine.
Kid Friendly
There are no laces, which means that my 5-year-old could put them on all by himself. A welcome treat for sure.
If you buy (or win) these shoes get a size (or two) bigger than you think you'll need. My son's size 12 Z/1's fit him perfectly, so I ordered a size 13 Zanda, but I wish I would have gotten a size 1. Their the kind of shoe you can buy bigger, especially if you want to wear thick socks and wear them in the winter.
So now for the fun part. You can enter to win a pair of kids Chacos of your choice by leaving a comment.
What is the one outdoor baby/child item you wouldn't want to live without. And if you don't have kids… just tell me a good knock knock joke.
If you want to increase your odds at winning you can also enter to win at the following sites. The bloggers are reviewing shoes and participating in the giveaway as well:
Review of the Zanda by goexplorenature.com, natureforkids.net and kidproject.org
Review of the Paradox Ecotread by adventuretykes.com
Review of the Otis by talesofamountainmama.com
One winner will be chosen between this blog and the blogs listed above, so enter away! Good luck!!
Rules:
You MUST answer the question (above) to be eligible.
You must supply me with a valid email address when you enter (so I can contact you if you win).
You can only enter once on this blog.
You must be 18 or older.
Giveaway is open to U.S. residents only.

The contest starts now and entries must be date stamped by our server no later than Thursday, November 15th, 2012 at 9:00pm Mountain Time to be eligible.
The winner will be chosen using the number generator at random.org and announced on this post, November 16th, 2012!
Winner will be notified by email and will have 72 hours to reply to my notification. If I don't hear back, I'll pick another winner.