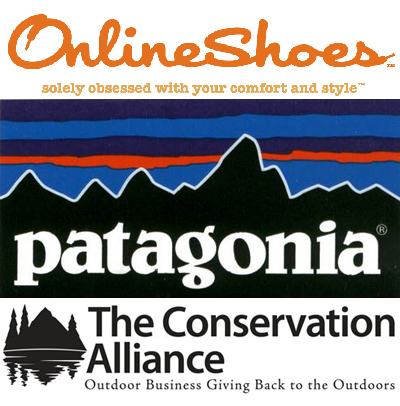 Giveaway is closed!
I'm a sucker for all things Patagonia. If I had to choose one clothing brand to be stranded on a desert island with, I'd probably choose Patagonia.
But we're not talking about their clothes today. We're talking about Patagonias shoes. I've never tried any of their shoes, but they sure have some good looking styles.  And if they're as awesome as their clothes?  Well… I would willingly be stranded on a desert island with those too.
So, in celebration of Patagonia Advocate Weeks, we're going to give a pair of shoes away!
What is Patagonia Advocates Week?
It's an event that starts today. For every pair of Patagonia shoes purchased at OnlineShoes.com from 10/9-10/22, Patagonia will donate $10 to the Conservation Alliance.
What is the Conservation Alliance? 
Their mission is "to engage businesses to fund and partner with organizations to protect wild places for their habitat and recreation values." They direct their funding to community-based campaigns to protect threatened wild habitat, preferably where outdoor enthusiasts recreate.
How can you win some shoes? 
Leave a comment telling us What is your favorite fall outdoor activity?
Winner get's to choose a pair of Patagonia shoes from OnlinceShoes.com. Choose from their women's, men's or boot collections.
..and I will be completely jealous of the winner.
Good luck!
Rules:
You MUST answer the question (above) to be eligible.
You must supply me with a valid email address when you enter.
You can only enter once.
You must be 18 or older.
The contest starts now and entries must be date stamped by our server no later than Friday, October 12th, 2012 at 10:00pm Mountain Time to be eligible.
The winner will be chosen using the number generator at random.org and announced on this blog on October 16th, 2012!
Giveaway is open to U.S. residents only.
Winner will be notified by email and will have 24 hours to reply to my notification. If I don't hear back, I'll pick another winner.