Back in September Lindsey took me on a hike for my birthday. Â The hike was wonderful for so many reasons:
1) Â I got to spend six uninterrupted hours with Lindsey. Â We never worried about getting eaten by a mountain lion–we blathered and laughed loud enough to scare away every bit of wildlife within 45 miles.
2) Â We got to hike down in the dark, by full moon, and it was exhilirating.
3) Â She brought us 'dinner' for the top. Â While snuggled into a rock shelter to stay out of the frigid wind, she pulled out a birthday brownie, complete with a candle and birthday song. Â And she pulled out Chicken Puffs. Â I have concluded that these Chicken Puffs are the tastiest possible hiking treat. Â Comfort food in a ziploc baggie? Â Yes, I think so.
I've since made them for my husband on his hunting trips and he concurs.
Rather than keep this yumminess all to ourselves, today we are sharing Lindsey's Amazing Chicken Puff Recipe, complete with two variations on the theme. Â Enjoy.
*** quick note: Â Lindsey and I used butter croissant dough from the can… like Pillsbury or Great Value brand… Â you could also use real puff pastry dough and cut it to the size you want***
LINDSEY'S AMAZING CHICKEN PUFFS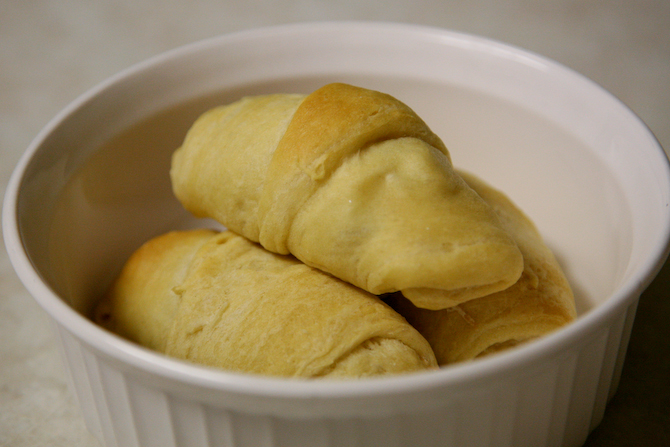 Ingredients:
1-2 cans of chunked chicken (if you've got half a rotisserie chicken laying around that would work to0).
1 pkg cream cheese
1/2 cup chopped mushrooms, or a 4oz can
1/4 teaspoon pepper (or more to taste)
1/4 cup chives (or so)
3 cans butter croissants–larger size is better. Â I used 2 cans, but I also overfilled each one…
Instructions
Mix together the chicken, cream cheese, mushrooms, pepper, and chives until all chunky bits are evenly distributed in the cream cheese. Â I sometimes add a little extra cream cheese if it looks like there's too much chunk.
Put a dollop (not too much) in the center of one edge of an unfolded croissant triangle. Â Roll loosely, pinching closed as necessary to seal in the cream cheese mixture.
Bake croissants on parchment paper at 325 for ~15 to 20 minutes. Â Let cool on an cooling rack.
I store mine in the fridge in gallon ziploc bags, but tupperware would of course work too. Â I find that adding a paper towel into the bag helps keep them from getting too soggy. Â While I haven't personally tried it, I have a feeling these could be frozen…
They last for about four days in the fridge before getting too soggy to be enjoyable. And they taste god at any temperature!
Some variations on the theme of 'Puff'
HAM AND CHEESE PUFFS
Ingredients
1 pkg chopped ham (or dice up some left-over ham)
1/4 cup onion
1/2 cup shredded cheese (cheddar or swiss are the best)
1 egg
EITHER 2 tsp dry mustard, or 1 1/2 tsp Dijon
1/4 tsp black pepper
Those pesky crescent rolls again. Â Probably 2 cans will do.
Instructions
Combine the ham, cheese, onion, egg, mustard, and pepper.
As before, dollop onto crescent rolls.
Bake at 350 for ~15 minutes.
SPINACH AND ARTICHOKE CROISSANTS
Ingredients
2 cups shredded Italian cheeses (Mozzarella, Parmesan, Romano, etc.)
1 box of frozen spinach. Â Thaw it, and drain it over the kitchen sink, pressing on top to get out extra moisture.
1 jar of artichoke hearts, chopped to small pieces, and drained of oil
2 cloves minced garlic
1-2 cups cream cheese  (When I made these the first time, I went with 1/3 c. mayo and 2/3 c. s. cream in place of one of the cups of cream cheese… they were just slightly runny.  I think you could maybe go all cream cheese and get good results too… I just went with a 'dip' recipe I had on hand)
If you like a little spice, add a few pinches of red pepper flakes
2 cans butter croissants
Mix together the drained spinach, cheese, artichoke hearts, garlic, cream cheese/sour cream/mayo, and red pepper if using.
Put a dollop on each croissant. Â Because this was a little runnier with the sour cream and mayonnaise, I put a dollop in the center, and the folded the corners up to meet as a point. Â Then I pinched the three seams shut. Â The didn't come out as crescent rolls, but, really, is that important to your taste buds?
Bake at 350 for ~15 minutes.
Ever made puffs? Â Got any variations of your own you'd recommend?