After a month of living in our new home we finally took the weekend to unpack and organize the garage. The biggest problem we faced was the number of bikes we own: 4 kid bikes, 4 adult bikes, 1 bike trailer and 1 trail-a-bike. After careful consideration 2 kid bikes we're booted out to the shed but the remaining 8 contraptions needed to be accessible.
With all of us bike commuting every day and mountain biking whenever we get the chance we were in a constant state of bike piles. The garage looked like this, on a good day…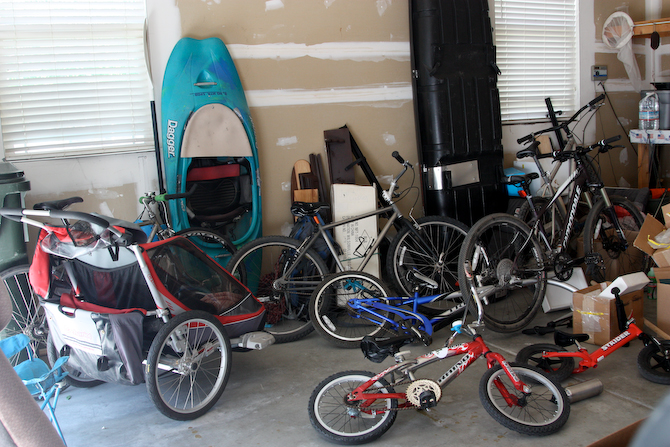 We wanted to build a bike rack, but had a few criteria. It needed to be 1. Cheap. 2. Easy to assemble. 3. Sturdy. 4. Adjustable. We found three viable options online (click links below for photos and instructions). Option 1 and 2 can even be made to fit in your truck bed.
Rack made from PVC pipe.
Rack made from 2×4's and other assorted wood pieces.
Rack made from pallets.
We chose option #1, the PVC pipe, but made the following modifications:
 We made it to accommodate 4 bikes rather than three by adding an additional slot.
We made it a bit more compact by cutting the 16.5 inch pieces to be 11 inches.
We made a smaller separate version for the kid bikes.
Bike commuting just got a little bit easier.
Note there is room for one bike to have the trailer hooked to it at all times (since the little kids and I ride Ari to and from school each day it needed to be accessible), also note the kid bike rack (from spare parts) off in the distance. We might even spray paint it , you know, to add a touch of class.