Thanks to my observant son, I saw the coolest thing the other day.
I was outside pulling weeds while the kids were riding their bikes up and down the block. All of the sudden they stopped at the house next door and started yelling, Â  "Mom! Mom! Â Come look at this praying mantis! Â It's going to have a baby!" Â I love that my children want to share these things with me.
Do you know about these critters? Â Praying mantises are about as close to charismatic megafauna as an insect can come. Â They're big enough that you can actually see their personalities. Â If you move your fingers in front of them, they'll turn their little heads, watching its every twitch. Â Olivia had a friend as a kid who had one as a pet. Â She'd stick it on her head like a little cap and walk around with it. Â All the neighbor kids thought she was the coolest girl around. Â Mantises are like chameleons, they camouflage themselves and hide, waiting for an unsuspecting fly to pass by. Â They reach out with those wicked-fast pincers (they can't hurt you with them) and nab up the fly and gobble it down. Â Look on youtube… there are videos of these guys eating fish, mice, and trying for hummingbirds. Â Incredible!
But I digress.
Dropping my handful of weeds, I jogged over to see a tan colored mantis with a rather fat abdomen staggering (literally) across the sidewalk. She didn't look so good and I thought for sure she had been struck by a bike . Thinking she might die at any moment we relocated her to a bush by our front door to live out what little time she had left.
I saw her the next day still on the bush. She was still alive, and still looking terrible.
The next day I noticed her on a rock close by, and look what she was doing!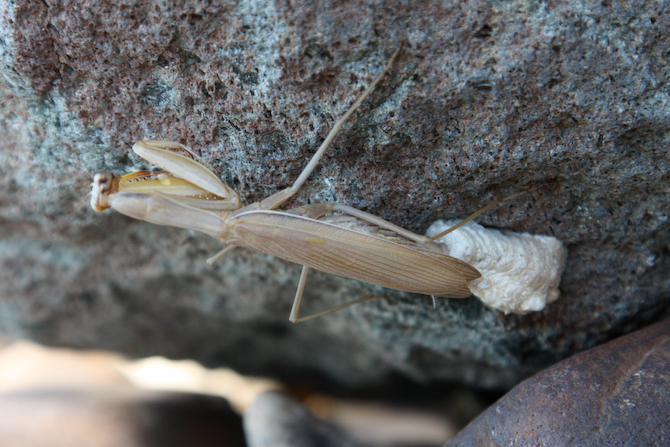 The kids were right! She was getting ready to have a baby… or rather, getting ready to lay an egg case full of potentially a few hundred babies. Check out this video of a mantis laying an egg case in fast motion.
But I was right too. After she laid her egg case she crawled down from the rock, sorta passed out underneath it, and died. Nature can be so sad.
The next day the ants came to haul off her edible parts.
The day after that we gave her a proper burial next to her growing babies.
It was so cool! I mean, sad she had to die, but witnessing the whole process was awesome.  (But I'm kind of a nerd like that).
So now I'm thinking we can't miss seeing these guys hatch (check out this video). Especially since we recently finished reading Charlotte's Web. Wilber helped Charlotte's babies on their way, so we need to be there for Mantis.
I've been doing a little research. Apparently you can rear these out sorta like you would if you found a butterfly chrysalis. I found this great Praying Mantis care sheet from Carolina Biological that tells you everything you need to know about rearing out some little mantises.
So should you see a praying mantis egg case during your fall yard clean-up bring it inside and watch what happens!
Oh, and one final thing, in case I haven't convinced you that praying mantises are cool… here's a picture Olivia took of one in Greece. Â This little guy was smaller than my pinky finger.