A reader recently submitted this question:
My hubby has poor health, but I *need* more outdoor time! Any tips for a mom and kids outdoors on their own? Mine are 7, 5, 3, and 2 mos. We live in beautiful western Oregon, but I have a thing for the SW.
-Meaghan
Meaghan, thanks for this excellent question.  It's something I deal with all the time as a stay-at-home-mom who is also an outside junkie.  I actually really like getting the kids out on my own.   I'm not much of a home body and getting the kids out for a hike or a trip to the lake always seems like a far better alternative than futzing around the house.  Our situations aren't that different–I've got a 5-, 3-, and five-month-old.  Granted you've got an extra child, but let's just call your oldest an extra 'helper'.
Your style for getting outside with just you and them will be all your own, unique to your personalities and situation, but here are some random suggestions that might make getting out on your own easier.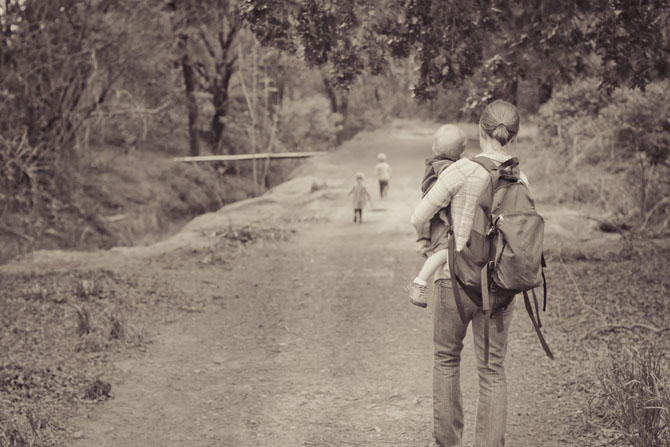 PS rare photo of me (above) taken by my good friend and awesome photographer Rebekah.
1. Don't psych yourself out.
It's not as daunting as it sounds. One less adult can usually be mitigated with better pre-planning. Â Remember always what your objective is. Â To be outside? Â See something new? Â Have a wee adventure?
Figure out what you're going for and 'settle' for doing only that thing. Â When the kids cry or complain, when something goes awry, when you call it quits early, just remember your objective… "well, my goal was to get outside for awhile today, and we did it!" Â Have that attitude in mind before you even leave the house and you'll be surprised how easy it is to feel good about your solo trip from the moment you've locked the front door.
2. Â Pre-Plan.
Because being out with your kids can be a bit more stressful (in the beginning) make sure you take the time to pre-plan.
Know where you're going and how to get there so that you don't have to navigate on your own. For you're first outing try going somewhere familiar if you're not feeling up for a 'new' adventure just yet.
The day before you leave, pack the things you will need. Food, water, first aid kit, extra shoes/clothes, and all the gear you will need for your outing (lake supplies, picnic, hike, sledding etc). Packing the day before keeps the stress level down on the day of. I even keep most of this stuff in a box in my van that stays there always to make packing easier.
Two posts that will help here:
3. Â Think of your kids as a bonus instead of a limitation.
Seven and five year olds can carry enough stuff to be useful. Â Put them to work! Â Also give them each something to remember each time you go on a trip–the things you forget. Â They'll love catching you being forgetful, and love even more actually being useful.
4. Â Don't expect too much.
You don't have to plan an epic adventure. Â Be happy with a trip to a local river or lake or embark on a short hike. Â Stay close to the car if that makes it easier.
5. Snacks.
Bring lots. There are not many problems that can't be solved with snacks.
6. Ask yourself:  "What's the worst that could happen?"
Worried about losing a child?  Pick a location with a focal point that is likely to keep their attention. Whatever your worst case scenario is, imagine it, figure out how to prevent it, and then ask yourself again, "Now what's the worst that could happen?"  When the worst thing that could happen is something you can totally handle on your own, you're ready to go!
Also, since you have little kids of napping age, you might find this post useful as well… The dreaded nap: How to have an outdoor life and a well-rested child (tips for dealing with nap time when you're out and about)
It's TOTALLY doable, and even fun (especially if you can con a mom friend to join you). You live in such a beautiful area, you have to take advantage of that. Just take it slow. Start out with a trip lasting a few hours and work up to camp outs. It'll be great!
Best of luck!
Do you have any additional tips for Meaghan? If so, leave them in the comments section!