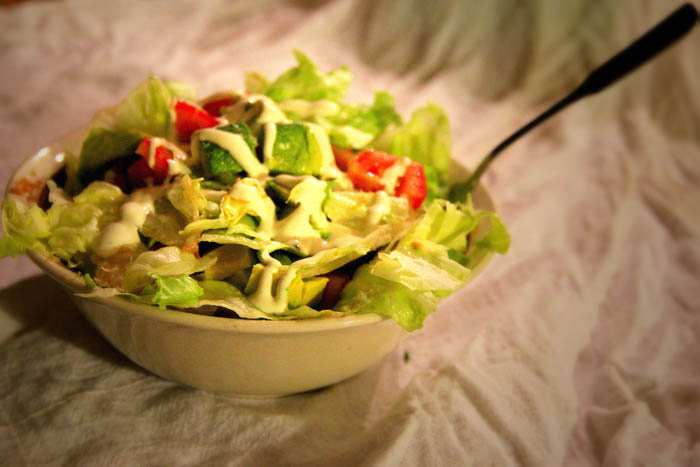 Haystacks are my most favorite of camping meals. Â Not too long ago I was camping with some friends and lo, they had never heard of the Haystack! Â This most easily manipulated, picky-eater-friendly, camping-masterpiece of a dinner is my go-to meal several times a month. Â Perfect for the lazy chef.
Here is the idea behind a haystack: you need a starchy base, covered by a protein, topped with something fatty, and piled with any toppings of your choosing.  The  'toppings' of your choosing part is what makes this meal easy when camping (many of the toppings travel well), and fun for little mouths that seldom get a say in what appears on their plate each evening.  Building your own haystack is an art form and a matter of personal preferences reflecting the unique taste buds of each eater… and over time the gourmand will learn how small to make the base in order that the haystack still fits on the plate after the last topping is added.  The down-side to a haystack?  You'll need several small serving dishes…
Just in case there are others who fall into the unfortunate category of Those Who Have Never Had a Haystack, we are today sharing Four Variations on the Theme of Haystack.
Variation One: Â The Hawaiian
The starchy base: Â Rice. Â The Protein: Â Chicken. Â The fat: Â Your favorite cream-based sauce or gravy.
The toppings: Â Green onions, shredded cheese, chow-mein noodles, pineapple, coconut, water chestnuts, tomatoes, celery, olives.
If you're camping this is simple enough:  most things are in cans, and the tomatoes, celery, and onions can be cut up ahead of time and put in separate plastic storage containers if you so desire.  As for the rice, make it ahead of time if you want, or get instant rice (which also makes for a yummy camping breakfast with milk, cinnamon, brown sugar, and butter… but I digress).  For the chicken, buy pre-cooked and frozen chicken pieces and warm them up before dinner, or get a deli chicken the night before you go camping.  Pull the meat from the bones and freeze it in a plastic bag.  Throw it in the cooler before you leave.  For the gravy,  you can pretend that youre at home and just make a simple one with butter, cream/milk, flour, and salt and pepper.  Or you can do like I do and use a can of cream of chicken or cream of mushroom soup, diluted with water or milk.
Variation Two: Â The Mexican
Funny thing: Â In New Mexico you can buy this at restaurants and it is called 'frito pie'.
The base: Â Corn chips… fritos, or the triangular kind. Â Whatever you have on hand. Â The protein: Â Beans (black or pinto) and ground beef (also, I recently made this with some leftover spicy sausage I had and it was pretty good!). Â Brown the beef, throw in half a packet of taco seasoning and some water. Â Add the beans at the end just long enough for them to get warm. Â Â The sauce: Â Melted cheese. Â Get your favorite melting mexican cheese, or just use what you have on hand (not a hard Parmesan or anything). Â Grate it and put it right on top of the beans and meat in your bowl. Â It'll melt into gooey goodness.
The toppings: Â Tomatoes, lettuce, cucumbers, olives, avocados, salsa or ranch dressing, sour cream, cilantro.
If you're camping: Â Or if you're vegetarian, just skip the beef. Â Add the taco seasoning to the beans with a little water and let it heat up. Â Slice the fresh toppings into plastic storage containers beforehand if you're that prepared, or slice at the campground. Â Both work just fine.
Variation Three: Â The Fruit
This version is a little different in that it is a lighter meal–almost dessert but I've had it for dinner often.
The base: Â Graham crackers. Â The protein and the sauce: Â Yogurt. Â Your favorite fruity flavor, or vanilla.
The toppings: Â Fruits. Â All of them. Â Apples, orange segments, bananas, kiwis, mangos, peaches, pears, raspberries, strawberries, blueberries. Â Chop up the bigger pieces until they're bite sized. Â Sprinkle over the graham crackers, top the whole thing with yogurt.
If you're camping: Â Easy enough at a campsight! Â Obviously you'll need a cooler for the yogurt, and you can freeze the berries beforehand, let them thaw while you prepare the rest, and then sprinkle them on last to give the dish an extra chilled flavor. Â Also, you can buy the yogurt in individual sized portions of different flavors and let the diners pick the flavor they'd like to use. Â What isn't used is breakfast the next day.
Variation Four: Â The West African.
The base:  Rice.  The protein:  Chicken.  The sauce:  A lovely peanut sauce, as spicy as you like.  You can buy it in bottles in the Asian section (some are better than others, but it's all personal preference–I look for one without corn syrup in the first two ingredients).  Or whip up your own before you head out camping.  The standard Asian-leaning peanut sauce is fine, or I like this one because it's easy enough for me to make.  If you're really fancy and on the ball, make this stew ahead of time, and spoon it over the rice in place of the protein and sauce.
The toppings: Â Peanuts, sweet potato chips, cilantro, coconut, green peppers, onions, corn, or (if you just happen to have them lying around), chunks of baked yam.
If you're camping: Â Get a bottle of peanut sauce, or make it ahead of time (it'll keep for a few days, and freezes well). Â The toppings travel well, and if you want to go the extra mile and throw in the baked yam, bake them in their skins before you go camping and bring them, or throw them in the campfire (wrapped in foil), an hour or so before you intend to eat. Â See Hawaiian haystacks for pointers on chicken and rice.
Are there other kinds of haystacks that I don't know about? Â Did I miss your favorite topping? Â Let me know!