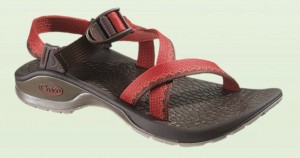 There are two kinds of people in this world: Â the toe-loopers and the non-toe-loopers. Â Those who enjoy (and apparently even become addicted too) the security of a piece of webbing between their big toe and, and those who can't stand to be violated in such a manner. Â Lindsey is a toe-looper. Â I am not. Â Somehow we are still friends.
Recently, Chaco sent Lindsey a pair of snazzy new Updraft sandals, rigged with vibrant red webbing. Â They were a sight to behold. Â They also were missing the ever-loved toe loop. Lindsey's feet couldn't adjust. She's more of an Updraft 2 kind of girl. Lucky me.
I've been wearing them for two months now–hiking in the Sierras, tubing the Rio Grande, shopping for souvenirs at the Spanish market. Â I even danced in them at a Hank III concert, where my husband had to spend most of the evening protecting me and my poor feet from a horrific and spontaneous occurrence that apparently happens at rowdy concerts: Â a mosh pit.
I love these sandals. Â I love that they felt good on my feet the moment I slipped them on. Â I love how adjustable they are. Â I love that I can slip them on and be stylishly ready to go at a moment's notice (yes, I am one of those people who thinks their Chacos go with every outfit). Â I love that I don't have to tighten the straps for them to stay on my feet. Â I love that they have such solid arch support and the cushion-y feel. Â I have already hiked several miles in a day in these things without ever regretting my choice of foot wear. Â And I love that they aren't shoes.
The downsides to these shoes are the same as the downsides with any sandal: Â your feet aren't protected. Â If it's cold outside, your feet will know. Â If you're in a crowd of people, your feet will know. Â If there's a root sticking out of the trail, your feet will know. Â I find, however, that, in most situations, my feet don't seem to mind.
Some of you who have owned Chacos before might recall the hefty feel the old classics had–like a sturdy boot or a pair of heavy-duty Carhartts. Â That was the solid vibram sole. Â I distinctly remember when I put on my first pair of Chacos eight years ago*. Â They felt like bricks hanging from my feet by an elaborate bit of webbing. Â I got used to it within days, and after so many years of heavy use, I have worn the soles down to the point that the weight is hardly noticeable.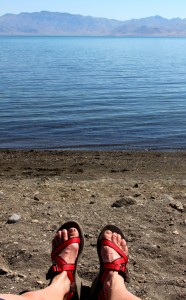 The Updraft differs from the 'classic' Chaco sandal in that it is lighter weight. Â The designers went with a vibram 'shell' for the sole (at least, that's my interpretation of their word 'outsole' after examining the design closely), rather than solid vibram all the way through. Â They also cut out a little bit of material between the ball of the foot and the heel. Â The difference in weight is immediately noticeable, and very pleasant. Â Putting my old Chaco on one foot, and the new one on the other, I can definitely tell the difference.
There's one other difference that I see between my old Chacos and my new ones–whereas the old Chacos used thick black webbing to attach the sole of the shoe to the straps, the new Chacos use a plastic piece for the same connection. Â This chafed the delicate skin below my ankle bone a bit during the first week or so of wear, though I don't notice it at all anymore.
And the price? Â $110 at the time that I write this. Â A bit high at first glance–I am programmed to balk at any item other than mortgage payments and car payments that run over $100 a whack. Â But doing the math, if these shoes last me five years, that's $22 a year for sandals. Â I could pay that much each year for flimsy sandals that might not last the summer season. Â I'm almost certain that those cheaper sandals would give me blisters and make my feet ache by the end of every day. Â Save up your dollars, wait for an off-season sale, and go with the pricier sandal. Â You'll be happy you did.
Are they as durable? Â So far, yes. Â It's only been two months (albeit of daily use), but they show no signs of wear just yet. Â I don't know how the trade-off between lighter weight and hardiness will play out over the years. Â Perhaps these shoes won't make it eight years like my last pair because the sole will give way before then. Â Time will tell.
In the meantime, I'm enjoying my fancy-schmancy shoes.
*–someone had left them as an anonymous gift on my desk at work with a note that said "All God's children need travelling shoes"– Â Thank you my anonymous friend