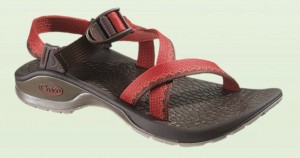 There are two kinds of people in this world: Â the toe-loopers and the non-toe-loopers. Â Those who enjoy (and apparently even become addicted too) the security of a piece of webbing between their big toe and, and those who can't stand to be violated in such a manner. Â Lindsey is a toe-looper. Â I am not. Â Somehow we are still friends.
Recently, Chaco sent Lindsey a pair of snazzy new Updraft sandals, rigged with vibrant red webbing. Â They were a sight to behold. Â They also were missing the ever-loved toe loop. Lindsey's feet couldn't adjust. She's more of an Updraft 2 kind of girl. Lucky me.
I've been wearing them for two months now–hiking in the Sierras, tubing the Rio Grande, shopping for souvenirs at the Spanish market. Â I even danced in them at a Hank III concert, where my husband had to spend most of the evening protecting me and my poor feet from a horrific and spontaneous occurrence that apparently happens at rowdy concerts: Â a mosh pit.
I love these sandals. Â I love that they felt good on my feet the moment I slipped them on. Â I love how adjustable they are. Â I love that I can slip them on and be stylishly ready to go at a moment's notice (yes, I am one of those people who thinks their Chacos go with every outfit). Â I love that I don't have to tighten the straps for them to stay on my feet. Â I love that they have such solid arch support and the cushion-y feel. Â I have already hiked several miles in a day in these things without ever regretting my choice of foot wear. Â And I love that they aren't shoes. (more…)