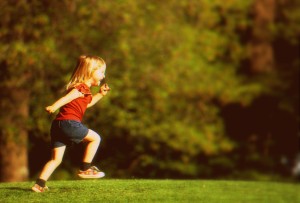 The Olympics are here! I love the Olympics—I like seeing people be the very best at something. It makes me feel good—happy to be a human. Each time they come around I decide that these are my favorite—last winter I decided winter Olympics were the best of all… now I'm thinking it's summer.
When I was little my mom and a neighbor threw an Olympics for us. We had gymnastics, choreographed swimming, and running events. We were told about the Olympics a week in advance so we had time to 'train' and prepare our astonishing feats of physical prowess. The neighbor's daughter and I prepared a perfectly choreographed swim routine, competing against the other 'team' of my sister and her sister. Our two moms watched our final performances and rated us on a scale of one to ten. Then they handed out medals, made from canning lids wrapped in tinfoil, and with a hole punched through for the ribbon. I still have them.
I also remember not winning. The disappointment and sense of something being wrong with the world when my little sister beat me at gymnastics (note my silver medal). I remember crying and pouting… and I remember my fellow eight-year old Olympians doing the same thing when they lost. Losing is hard when you're small—heck it's still hard for me. But it is an important skill to learn.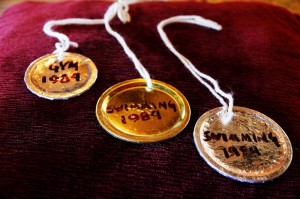 Looking for some good entertainment this summer? Jump on the Olympic band wagon! Have a good time and teach your kids the graceful art of losing (and winning) all at once.
First, throw together an Olympic event for your kids and their friends. Pick activities where age won't determine the winner (i.e. where the big kids won't automatically win). Freestyle jumping, gymnastics, choreographed swimming, skipping, bike riding, rolling downhill, target practice with water guns, or team sports where big and little kids can be paired up. With older kids, consider a triathlon, or trail run… and for added fun, throw yourself in the competition. Older kids love competing against an adult!
Award gold and silver medals based on their performances—and bronze and copper and aluminum if you need to. Don't single out the winner or the loser too much. And let them pick out (beforehand) a theme song, and play a snippet of it at their award ceremony.
And when the inevitable sore loser rears its ugly head, don't worry. Â Losing well is an important skill to learn. Â It teaches empathy, perserverence, and perspective. Learning that things don't always work out as you'd planned is a valuable lesson, and teaches one how to adapt to an ever-changing reality. As you teach your little one how to lose (or win) gracefully, consider these tactics:
• Remind the sore loser that there will be another game. That a loss is just a tiny passage of time between wins.
• Watch the Olympics with your child and point out how often people mess up, and how many losers there are for every one winner. Show them that even their heroes fail from time to time and that that's okay.
• Remind the winner and the loser to shake hands after each game, and to say "Good game!" Make praising the winner an art form all its own, and praise the loser for honoring the winner well.
• Let them see you fail from time to time, and watch how you handle it: laughing, joking, and getting up to try again.