So one of the things that I stumbled upon while entertaining-I-mean-teaching small children over the last few months is that PVC pipe is amazing. Â It is good for all sorts of things–practicing walking on a balance beam, learning the ins and outs of balancing something on your hand, building rocket launchers, marshmallow shooters, marble roller coasters, and making funny noises.
But of all the activities we used my wide selection of PVC pipe for, plumbing was my favorite (and I dare say theirs too–even the ever-so-picky sixth graders had a blast!)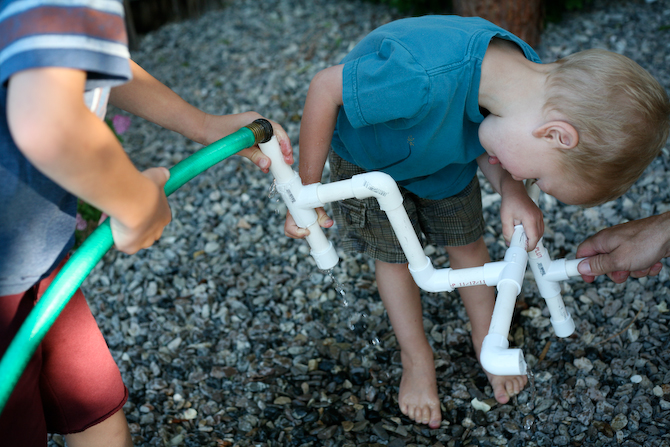 If you're looking for a great way to keep your kids entertained outside for a few hours next week, consider investing in some PVC pipe, aka, Legos-You-Can-Pour-Water-Through.
At my local hardware store, a ten foot length of 1/2 inch PVC pipe was under $3.00. Â Connectors ranged from a quarter to $1.50, depending on the piece (see the bottom for a picture of some of the different options available). Â And pipe cutters were under $10.00 (though you can use a saw, as I did for the first month before I discovered that such a thing as pipe cutters existed).
I bought a wide array of connectors, chopped a few lengths of PVC pipe into different sizes, picked up a couple of funnels and scrounged up a pitcher for pouring water through, and then dumped all the parts and pieces into a five foot wading pool filled half full. Â They figured out the rest.
Shoes were off in five minutes. Â Completely soaked and very happy kids magically appeared around six minutes.
For added fun, I took a two-inch diameter PVC pipe and drilled some holes in one side, and got some connectors to join the 1/2 inch pieces to the 2-inch pieces. Â When they poured water through, it dribbled prettily out the bottom (much to their delight).
For the slightly older kids (fourth and fifth graders) I came up with a series of challenges, telling them if they completed all the challenges they could join the League of Extraordinary Plumbers. Â Challenge one was an obstacle coarse for the water–across a stretch of eight feet where they had to connect many pieces to make it reach. Â Challenge two was to make water go uphill (they came up with some remarkably good ideas that I hadn't thought of!). Â Challenge three involved making water go in several directions, and stopping the flow on command. Â Challenge four was to make a 'water feature' (I used an old fish tank water pump to help them out on this one).
Being the bunch that they were, they added their own challenge–who could make the most offensive noises by blowing into the tubes while they were submerged in water. Â Sigh.
Oh, and just for fun, here's something made out of PVC pipe that I would LOVE TO BUILD. Â And here's the best marshmallow shooter I've seen yet…