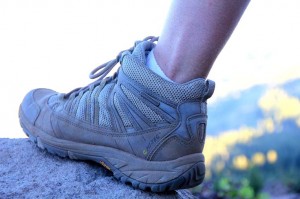 When I was maybe fourteen or fifteen, I fell in love with my hiking shoes. Â It likely wasn't the first pair I'd ever owned, but it's the first pair I remember. Â We bonded, those boots and I. Â I thought of them as a buddy. Â An integral part of my naturalist being. Â They made me hike faster, climb better, and gave me greater stealth. Â And when I finally retired them after years of scrambling, running, sneaking, and exploring, I saved them. Â Placing them reverently in the shoe box in which my new hiking boots arrived. Â Just in case. Â They're still in my mom's basement somewhere.
They were Hi-Tecs. Â Blue and grey, mid-ankle high, with easy-to-tie laces.
So when onlineshoes.com asked Lindsey if she or I wanted to review a pair of Hi-Tecs, I was only too eager to remake the bond I'd had with that first pair. Â I went with the mid-ankle Hi-Tec Harmony (WP) boots.
They arrived in the mail three weeks ago, and I have been aggressively putting them through their paces. Â Obviously, there was no way I could take pictures of my feet, so, alas, I had to travel to Reno and see Lindsey. Â So that she could take pictures of the shoes, of course. Â No other reason.
On the plus side:
They're a sturdy boot, with a solid sole, and tough uppers. Â A long hike home, in the dark, in the Sierra's a week ago left me tripping, stumbling, and wobbling over rocks I failed to see by headlamp. Â They offered good ankle support and I was grateful.
As opposed to the pair I had those many years ago, this pair is waterproof… and they really really are. Â Fifteen minutes standing in the shallow eddy of my local fishing stream kept my feet as dry as can be.
And the sole is sticky, clinging like a gecko to granite and sandstone alike, and not sliding too much when wet. Â It's vibram, so durable and able to withstand scrambling around destructive igneous rocks.
The cons?
The laces are round. Â Why do shoe companies do that? Â I can't stand round laces, but it seems that every boot on the market comes with round laces nowadays!
The waterproof-ness makes them hot inside. Â I suppose that's a trade-off one makes when buying any hiking shoe. Â A desert shoe is slightly less likely to encounter water and can forego waterproof fabric for the sake of breathability. Â A shoe made for crossing mountain streams can't also be made of porous fabrics. Â Between the two, I think I'd rather have wet feet and a breeze.
The other con is more personal–they didn't fit my feet well, and after eight miles my feet winced before each down-step.  My toes ached, my feet bones throbbed, my arches complained, and the front of my ankles were rubbed raw by the thick tongue.  This is more of a compatibility issue though–someone else's foot may better fit this shoe… and I'd be willing to give them another try with some padded inserts added (those are often the difference between bliss and torture in my experience).  What's more, onlineshoes.com has a generous return policy, an easy exchange program for getting the sizing just right, and free shipping.
Bottom line: Â They're a good solid waterproof boot. Â A little on the warm side, a little stiff and unforgiving for my wimpy feet. Â But good enough that I'm going to buy some inserts and give them a few more tries. Â With any luck these boots and I will be hiking buddies for a good many years.