One of the things I love about backpacking is the challenge of creating a tasty and filling meal at the end of the day, without lugging an extra ten or twenty pounds of food in with me. Backpacking with kids adds even more to that challenge, as they are discerning little folks, with taste buds as sensitive as a New York food critic. Â They can sense the dehydrated food in your pack before you even pull it out, and steer away from powdered milk like cats from water.
The thing is, those little ones need a good meal filled with fat, a little protein, and plenty of calories. Â Even better is if you can get them to drink enough to stay fully hydrated. Â Bring lots of drink mixes to encourage imbibing, and think about starting dinner with a soup–Ramen noodles are easy, for example.
Here are a few meal suggestions to satisfy the little connoiseur, giving him or her the energy to get through a few days of long walks in the back country.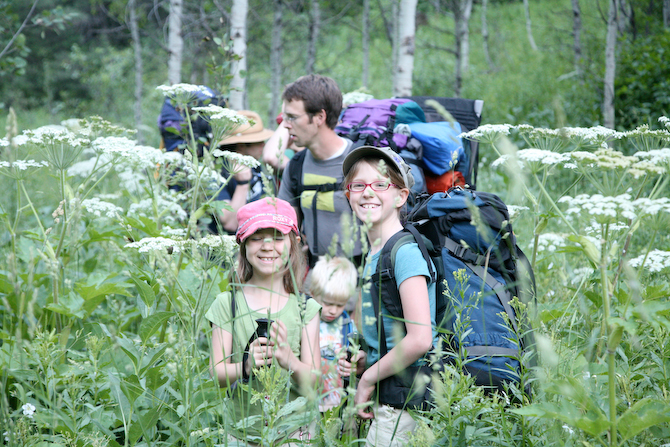 A note before we get to the recipes. Â As with car-camping, there are 'kits' that I like to prepare when I go backpacking… Â The Olivia Bag covers most things, but I also have a little kitchen bag for backpacking. Â In it (along with utensils, etc.) are a few things that I know I'll need no matter what meals I decide to make. Â I've got a tiny container of olive oil, some commonly used spices (salt, black pepper, red pepper, cinnamon, paprika, oregano, taco seasoning or chile powder… curry is also fun).
1) Â Stove Top Pizza
Ingredients:
-Bisquick OR Pita Pockets;
-Cheese (anything you'd normally put on a pizza, see our article on cheese in the outdoors–I like parmesan)–pre-grated, and stored in a ziploc
-Tomato sauce–double ziploc for that one
-Pepperoni or dried salami
-Any other toppings you felt like hauling up the mountain, oregano, and olive oil.
Instructions: You can do this one of two ways…
ONE: If you brought bisquick, mix up a slightly drier dough using water (I mix it in my coffee/hot chocolate mug). Grease the bottom of your cooking pot and throw the dough in, pressing it flat so that it covers the whole bottom of your pot. Â I cook it over a medium heat (my little one-burner stove has two settings–hi and medium… if I want to simmer I have to hold the pot up above the stove a bit). Â When one side is brown, flip it over, then add the tomato sauce, cheese, and all other toppings. Â Add a lid and cook until cheese is melty and your mouth is watering.
TWO: If you didn't bring bisquick, but instead brought pita pockets, cut the pita in half, fill the inside with sauce, cheese and toppings, and put in your pot (again, put in a touch of olive oil first) with the lid on. Â Flip once to make sure everything inside gets warm. Â Enjoy!
2) Â Cheesy potatoes with hotdogs
Note: Â this meal is best for the FIRST EVENING OUT.
Ingredients:
-Potato flakes (I like the buttery kind with chives or garlic already mixed in–bring more packs than you think you'll need as they go fast!)
-Cheese–pregrated
-Hotdogs (before you leave the house, freeze them solid–two per person; also freeze a water-bottle–for this the best kind is the collapsible kind; on the day of your trip wrap the frozen water-bottle and the hot-dogs together inside your warm clothes that you'll be putting on at night. Â They'll easily stay cold until you get to camp unless you're hiking in the Mojave in August. Â Even then they'd probably make it okay…).
Instructions: Mix potato flakes with boiling water per instructions on packet. Â Sprinkle in cheese and slices of hotdog and let everything get warm. Â Enjoy!
3) Â Burritos
Ingredients:
-Dehydrated refried beans (I usually find these in the health food section–they're actually really good!)
-Cheese
-Instant-rice
-Taco-seasoning packet
-Burrito shells (also good for breakfasts and lunches)
-Any other toppings you feel like dragging along–freeze-dried corn is good if you can find it, for example.
If you're only doing an overnighter and can afford the extra weight, a can of Rotel is fun. Â And I always splurge and bring avocados when I camp. Â Some I've camped with bring a can or packet of chicken and add it in too. Â Yum!
Instructions:
Make the rice per the instructions for your brand, add the taco seasoning (I usually add a half a packet and taste–then add more if needed) and beans, with more water in order to rehydrate them (if you use Rotel, dump in the juice and lighten up on the water for the beans). Â Spoon into burrito shells. Â Top with your fixins. Â Wolf down.
4) Â Polenta with Bacon and Cheese
Ingredients:
-Instant polenta Mix
-Dried Milk
-Bacon Bits
-Cheese (Parmesan works good here–again, pregrated makes the backpacking life easy)
-Onion flakes
-Paprika
Instructions:
Prepare the polenta, add just a little dried milk if your brand calls for milk. Â Mix in the bacon bits, cheese, and seasonings. Â Stir til fully combined. Â Enjoy!
5) Â Soups and Appetizers
Soup is a wonderful starter coarse or main-meal when backpacking–especially for staying hydrated. Â For a main-meal, I recommend an instant soup mix. Â There are many good ones, and the Bear Creek brand is my personal favorite (though check the label to see how long it has to simmer–some call for a half-hour simmer which I consider too long if you're backpacking and fuel is a limited resource).
If you want to make your own, Ramen is wonderfully versatile. Â My favorite is Ramen with broccoli florets (they hold up well for about two days–trim off all the excess so that you aren't hauling anything extra), a little dried milk, and cilantro seasoning. Â Be creative though and add what ever you'd like. Â A can of mixed vegetables is good–mushrooms rehydrate well if you add them to the boiling water awhile before you add the Ramen.
I always want to snack while waiting for dinner, some of my favorites:
Leftovers from lunch are of course just fine.
Dried powdered hummus mix… add water, enjoy. Â And it adds a little 'flare' to the back-country trip.
Also enjoyable is guacamole if you splurged on an avocado or two: Â smash up an avocado. Â Add lemon pepper, salt, and a tiny bit of lime juice (old film canisters made by Fuji are good for carrying lime juice) or a packet of true-lime. Â And add red pepper if yours or your kiddos taste-buds can handle it.
6) Â Dessert
Dessert is important while backpacking. Â It keeps things exciting, provides a bit of comfort, and just plain tastes good.
Hot Chocolate is one of the greatest inventions ever for backpacking for many reasons, not the least of which is that it hydrates you while comforting and warming you (yes, it's a mild diuretic, but not like coffee). Â Splurge on a fancy flavored hot chocolate if you're so inclined.
Marshmallows, of course are wonderful desserts on the trail and very light-weight.
Melting a chocolate bar (either on top of your pack on a hot hike or on a piece of tinfoil over your burner in the evening) is a good dessert too–dip marshmallow and graham cracker in the chocolatey goodness, or fruit, or graham cracker and peanut butter…
I've also managed to make pudding in the field before–it is easiest in a metal cup or bowl with extremely cold water nearby.
Jello-mixes are also good–I recently learned about a new use for jello that would be perfect for the field: Â sprinkle watermelon jello powder on grapes… I imagine this would work for any fruit.
Any other backpacking suggestions for comfort foods kids will eat? Â We'd love to hear about them…