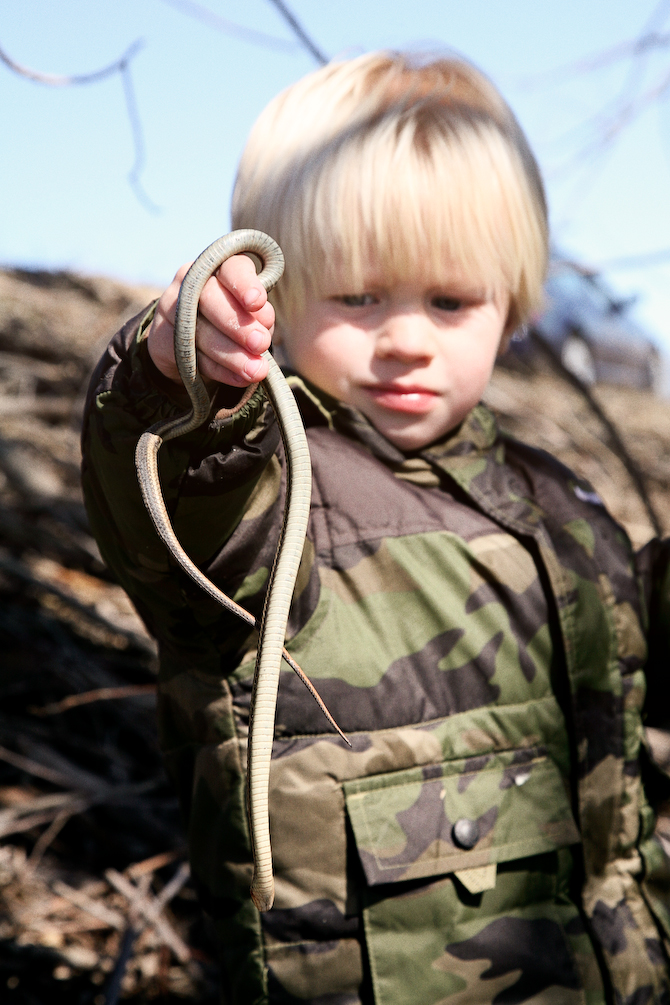 Remember back when we asked you (our readers) to fill out a survey? At the end of the survey we asked: What topics would you like to see on the blog in the future? Â We particularly enjoyed this one:
How to fight off a mountain lion. Seriously, every time I think about going on a hike I think about mountain lions attacking me and my children. And then I don't go on a hike. I think I have problems, how about addressing outdoor paranoia? :)
Encountering wild animals when you and your kids are out is a valid concern for any caring parent. But don't let concern prevent you from enjoying all the outdoor world has to offer.
Think of wild animals in the same way you think of bodies of water — a fear of drowning shouldn't keep you from camping near a river. Â It should instead motivate you to buy life jackets for your children and come up with a plan for being attentive when you are near them. Â Similarly, unfriendly dogs in your neighborhood are no reason not to go walking, they are simply a reason to carry a big stick.
Encounters with dangerous animals are rarer than you'd think. Of all the times that people go hiking every day, all over the country, an attack happens very seldom (20 people in the U.S. have been killed by mountain lions in the last 100 years, for example).  Most animals are as uninterested in getting close to you as you are to them.
I'm wondering if 'outdoor paranoia' has something to do with how a person is raised?  For example, growing up in rattlesnake country has made me rather blasé about their presence, but  I can't tell you how many random hikers have scolded me for taking my kids hiking in 'rattlesnake country'.
Rattlesnakes have never really worried me.  I attribute that to my younger years, when I used to watch my Dad catch snakes of all kinds, rattlesnakes included (along with other venomous reptiles, like Gila monsters). In all my times playing in the sand, climbing juniper trees, and poking around rocks, I've encountered a few rattle snakes, but I've never been bit (knock on wood). Watching out for them has become second nature, and I know how to act when I see them.
This isn't to say that I've never been afraid (or 'paranoid') while hiking. Â When my oldest was two I went for a hike up a canyon fifteen miles from my house in Utah. Â Alone, with him on my back. Â Four miles up the country, for no tangible reason, IÂ knew with every bone in my body that I was being watched. Â I could feel it. Â I turned and headed out of there faster than you can say cat scat.
Was there really a mountain lion? Â I can't say for sure. Â But that doesn't matter–my boy and IÂ were around to hike another day and I've never second-guessed trusting my gut.
Have I hiked that trail again? Â Several times.
I think the key lies in the following:
Knowing about the dangerous animals in your area, and knowing how to avoid them.
Respecting them.
Knowing what to do should you ever get in a standoff with one.
Trusting your instincts–those hairs on the back of your neck that tell you "something isn't quite right."
Taking safety precautions. Carry bear spray (or a firearm) and know how to use it.  It could work on more than just bears and makes you feel a little safer.
Get outside anyway. Don't pass this phobia onto your kids, instead pass along the knowledge of how to keep yourself safe.
Any other thoughts on this? I'll address the mountain lion part later this week…