I know I'm technically taking this week off and all, but I had to share two things real quick that are somewhat time sensitive in nature, and that should be documented for posterity's sake.
1. I got the following email a few days ago from outdoor blogging friend Amelia. She said:
Hi Lindsey, Checking emails real quick and saw the Chaco email with you nice and big and happy! Â Congrats…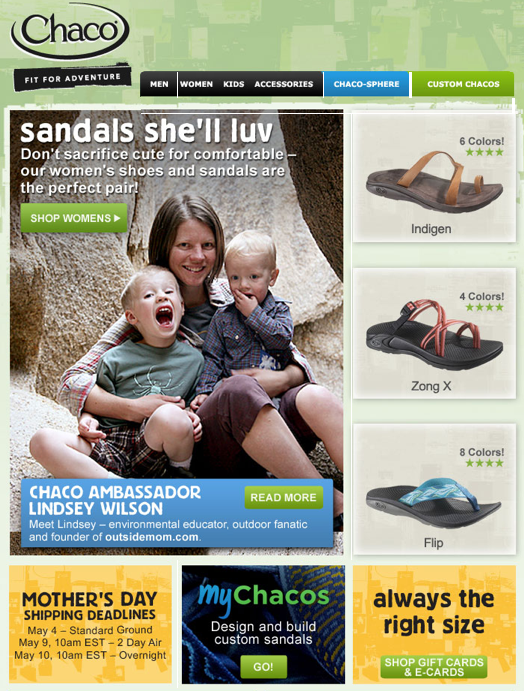 My first thought was "what is she talking about"? My second thought was "what does she mean by nice and big, did they somehow get a picture of me pregnant"?
I wrote her back admitting I had no idea what she was talking about, so she forwarded me an email from Chaco with this Mothers Day ad (right). Kinda weird to see yourself staring back at you, didn't see that coming at all. Quite an honor however!
2. I was recently nominated for the Circle of Moms Top Outdoorsy Mom Blogs of 2012. I'm not sure how I got on the list, so thanks to whomever nominated me. It's an honor to be among some really great bloggers.
If you want to vote for outsidemom.com, or any of the other cool mom blogs (you can vote for more than one) please do so here. There is no prize if you win, but the recognition for being near the top of the list would be nice (we're currently #14). You can vote once every 24 hours until May 7th.