We have a border collie, red heeler, Australian shepherd mutt. Her name is K-So (technically pronounced Queso if you speak Spanish). We adopted her a year or so before our oldest was born.
I saw her at a local pet adoption extravaganza. She was the only dog not barking. She was malnourished, had a pretty good case of mange, and looked completely miserable. I couldn't bring myself to leave her there. I took her home and nursed her back to health. She loved me. I was the Alpha and she was happy to be whatever other greek letter I desired her to be.
Like most non-kid couples we treated our dog to all the luxuries you would bestow upon a child. Undivided attention, training, treats, exercise, playtime with other dogs, and car rides in the front seat. She enjoyed her life immensely.
When I became pregnant with our first child she sorta fed off the energy. We were happy, so she was happy. I mean really, this picture, taken a few weeks before Ari was born says it all: Happy, excited and ready to party!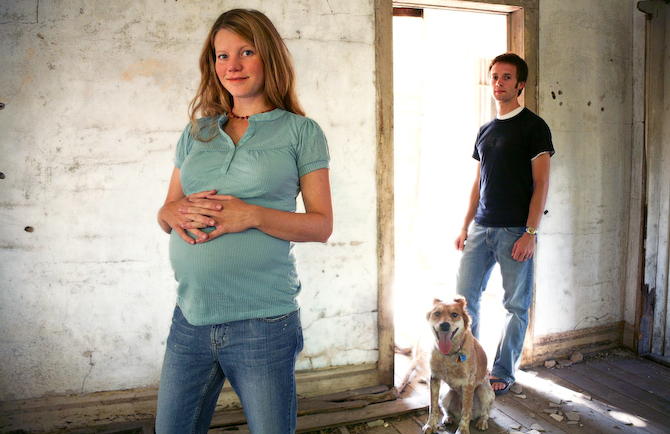 When Ari was born, K-So quickly settled into her new role at the bottom of the totem pole. She took the toddler maulings with grace and patience. I think she understood that I was grateful for her good temper, and that Ari had something other than me to look at once in awhile.
Then I got pregnant with child #2. She seemed to enter a state of insecurity the day she noticed my growing gut. Or maybe her insecurity came from the fact that I all of the sudden found myself totally repulsed by the smell of dog. The more I tried not to be around her so that I didn't puke, the more she felt the need to follow me. My poor clingy dog was constantly under my feet. Literally. She was a furry yellow stinking shadow. It was dangerous. I couldn't see my feet, let alone my dog, and I was constantly tripping over her, thus yelling at her, thus reinforcing her feelings of woe.
This photo, taken a few weeks before Isaacs birth sorta sums up how she felt: resigned, resentful, and missing the good ol' days.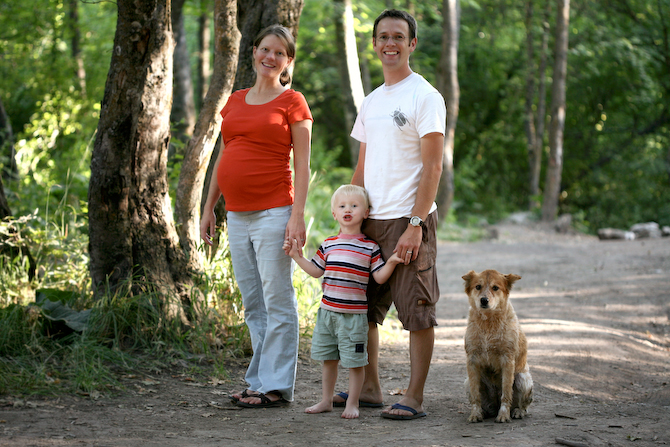 Then there was this pregnancy. To me, K-So seriously smelled like a rotting corpse. I took her to the vet, horrified by the odors emanating from my dog's very skin. I thought she must be dying. They couldn't smell it. K-so gave up on shadowing me this time around, instead slinking to her bed upstairs and staying there all day–for the entire pregnancy. She'd come down from time to time, but hid behind chairs and under the table. Her gusto was gone; she was clearly depressed. I felt guilty. I felt terrible.
By pregnancy number three she'd apparently lost the desire to even face the camera. She's just looking at us like she doesn't know where she fits in anymore.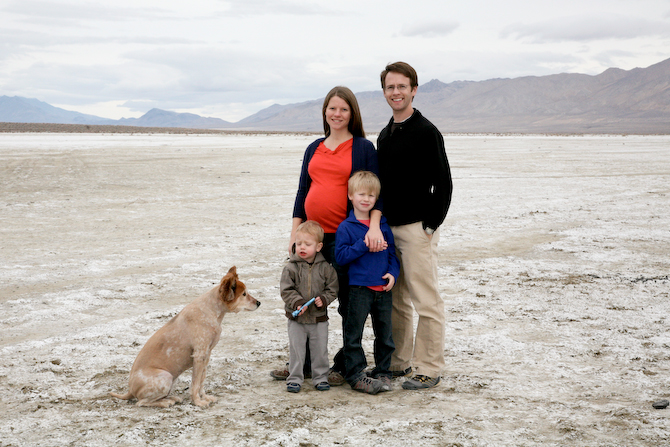 Poor K-So. My pregnancies are about as hard on her as they are on me. Thankfully she bounces back quickly as my activity level and smelling censors return to normal; and in true canine fashion she doesn't seem to show any lasting resentment.
Is my dog the only one?