Because I couldn't have an active pregnancy I wanted to interview someone who would know a thing or two about active pregnant women. I decided to ask Teresa Delfin. Not only is she my twitter friend, but she's also the founder of Mountain Mama Maternity, a clothing company for women who want to maintain their outdoor lifestyle despite their growing bellies. I knew she was the perfect person to ask.
Thanks Teresa for sharing your ideas on staying active in the outdoors during pregnancy, for providing clothing that helps women do just that, and for making me wish I could be one of those active pregnant women…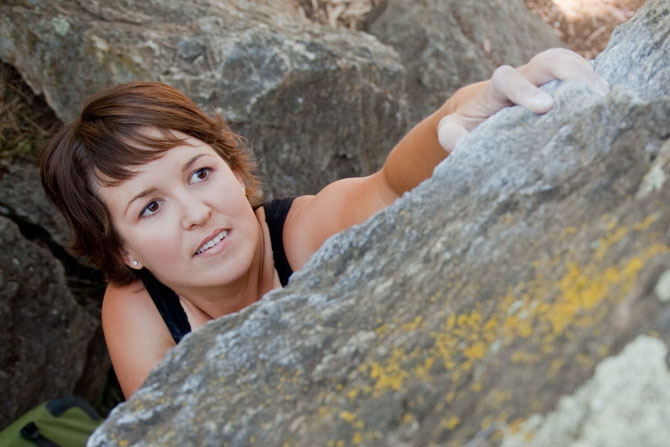 1. What outdoor activities do you enjoy most when you're not pregnant?
I'm the classic multi-sport outdoor athlete – the more fun things I can find to do outside the better! I joke with my husband about my "triathlon" days, which is just any that I can squeeze in three or more sports. Since I was in high school, I've had a passion for rock climbing, but a good mountain hike with my family is fun, too.
For summer, I've picked up SUP (stand-up paddleboard) which is just loads of fun and manages to combine my love for kayaking and surfing. I'm excited to teach my 3-year-old skiing and have hopes of getting him on the slopes yet this spring. For fun and transportation, I enjoy riding bicycles. I have a trusty city bike for getting to coffee dates and shopping, a great mountain bike my husband got me to celebrate finishing my Ph.D., and the road bike I did the AIDS Lifecycle (SF to LA) on a few years ago.
2. Part of Mountain Mama's mission is to provide apparel that let's expectant mothers continue to enjoy playing outside while pregnant. Why is this so important to you? And how does having the right clothing fit into that?
Well, the answer to the sports question gives you some insight on this. I think the experience of the outdoors is just a spectacular part of life.
My personal goal was to introduce my children to the fun of outdoor adventure as early as possible—before they were born! Both my boys knew what cycling and kayaking and climbing and other fun things felt like from doing them with me pregnant. And staying active and healthy is a big part of having a good birth experience and a healthy baby.
I couldn't believe anyone would think women should give that up when they get pregnant, so I was shocked when I discovered that no one was making even the outdoor basics, like baselayers. But I've been part of the outdoor industry in various capacities for more than 15 years, so I knew that this blind spot about the needs of pregnant women reflected some of the old "boys' club" nature of the industry. Women have more of a place these days, but there are still old attitudes about what we're capable of that have to be overcome.
We're on a mission to make a difference by making clothes that let sporty outdoor women maintain their dignity while they're pregnant. And if we can help those women maintain their identity and lifestyle, we'll be helping them be active, healthy moms who bring active, healthy kids into the world.
3. How do you stay active during pregnancy? What activities worked best for you?
As we've already talked about, the list is long, but it varied a bit between pregnancies. With my first son four years ago, I was a regular at the prenatal yoga classes and there was more cycling because I was riding my bike to campus through 40 weeks since it was easier than walking. With the baby I just had in October, I was swimming almost every day in our neighbors' pool and on weekends having fun with the SUP (stand-up paddling) and mountain hikes with my 3-year-old, Fausto.
4. What advice can you give someone who wants stay active during pregnancy but gets distracted by morning sickness, fatigue or just feeling like they are 'too big' to get out?
The key is to stick with the activities you enjoy that fit your routines. Having other women to share the experience with helps, too. That's why prenatal yoga and swim classes are so popular. Stroller Strides and Fit4Baby both offer great workouts for mothers.
But it's not just other pregnant women who can provide a support network. Â Getting the whole family out for hikes is a great way to keep the fun factor going. A bicycle that lets you sit upright is really great for late in a pregnancy when the round ligaments get so loose that running or even walking can be uncomfortable.
5. What advice do you have for staying active after pregnancy, when you have little ones around?
A high-quality jog stroller can help you get back to running, if you enjoy that. We're big fans of all the Luna programs such as Stroller Strides, too. Good baby and kid carriers such as the Ergo and Baby Bjorn let you get out for walks and hikes, and then when they're a bit bigger it's an easy transition to a backpack carrier such as those made by Kelty and Deuter that let you really hike.
There are lots of great bicycle options now, too. We have a Zigo, which is basically a reversed tricycle so you can keep an eye on baby up front but that part also detaches so it's a stroller once you reach your destination. More and more companies are figuring out innovative ways to support active families, so keep an eye out and ask around!