I got an email a few weeks ago from a Mom by the name of Sarah. She was seeking advice about outdoor play/activities for children with learning challenges, specifically ADHD. Because I have little to no experience with this kind of thing I invited her to write up her experience in hopes that other parents might have more advice to share than I did.
If you have a child with a learning challenge or special need and have used the outdoors as a tool, we want to hear from you.(See the bottom of Sarah's article for more specific questions, or add your own thoughts).
Thanks for sharing your story Sarah, I absolutely love this post. I for one think Michael is a pretty lucky kid.
– – – – – – – – – – – – – – – – – – – – – – – – – – – – – – – –
This is my firstborn, Michael: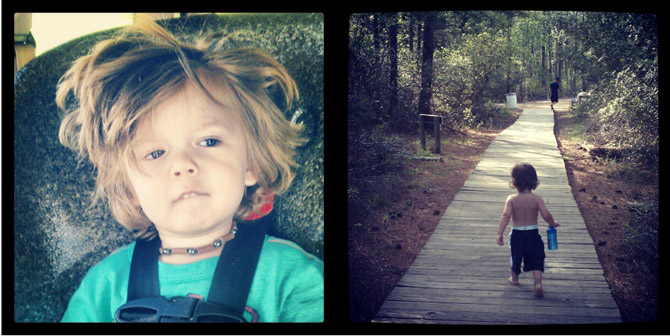 His little fetus self hit me in the gut at twelve weeks pregnant and didn't stop moving the rest of the pregnancy. At twenty weeks, he kicked the TV controls off my belly. After his birth, he screamed for three months straight.
I stopped comparing him to other kids, or asking for help from other moms a year into the adventure. My son was just—different. Tough, independent, confident, and able to take down a full grocery cart in 2.3 seconds. He climbed out of his car seat before other kids even realized they were in one. (P.S. Duct tape around the straps solved this problem for awhile).
Around his third birthday, he was evaluated for early learning disabilities (including autism and ADHD). Twenty minutes into the evaluation he pulled out every toy, had to be told to go back to his seat fifteen times, ran into the door twice, and spun in a circle for three full minutes… Oh and he tried to set some turtles free. Anyways, after all this, the evaluator scrunched up her face and went, "Yeah. It looks like ADHD." As if to drive this point home, the kid ran into the concrete block wall and bounced off with a huge smile. Then did it again.
One of her suggestions—find a gross motor activity that allows him to practice his missing executive function skills.
A little bit about Executive Function:
Executive Functions are a group of key cognitive skills, the lack of which is where learning disabilities and ADHD collide. People with ADHD have less executive functioning skills than everyone else, plus, they acquire the little they do have much slower (about thirty percent slower).
The skills themselves are things like: anticipating the future, avoiding repetition of the same mistakes, planning, having a sense of time, paying attention, staying awake, finishing a task, controlling emotions, being able to internalize thoughts, analyzing, organizing information, error correction, and performance in situations where activity is not rehearsed or planned. (Zeigler Dendy, 3)
So when the therapist suggested a gross motor activity that included executive function practice, I immediately thought of climbing.
It made perfect sense that my son's lack of executive function could be helped by rock climbing. My husband has severe ADHD, even as an adult, and has used rock climbing as part of his coping strategies since he was about eleven. His dirt-bag years in the New River Gorge got him through college. On the rock, he is safe, thoughtful, technical and precise. He is in control of himself and one of the most conscientious climbers I have ever come across. But when he's in the basement packing his gear, he forgets to pack QUICKDRAWS. OR ROPE. OR ANCHORS. (true stories– I check the gear bags now).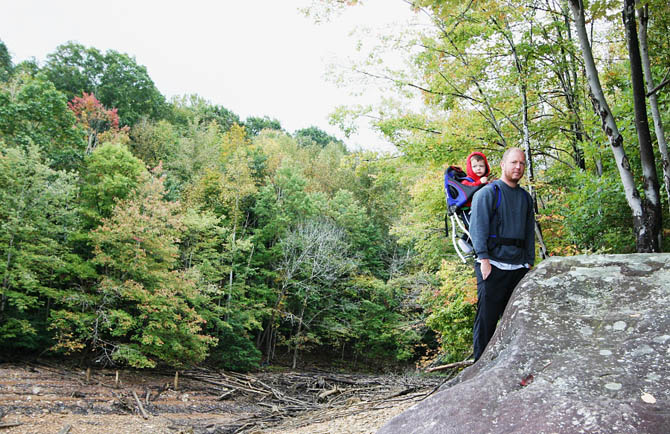 But while it made sense, it was only a theory. Michael, after all, was only three. I couldn't see climbing having a huge impact on a three-year-old. He'd been out with us before, but nothing focused on him, and especially nothing focused on working through these brain issues.
I decided to take the suggestion and run with it. What could it hurt to try?
Climb On:
The week before his third birthday, I strapped my ten-month-old in the Ergo on my back and *firmly grasping* Michael's hand, we went to the climbing gym with the sole purpose of a quasi-therapy session.
Note: I would have taken him outside, but we have no safe outdoor climbing near us. Great Falls National Park is our local crag, but he is so impulsive that he will not go climbing there until he's like…twenty-five. The climbs are all in a gorge along the Potomac River and you belay on ledges above the water. When you fall in the Potomac there, you die. Seriously.
I planned to keep it simple. I had a bag of M and M's to use as motivation (to put in the holds for him to climb after). After getting the candy, he would sit on the mat for a set amount of time before moving onto another climb.
I went in the very early hours where he would be the least intrusive. And I kept my expectations low. The kid couldn't listen to me read a book for more than twenty seconds, after all. Even if it was only ten minutes in the gym, it would be something we tried.
We were there two hours. Climbing for two hours.
He furrowed his brow and walked around the edges of the walls until he saw something he liked and pointed it out.
The candy piece went into the hold he was going for, and off he'd go.
Occasionally he had problems focusing on the climb. His eyes would ping back and forth in his head in excitement, and when he got on the wall he couldn't keep his body from flailing. In those instances I pulled him off the wall and had him jump up and down on the mat in order to regain focus.
He climbed like a boy—all arms, pull-ups and aggro, brah. And he was proud of himself for getting the candy. I didn't realize until that moment how little opportunity he had in everyday life to be proud of himself for achieving something.
When it came time to sit in between climbs, he sprawled out on the mat and relaxed without any problems. It's very rare for him to even slow up, let alone stop and be calm. It did my mommy heart good.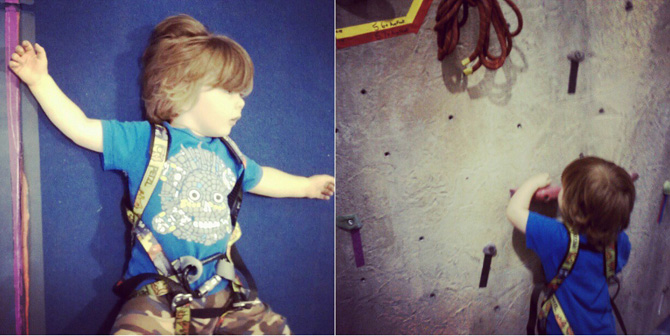 In the calm space, I was able to point out the few other climbers in the gym. He normally cannot break out of his own fast paced world to notice other people, but that day he could. And we were able to practice climbing etiquette (no screaming for the most part, no running around, respecting other people's space).
There was this moment about halfway into it where we were sitting on the bouldering pads just talking in between climbs. I've never gotten to just sit and talk with my child before like that.
For two hours my son could operate at a normal speed, be proud of his achievements, and connect in a way he hadn't been able to before.
The other surprising thing? It lasted. He didn't get a nap that day, but was still focusing and connecting better than if he had, hours after we left the gym.
Going Forward:
We've started changing some things at home. He asks to watch climbing videos on my ipad a lot now—the kid who cannot watch Sesame Street can sit frozen through Chris Sharma climbing videos. His favorites though, are the kids climbing. Anyone in a diaper climbing anything is awesome to him.
We've started taking him to the gym more frequently.
Our winter project now includes building a small bouldering wall in our basement for him. I think this might work out really well for "therapy" during those days where he just cannot get a grip on himself.
We've found some little baby boulders at a park that he loves to play on.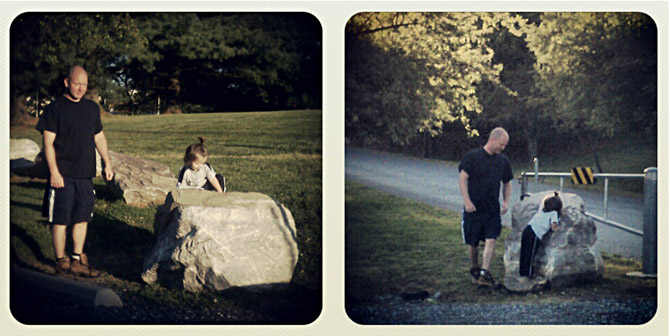 He asks every single day to go climbing.
And here are my questions to the Outside Mom community:
What other ways can I harness the outdoors and apply them to the way his brain works?
Have you heard anything about types of outdoor therapies that are succesfull with LD/ADHD/ASD children?
How do I help him progress in climbing?
Things I've learned about taking two small children to the climbing gym:
Go when no one is around. I mean 10:00 am on a sunny, seventy degree Tuesday type of no one is around.
Make them wear the harness even if you have no plans on putting them on the rope—thinking towards the future AND you can grab them quicker.
Do not have someone with ADHD check the harness you've never put on before and say "uhuh" when you ask if it's on right. It's not on right. He will tell you this after you get home all proud of yourself. Then he will have no recollection of telling you it was.
Give them something to climb for. We adults climb for something. Kids don't have much awareness for esoteric reasons why they climb. They do understand candy. I've even used my keys. So they climb for candy and shiny objects.
One in the carrier on your back.
Pray everyone is forgiving of your toddler being fascinated with the echo.
Stash snacks in the Ergo and your pockets.
I think this is obvious, but don't let them anywhere near chalk!
Point out other climbers for them to watch. I did this for the ADHD as I tried teaching him etiquette in a gym and to notice other people. He loved watching—especially the girls!
Don't get sucked into "two mama?" because two climbs later, the question becomes "three mama?" and you're like, wait, it's ONE PIECE OF CANDY per climb. I don't care how hard it is.
Don't skip the sitting on the mat quietly part. Even if it wasn't for the ADHD, I would make him do it, because at some point he will have to take turns climbing.
Works Cited: Zeigler Dendy, Chris A., M.S. Teenagers with ADD and ADHD: A guide for parents and professionals. Betheseda: Woodbine House, 2006. Print.
Article by: Sarah Lemon