My husband commutes 16 miles a day by bicycle. Come rain, snow, sleet, hail or most often in Reno, wind, he's out there pedaling. Most of those miles are busy non-bicycle friendly roads. When we moved here we invested in brightly colored clothes, safety lights, and a life insurance policy.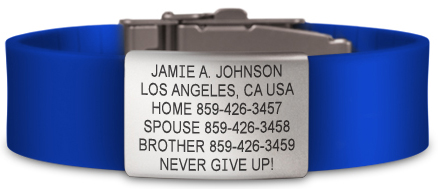 Most recently Joe added another item to his safety repertoire. A Road ID Bracelet. It's a bracelet that shows his name, along with phone #'s of people to contact incase of an emergency (and medical info if necessary).  If he's unconscious along the side of the road I'll be the second to know about it (after 911 hopefully).
I'm mentioning this because the bracelet is actually really cool, and could make a good (albeit slightly morbid) Fathers Day gift. It's not only applicable to bikers, but runners or hikers as well. Joe's also been doing some backcountry trail running. Alone. Sometimes at night. He doesn't carry his ID when he runs.
Joe tells me the one he has is really quite comfy. I think it's pretty hip. Just hope it never really comes in handy.