Today's post is compliments of Stacy from A Simple Six. Her and her family (of 4 kids) recently took a different kind of weekend vacation, they did an overnight bike trip. I love the idea and have recently been thinking to do something similar with my family. While we've been eyeing a simple trail in Point Reyes National Seashore, I love that Stacy's starting point was her own front yard.
Thanks Stacy for all your great advice on how to plan an overnight family bike trip. Fabulous ideas, can't wait to put them to use! And as always readers, please feel free to leave a comment with your own advice, experiences or questions.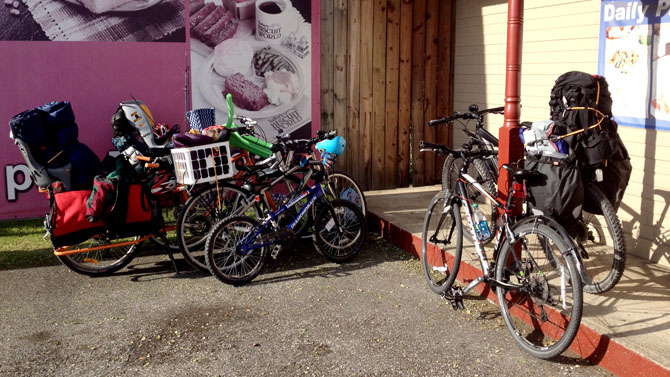 How do you save money on family vacation travel? Have you seen the price of gasoline!? What about hotels? The frugal solution could be in the form of a single overnight bicycle camping trip (S24O), one where you roll right out of the garage and pitch your tent several miles from home. Some tips for planning your trip:
1. Select Your Route
Consider all your options and your needs.
How far do you want to travel and how much do you want to hill climb? You may be carrying more weight than your accustom to on the trail, at the park, or for your work commute. Will your children be riding independently? Is accessibility to retail conveniences important?
Choose a route to meet your personal safety criteria. Adding blocks and miles to avoid high traffic roads will make your journey more relaxing, it may also take you through your favorite park.
2. Choose Your Destination (aka Camping Spot)
A friend's yard across town or out of town. Free, and if they have children, there's your entertainment, bathing and kitchen facilities
City, state and federal parks with approved camping sites. Fees vary. Camp amenities vary, but most will have a place for s'mores, which are required.
Scout camps, churches and public stations. A donation could be made or fees may vary. This approach may require a few calls, but checking with area scout leaders, recreation facilities [i.e. YMCA, a soccer complex, fair grounds], and churches may yield a fun, safe and unconventional experience.
3. Plan Your Agenda
This is a S24O, you are preparing to be gone for a single night. Consider the number of meals you wish to eat while away. Think about your children's nap times, or how well they nap in transit. Will your destination provide a source of activities? Is there anywhere along the route you may like to visit?
The ride itself is a large portion of your agenda. This is your entertainment, your adventure! Explore your neighborhood, count the long haired dogs and listen for trains. Schedule your water breaks at a friend's home, ice cream parlor, or along the creek bed. Don't bring the toys, games or books. Play outside and tell a tale of your own.
4. What to Pack
How much do you really need? Make your list and ask yourself if you will use it without a doubt, if your not certain, you may not need it. What do you have on your list that could serve double duty?
Where are you going to stow all these items, and how will they fit on you or your bicycles?
Suggested List of Item to Bring:
Light tent(s) with room for all of you and gear that shouldn't get damp. Remember, you can't toss the extras in your car trunk. This may mean two light weight tents or water proof cover for the gear.
Small hammer for your stakes.
Sleeping bags. Leave the sheets and extra blankets in the hall closet.
Small travel sized pillows or your folded clothes work well.
Camp pads. These are for the adults, the children don't have heavy bony hips and shoulders.
1 change of clothes (and undergarments) for each person and a spare pair of pants for the toddler. Sleep in your clothes. Check the weather before you leave, plan accordingly.
Packable water-resistant jackets. That 10% chance of rain may occur.
Minimum diapering supplies as needed.
1 hand towel serves many purposes.
Tooth brushes for all and paste.
Pocket comb and hair bands as needed for helmet hair and head winds.
Full personal water bottles and 1 empty gallon container to be filled upon arrival and as needed. Water weighs 8lbs per gallon.
Your Olivia bag.
Cell phone and charger. Cell phones often make good cameras and camcorders. Calling card and quarters might also be handy. Technology has it's limitations.
Bike lights, they make great flash lights too.
The basic flat repair/replacement supplies. Knowing how to use them is equally important.
Deodorants.
Minimum supply of shelf stable/room temperature snacks. Plan to eat out or set up camp and visit the local grocer or market. Leave the camp stove and cooler in the garage.
Currency and identification.
Maps. Bring a paper copy of the route, for that inevitable technology failure and road closure, or sudden "Are we there yet?"
5. Where to Stow Your Luggage
What does your current bike and rider set up look like?
Do you have a commuter with panniers? Would your children haul their own school backpacks while riding their bike? Cargo-bikes with large saddle bags and extra deck space or rear/front boxes make excellent camping bikes.
Where are your passenger children going to ride? Trailer, sidecar, handle bar seat, child saddle, rear seat, cargo box, trail-a-bike, family tandem, or triple are all wonderful options for a S24O. Use what you have, borrow or rent something for the night.
Great places to secure your cargo (in and on all different styles of bikes):
Saddle bags on rear or front wheel racks
Crates and backpacks bungeed to the top of rear racks
Large backpacks for each able rider
Smaller school size backpacks for the small but mighty rider
Bungee cargo nets attached to the rear of child seats, several bungee cords to secure your load
Front baskets
Distribute weight evenly, with the heaviest items toward the bottom and as close to the adult stoker as possible.
Keep your S24O simple and fun for everyone. Pack light, travel just far enough, and expect to stay up and watch the stars!
A few pics from Stacy's recent family adventure, also check out this group of family bike campers. I'm feeling inspired…