The Campaign for a Commercial-Free Childhood has put together a yearly event encouraging children, families, schools and communities to go Screen Free and make changes towards a more active and outdoor lifestyle. This year the event will happen April 30 – May 6th.
Tales of a Mountain Mama has pulled together a group of bloggers (like us) to help celebrate with blog posts (such as this one) aimed at encouraging families to go 'screen free' next week. She's also got a week full of giveaways on her site, you can find out more information about that here.
– – – – – – – – – – – – – – – – – – –
While helping plan a father/son backpacking trip last summer, we were brainstorming about ways we could keep our boys (ages 4-6) moving on the trail. What could we do to encourage movement and limit whining…
We thought of the usual things: Plenty of snacks and treats (i.e. trail incentives), take some play breaks, emphasize the 'big boy' aspect, be patient etc.
We also brainstormed something far more genius: What about creating a kid friendly map, with pictures of prominent landmarks they could keep an eye out for. This would not only give them something to stay busy with on the trail, but would also incorporate some observation skills, as well as a little introduction to reading a map.
It was worth a try.
I can't take any credit for the final product. One of the men on the tip ran the trail the week before and took photos, then he and his wife put together the maps. I love how it turned out! The large map was printed out as a 4X6; the way-point pictures were printed out smaller. All were laminated and stuck together with a metal ring.
Here's a picture of the Map as well as a few way-point pictures.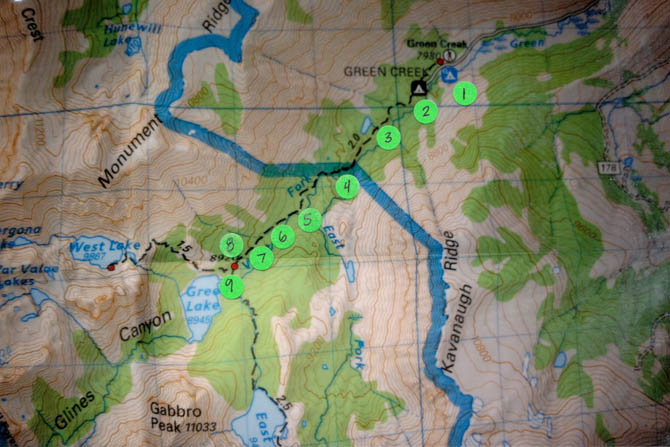 NOTE: Word on the street is that the 6 year old took to it better than the younger kids, so keep that in mind.
A couple of additional ideas I'd recommend for keeping kids moving on the trail: