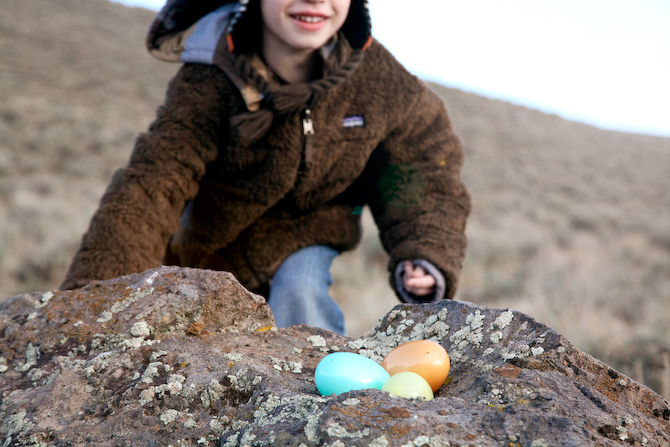 The first Easter that I clearly remember involved a basket, some plasticky green fluff, a bunch of chocolate, a candy shaped like the easter bunny, and a book about kittens.  All in a park.
The best Easter I remember involved a car, 15 or so puzzling clues, a compass, a few 7.5 minute maps and a highway map, binoculars, a bottle of water, some plastic eggs, and a picnic in the desert.  Best.  Easter.  Ever.
So fun we did it the next year.  And the next.  It became a tradition. The day before Easter, my mom and dad would drive all around northern Utah leaving plastic eggs hidden in interesting and obscure places.  Three or so eggs at each place, replete with chocolates and jelly beans, and one egg with a 'clue' to the next location where eggs and candy could be found.    They'd give us a clue to start with, follow us around for the first few, and then leave us on our own for the last ones.  The last clue would lead us to a place known only to them.  When we'd arrive, exhausted and excited from our morning of treasure-finding, they'd be waiting there with an extravagant picnic lunch.
One year went something like this:
Clue 1: Lq wkh Edfnbdug.  (A little letter-shifting code for:  In the Backyard.)
Clue 2: Look In Between the Ridges of the Arch to Reap Your reward.  (i.e.:  Look In Between the Ridges of the Arch to Reap Your reward; i.e.: LIBRARY).
Clue 3: Drive three blocks east from here.  Turn north.  Drive one block.  Turn north again.  Drive 3.2 miles.  Turn east.  Drive 1 mile.  Flip a u-eey.  Drive 2.6 miles.  Park on the west side.  Commence searching.
Clue 4: Have you looked under the seats of your car lately?
Clue 5: 6.3 air miles NNE of the jct of state street and center street in Provo, and 1.2 road miles S of jct Airstrip Road and Frontage Rd on Hwy 64.
Clue 6: Add all of your ages together, divide by two.  Find the closest scenic byway.  Drive west on it.  Begin counting miles when you pass the turn off to Tooele.  When you've gone the same number of miles as the number you first calculated, stop to look for eggs.
Clue 7: T12 R15 S3 SE1/4 SE1/4.
Clue 8: Find this feature on your map, within 0.75 miles of you:  
Walk to it.
Clue 9: 1.5 mi from here at a bearing of 145°.
Clue 10: Lunch is just ahead!  Follow Dry Creek for 60 paces, take the southern branch until you reach the elf-shaped rock.  Hike to the knoll west of it.  From the knoll, use your binoculars to find us.
Might I suggest you make a similar hunt for your kiddos this year?  We were 16 and older when we did our Easter egg hunts, so ours was complicated to keep it interesting.  But a 'treasure hunt' like this can be geared towards any age group.  Keep it in the neighborhood, the backyard, or if they're of driving age make it more complex.  Our hunts became quite popular and my teenage friends would ask if they could join us for the next year's 'hunt'.
A few pointers:
At each site, for the egg with the clue, be sure to write down the total number of eggs that should be found at that site.
Keep chocolate in cool hiding spots so you don't end up with a mess.
Make sure your clues are unambiguous, so that only one possible answer can be had (with enough puzzling).  Ending up walking too far in the wrong direction is kind of a buzzkill.
If you venture out of the backyard, pick locations where you can hide eggs that others won't find them in between the time you lay them out and your kids come to find them.