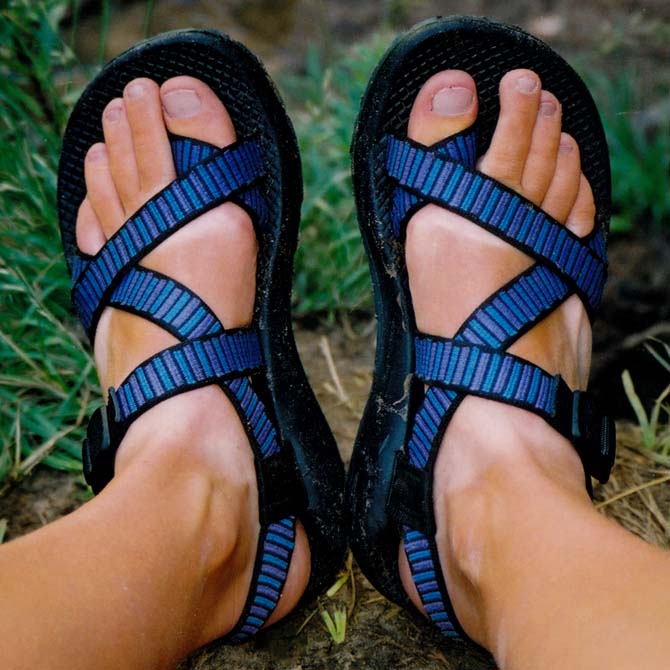 I like to think the story of how I became a Chaco Ambassador dates back to just past the turn of the century. The year was 2001. Y2K had proved a fluke–my computer still worked as it should.  The stock market hadn't crashed.  Aliens hadn't landed.  And I was more than a little disappointed. It was also my last semester of College.  My future, empty, and vast as a future without Y2K catastrophes, awaited.
I was planning a move to a little desert town in south-central Utah by the name of Escalante. I had landed a job on a research crew studying the native bee population in Grand Staircase Escalante National Monument. I knew the job involved a lot of hiking, backpacking, and observing in extremely hot weather, in a country replete with sand.  So I  purchased a brand new pair of Tevas (my sandal of choice since the late 80's) to celebrate the occasion.
I packed up my '85 Corolla with all my belongs. Â My hope chest, a 20-gallon blue cooler, sat in the back, nestled between my trusty sleeping bag, a bag of clothes, and a water jug. I set my sparklingly clean new shoes on top of the car, under the kayak mounted on my homemade 2X4 roof rack. I ran into the house to bid adieu to my roommates. And I hit the road!
Somewhere around mile 14 something else hit the road. I saw a foreign object fly off the roof of my car and land smack dab in the middle of the highway.
Yep. It was a Teva. Â Of course, it was only one of them. The other shoe was nowhere in sight. I drove back and forth several times trying to find its mate, but to no avail. Â After hours of angst and guilt at the loss of my new shoes, I gave up. Â Knowing there was nowhere to buy sandals in Escalante, I stopped at a local gear shop to buy another pair.
Believe me when I say that I entered the store intent on buying a new pair of Tevas to my replace my recently lost beauties. Â Believe me when I say I was shocked to emerge with some fancy new shoes called 'Chacos'. Â I didn't even know how to say it (then again I never knew how to pronounce "Teva" either).
I'd heard of these so-called Chaco's before.  But resistant to change as I am, I swore I'd never own a pair.  My uncle was one of the first Teva sales reps in the U.S.  My entire family of eight owned a pair (if not two).  We loved those sandals; Teva's were a family thing.  In the same way that voting for the opposite political party from your father is something never to be spoken of, owning a pair of these new-fangled foot-apparel, was, well, borderline sacrilegious.
I guess I'm a sucker for a cute salesmen with a foot-tan.
In this case that turned out to be a good thing. My life was forever changed. Never have I loved a sandal so much as I did (and do) my Chacos. To this day they comprise 50% of my footwear.
And what does this new Ambassadorship mean for the blog? Well, I'm sure you'll notice the upgrade in my kid's footwear.  You'll probably also likely see a giveaway or two.  There'll be occasional updates on Chaco happenings. And in addition to my regularly scheduled posts here, I'll be writing monthly articles on their blog.
And I'll be one happy blogger, living my life as usual in some pretty awesome sandals.
Thank you Chaco, for my foot tan, for tagging along on my adventures these last 11 years, for allowing me the chance to work with y'all, and for making amazing sandals.