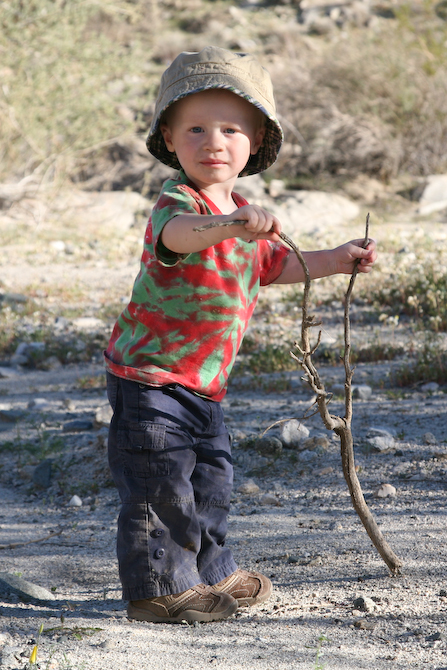 Does this sound familiar? Â You've….
loaded your pack with snacks, bandaids, baby wipes, extra clothes, spare kleenex, candy, and a bazillion other things
cleaned off the carseat(s),
strapped the kiddo(s) into the car,
driven 25 minutes to an exciting looking trail head
sung row your boat and the song that never ends over 346 times on the drive
extracted the kiddos from the car
and set them off down the trail….
only to find that they are tired and ready to go home five minutes into the hike. Â You try candy, coaxing, singing, follow the leader, knock knock jokes and as many other tricks as you can think of, but have only made it another 50 feet down the trail… and two hours have passed. Â Let me recommend one more trick for getting little ones moving down the trail (and, truth be told, this still works on me today): the Hiking Stick.
Tell them they need to find a hiking stick because it will give them the energy to go further. Â They'll try 30 different sticks, cruising down the trail in search of new and improved ones, and totally forget that the point was to go for a 'walk'. Â They'll try them forwards and backwards. Â Between their legs like a horse. Â Over their shoulder. Â It might turn into a gun. They'll balance it on the palm of their hand. Â And who knows what else they'll think of.
Point is, they won't think about the hike. Â Tell them to find you one too–it has to weigh a certain amount, be a certain length, be the right height, have a curve for your grip, etc. Â The hiking stick is the ticket to at least 100 extra feet. Â And if you're in the Mojave and there are no 'sticks' to be had? Â Substitute something else: Â find me a white rock, a tortoise shell, a flower, etc. Â Scavenger hunts are wondrous motivators.