Our family tent is currently an older REI Half Dome 4, it's worked nicely for us over the past 6 years. We currently sleep 2 adults, 2 kids and a dog quite comfortably. I suppose we can even fit the new baby in there for awhile, but eventually we'll need an upgrade.
I've been thinking about what kind of tent to get for the next phase of our lives, so when Joe got an email from a friend last week (hi Dave) asking him for advice on choosing a family tent, I realized I wasn't the only one stewing over this. And thus, this post was born.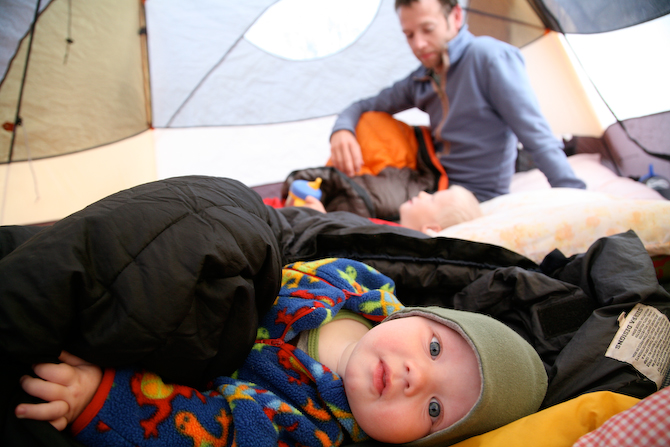 Here are a few things to consider when choosing a tent.
1. What kind of camping are you going to do?
Backpacking (or river trips): Obviously you will need to consider the weight and size quite seriously.
Car Camping: You can get something more roomy and a little heavier, but make sure to consider how much       space you'll have available in your  vehicle.
Road trips: You'll be putting the tent up and down a lot (sometimes in the dark, often by yourself while your spouse tries to keep the kids from running through a cactus patch), so make sure to get something with a simple design so it's easy to set up. Also, campsite sizes will vary if you're moving around a lot, so pick something on the smaller side.
Stationary camping: If you're setting the tent up once, in a place your familiar with, and staying put you can choose a tent that's bigger and more complicated to set up.
2. How much and what kind of space do you need?
Do you want to be able to stand up in your tent?
Do you want to store all your bags inside the tent, under the tent vestibule, or leave them in your vehicle?
Do you mind all being squished together or do you want something roomy? Two rooms perhaps?
Will you need enough room to fit some sort of pack-n-play device?
Need room for the dogs?
Again, how much space do you have in your vehicle to fit this tent?
3. How often do you plan to camp?
Once a year: Although I personally believe in getting a good quality tent, if you're not going to use it very often you can probably go with a discount store brand tent. It's better to get a cheap tent, than to not camp at all!
Several times a year: If you're going to give your tent a lot of use, get a good one. Most higher quality brand tents come with warranties.
4. What kind of weather will you be camping in?
I'm canceling if it's bad weather: If you don't plan to ever camp in bad weather a good rain fly is not as important (although keep in mind the possibility of an unexpected storm).
I'm willing to camp in most weather conditions: Pay close attention to the rainfly. You'll need one that keeps out precipitation and dirt/sand if it's windy.  Make sure the bottom of the tent is like a 'bathtub', with raised sides and seams above floor level.  Also, you'll need something durable.  Look into getting a 3-season or 4-season tent. Pay attention to the design of the poles:  Fiber-glass tent poles break fairly easily after awhile. Aluminum tent poles are lighter weight and fairly durable.  Think about the number of tie downs, and the quality of the tent stakes too!
5. How long do you want the tent to last you?
Quality: If your looking for something to last you well into the future it's worth the investment to get a good quality tent (see more thoughts on quality below).
Family Size: Say you only have one kid right now. A 4-man tent will do just fine. But what if you want two more kids? Do you want to plan for that now, or upgrade when the time arrives?
6. Where and when do you camp?
Desert in the summer: You'll need a lot of mesh on that tent to get the breeze blowing through–doorways on both sides are really nice too because they let the breeze flow through.
Along the coast: Mesh could be good here as well, but be sure to consider the possibility of wind storms on a beach, and all that dew that settles on your tent at night.
Mountains: Depending on the time of year a lot of mountain locations will be hot during the day and chili at night. You'll want a well ventilated tent during the day (for naps) but has a good rain fly to keep the warmth in at night (depending on time of year, might also apply to deserts).
Winter: Get a good 4-season tent (or build a snow cave).
And two final pieces of advise.
Take care of what you get.
REI has some great advise on caring for your tent, but a few of the precautions we always take:
When setting up a tent make sure to close all zippers. It's very easy to kink an open zipper and ruin it.
Sweep or shake out the tent before taking down. Try not to track a lot of mud/dirt in the tent. We keep a broom and dustpan near the door, and often throw an old piece of rug, or car floor mat in front of the entrance (if we're car camping).
Make sure to thoroughly dry out your tent after use. I usually set mine up at home for a day or so after a trip to make sure all the moisture is out. If we've been camping at the beach I hose it off to rinse the salt spray.
Always use a footprint, you can even make a tent footprint yourself.
Buy quality.
I personally believe in getting a good quality tent. Quality doesn't necessarily mean expensive, but the return on your investment will not only be comfort, but also peace of mind on a trip—fewer zipper problems, tears and pole breaking. Quality also has a greater resale value if you decide to adjust your equipment needs. Be sure to look into return policies and warranties, this is why we chose to get ours at REI.
Any other words of wisdom?