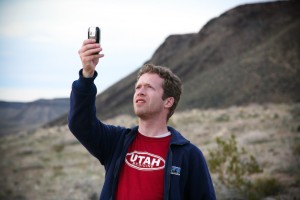 I got an iphone just before Christmas.  I love it… mostly because it works all the time.  But as an added bonus, it turns out iphones are like swiss army knives where you get to choose the tools and gadgets it has.  (Bejeweled, anyone?)  I've been looking at outdoor apps a lot (I got an app store gift certificate for Valentine's Day) and thought I'd share with you the myriad choices available to the nature-lover… I've included both those useful to the iphone-folk as well as the droid-folk. Of course, I put several under each numeral; these apps achieve the same end-goal, but go about it slightly differently.  I'm all about providing options!
Mapping/Hiking Apps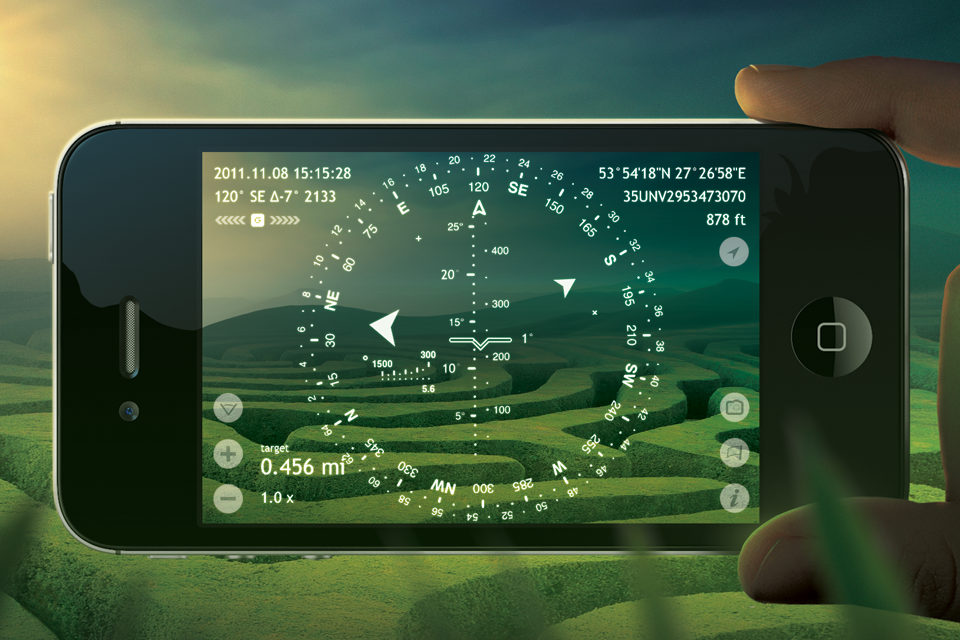 1.  I just discovered spyglass (pictured at left), and it may be the most useful and perfectly functioning tool on my iphone.  It's a real-honest-to-goodness compass, complete with sextant, rangefinder, and gyrocompass.  You can tag locations, put everything on a map, and add in some planets for fun!  Compass, for the droid, is also a nice and easy-to-use umm… compass.
2.  Mytracks, for the droid, keeps track of your path/trail, including how fast you travelled, the time it took, and all sorts of other interesting tidbits.  It works seamlessly with google maps (which is an exceptional program all by itself).  Backcountry Navigator is similar (also droid), but much fancier and much pricier.  Accuterra, for the iphone, is nice because you can download fairly high quality maps just for the areas you need–this saves memory on your phone.  You can track your hike, add photos, and watch the changes in elevation as you go (but see also Motion X below).  Another mapping app is Alltrails–nothing fancy, just topos of the areas that interest you.  Like paper, only digital; available for iphone and droid.  Finally, there's TrailBehind (also called Gaia GPS)–offline topo maps for the intrepid explorer, for either phone.  If only smartphone screens were bigger!
3.  For looking at elevation, you can try Peaks for the iphone.  It doesn't work in my neck of the woods, where phone reception is spotty.  But in more populated areas of the country, it might be spectacular!  As you hold your phone up to view the landscape, it adds in the names and heights of peaks on the horizon.  Similarly, there's  Peak.Ar, for both droid and iphone.  There is also Elevation Pro, which tells you your current elevation (obtained both from topo maps, and from the gps satellite in your phone), as well as the elevation of any other point you can find on a map.  Get Altitude, for the droid, looks just at a map to tell you your elevation.  An app that gets it from satellites for the droid is Altitude Free.
4.  Google Earth.  Does it need an explanation?  As if it wasn't great enough on my desktop, now I can take the earth with me.  How I love google earth.  P.S.  it's free.  Park maps is basically all of those national park maps scanned in for your viewing convenience.  It's not easy to look at, but the maps are there, nonetheless.  And it's only a buck.  Be warned–it only works on AT&T iphones. 
5.  MotionX GPS was recently voted the best iphone navigation app out there.  I concur.  For under $5.00 you get all the functionality of a separate clunky GPS unit.  Think of what your GPS does for you: tracks your position, adds important waypoints, tells you how fast you're going, etc.  This does that too.  For 1/20th the price.   For the Droid, there's the free Google Maps Navigation.  Nothing beats it.
Field guide Apps
1.  Audubon guides.  Available for i-devices, nooks, and also droids, the audubon nature guides include apps for identifying mushrooms, birds, wildflowers, trees, and tracks.  They're pricey–running anywhere from $9.99 to $25.00, but they're thorough and many cover the whole country.  The newest version (I covet thee…) of the Audubon bird guide includes real-time sightings of rare birds in your area–how cool!  Birdseye also does this, and is highly recommended if you've got the money ($19.99).
2.  Also good is the Peterson bird guide (it won Best Outdoor App of 2011).  It's slightly cheaper than the Audubon version ($14.99), but isn't available for the droid.  If you're a Sibley fan, they also makes a bird guide available for both i-devices and droids… it's a little less interactive than the other two guides mentioned.  Finally, there is iBird; at only $0.99, it's a bargain!
3.  Scats and Tracks of North America is fun for the intrepid little explorer.  It isn't comprehensive, but includes most of the common things one might encounter (minus the domesticated critters that frequent our trails)–it's available for both the droid and the iphone.  Mynature puts out several iphone apps for trees, tracks, and the floral and fauna of some of our national parks.  I have yet to try these to see if they're actually any good, though.
4.  Leafsnap (pictured above) is an app with beautiful pictures of tree parts, for all of the trees of the northeast–they promise to soon expand to include the entire U.S.!  The best part?  It's free (too bad it's only made for iphones, though).  For Californians, Earthrover puts out some wildflower identifying apps that are nice–my favorite part is that you can narrow your search by time of year, location, etc.  Audubon (listed above) makes wildflower guides for areas of the U.S., as well as the whole country.
5.  Finally, I love the wild mushrooms of North America… sometimes I just flip through it for fun.  There's a full version for $2.00 that I'll probably get soon.  But the lite version is also interesting.  It is also available for the droid.
Skiing/Surfing/River/Biking Apps
1.  iTrailMap has maps of nearly every ski resort in the U.S.  I was skeptical, so I tried to stymie it with the little ski resort near our town.  The joke's on me:  it was there!  And… it's free (thought you can pay for the 'advanced' version).  (Check out Ski TrailMaps Pro for the droid).  You know what else is fun while you're skiing?  Keeping track of your speed, elevation change, and miles skied in a day.  Check out SkiTracks for a little entertainment.  It'll set you back a buck.  (They have a biking version too, by the way.) Of course, you'll need a ski and snow report too…  this version, appropriately called the ski and snow report is simple, elegant, and cheap as they come… it's also available for the droid.
2.  I only found one app for River lovers.  It's called RiverGuide.  Some think it's awfully prone to crash, but that's all there is, folks!  Alas, there is no equivalent for the droid.
3.  Interested in the sea?  Check out Magic Seaweed, which provides surf forecasts around the world, looking up to 7 days ahead, and factoring in wind, temperature, and other important factors.  Yep, it's free.  Yep, it's on the droid too.  I also like TideGraph, but that may be because my brain can grasp its simple graphics–it'll run you $3.00.
4.  If you're a biker, check out Cyclemeter, which tracks your progress efficiently on your iphone.  MapMyRide puts out a whole series of apps for the droid, i-device, etc., geared toward the biker or runner.
Star-Watching Apps
1.  How I LOVE my Star Walk 5 Stars!  So completely worth $2.99!!!  Alas, it is only available on i-devices.  For something similar for the droid, check out Google Sky Map, which is free.  I am told that GoSkyWatch (pictured at left) is as good (or better) than Star Walk, but haven't tried it.  They're both about the same price.  There is a planetarium version and a satellite version, depending on where your curiosity takes you.
2.  SunSeeker tells you everything you ever wanted to know about the sun, and the path it tracks through the day.  There's a lite version (free), or you can pay for full-features.  Too complicated?  Here's a much simpler app for sunrise and set.  For the droid, check out sundroid, or 3D sun.
3.  If the moon is more interesting to you, I like iEphemerus (the free one is kind of buggy, so you'll have to pay ), which also displays information about the sun.  The moon atlas shows you the moon's surface, which is fun–but this app is a bit expensive it seems ($5.99).  For a decent free version, check out moon map.  For the droid, Moon 3D gets rave reviews.
4.  For lots of fun, explore the Exoplanet app, which is constantly updated with newly discovered planets!  There doesn't appear to be a droid equivalent.
How-To Apps
1.  GoTo Aid is an okay app for what to do in a medical emergency… oddly there are very few apps out there as medical references.  On the droid there's First Aid.
2.  There are a few in-depth survival guides that have been scrunched into apps for your smartphone.  All of them are simply manuals or books that you can reference in a pinch (all are available for droids and i-whatevers:  SAS Survival Guide, the Army Survival Guide, or the just plain Survival Guide (the same company makes a mountaineering guide).
3.  I found three good Knot Tying Apps:  Knot Time has great little videos, and plenty of useful knots… it's only a couple of bucks, so 'knot' too bad (ha ha).  What Knot To Do (pictured at left) is FREE!  And works really well.  There's also Orvis Fly Fishing, available for both droid and i-devices, which tells how to tie fishing knots, as well as giving you updates on local regulations, what flies are working, etc.  Droid also has the Knots Guide, which gets good reviews.
4.  If you want help getting together everything you need for a camping or backpacking trip, check out Backpacking Checklist.  Or for a less specific packing app, try Packing Pro, which has been well-received by App-Geeks.  For the droid, there's Packing List.
Other Apps
1.  Here's an app for calculating the number of coals you need for your dutch oven to reach a certain temperature (droid only).
2.  Trying to find a campsite close by?  Campwhere might help (iphone).  Or try Camp Finder for either kind of smartphone.  ParkRanger also puts out a very handy series of apps with all the state parks for any given state.  Its elegantly designed and easy to use.  Not all states are in yet, but many heavily-populated ones are, so check for yours.
3.  To get your kid in the nature mood, entertain them with Let's Go Chipper (pictured at left)–educational and award-winning.
4.  Finally, don't forget a flashlight app for either your i-device or your droid!