**Giveaway has ended. Thanks for all those who participated!**
Yep. We made it. This blog has officially been alive for one year! Â It all started with a post about minivans and a whole slew of people willing to share the site with their friends.
Do you know what the best part of this blog has been for me? Â It's provided a new way for me to 'meet' moms and dads who care as much about incorporating the outdoors into the lives of their children as I do. Â I've learned so much from you folks, and enjoy every chance I get to interact with you. Â We can't thank you enough for being a part of this blog.
But before we get ahead of ourselves and talk about trivial things like $50 REI gift certificate giveaways, here are a few stats from our first year.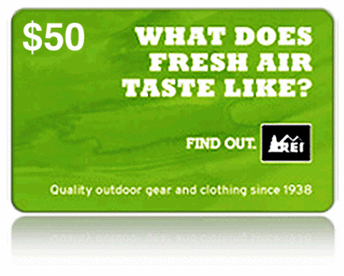 29,341 – # of individuals who visited our website
∞ – # of thanks we owe all the aforementioned visitors
136 – # of posts we published
1,349 – # of comments left by all you lovely visitors
1 – # of blessed, blessed blog-saving contributers

211 – # of times our most popular post (make your own hammock)Â was shared on facebook and twitter
252 – # of days I've spent pregnant
22,290 – # of times the video How to Turn your Minivan into an RV has been viewed
50 – # of dollars you could win to spend however you wish at REI
Please note that 'smooth' segue into our one year anniversary giveaway…
So yes. Let's giveaway a gift certificate to REI! To enter you MUST leave us your best camping tip. Just one simple tip will do. This can be something having to do with food prep, cooking, camping with kids, camping with dogs, storing gear, organizing it in your vehicle, pre-planning, etc… The possibilities are endless. Winner will be chosen at random.
Rules:
You MUST answer the question (above) to be eligible.
You must supply me with a valid email address when you enter.
You can only enter once.
You must be 18 or older.
The contest starts now and entries must be date stamped by our server no later than Wednesday, March 28, 2012 at 10:00 PM Pacific Time to be eligible.
The winner will be chosen using the number generator at random.org and announced on this blog Thursday, March 29th.
Giveaway is open to U.S. and Canada residents only (sorry, we ran into ordering restrictions).
Winner will be notified by email and will have 24 hours to reply to my notification. If I don't hear back, I'll pick another winner.