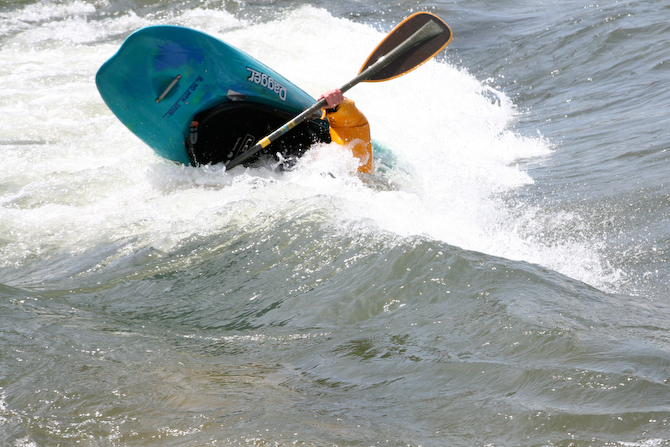 Last spring was the first time I'd taken up playboating with any degree of seriousness. Playboating is where you dabble in the waves, skirting the edge of tumult, and using the force of the water to move around, but never really downstream.  Truth be told I'd rather run a river any day, but unfortunately my life situation (little kids to care for, a husband with a job, and–oh yeah–the lack of rivers in Nevada) doesn't allow much time for that. Instead I started going down to the kayak park with a friend of mine; a fellow Mom and an amazingly good playboater.
I often met her down at the kayak park just as Joe was getting off work. I'd bring the kids down and Joe would meet us there on his bike. Joe and the kids would catch crawdads, throw rocks and play on the playground. I would play on the waves and as soon as I had sufficiently trashed myself we'd all drive home together.
One day in particular Joe and the kids were sitting on the sidelines watching me. As usual, I kept getting dumped over in the wave (i.e. tipped upside down). Despite the fact that I'd always roll back up, this really concerned Ari. He kept yelling at me to "be careful!"  Eventually he caught on to what was happening. He would still get worried when I went upside down, but he also started to celebrate with me if I actually did something that resembled a trick. "You did it Mom!" became music to my ears. So was "try it again Mom". He made me try harder.
A few days later I was back at the kayak park; the kids were home this time. As I was trying a new maneuver, I failed and flipped over as usual… only this time I also failed to roll up. It was the first time in about 8 years I had to take a swim. I was not happy. I actually ended up swimming twice that day and left feeling totally discouraged. And pretty mad.
I was in such a bad mood when I got home.
Ari overheard me telling Joe about what had happened, then witnessed me sulking around the house.  Eventually he got up the nerve to come talk to me about it.  Shyly, he sidled up next to me.  "Mom, it's okay that you came out of your boat, you can just try harder next time."
What? Ari was telling ME to try harder next time?  The very phrase I use to inspire my son to hike a little farther?  Bike a little longer?  Read a little better? Wow. Maybe he does listen to me…
I was suddenly struck by the thought that involving your kids in your outdoor hobbies is a really good thing.  Not just so they themselves could get outside (which was my original motivation for bringing them), but because I'd also given them a chance to see me do something that was really challenging for me. I'd given them opportunities to see me both succeed and fail. Then see me get back up again.
It's good for kids to know that even parents have to keep trying. Â It's good for parents to remember what it feels like to fail. If kids learn by example, what better example is there than to watch their own parents "try harder next time?"
______
This post is part of a series based on "life lessons learned from/in the outdoors." See more posts in this series.