Valentine's Day is typically one of those holidays that come and go with little notice from us. We give cards and use it as a good excuse to eat Indian food, but that's about it.
This year things were different. Ari's old enough to realize when a holiday is upon him, and he wanted to celebrate with great fanfare. He had plans. His plans started with wanting to decorate the van. No, not his room. Not the house. The minivan. I guess that's how it all started. After I realized we were going to be decorating the van, I figured we better go somewhere and celebrate amidst the decor.
So Ari and I decided to plan a surprise party for Isaac and Dad. We whispered ideas back and forth, and as soon as Isaac went down for a nap, the crafting began. I have to admit, for someone with a crafting phobia (me), we did a pretty darn good job decorating.  I know I'm running the risk of becoming a pinterest sesation by showing you this, but I have to share.
Behold, the final product.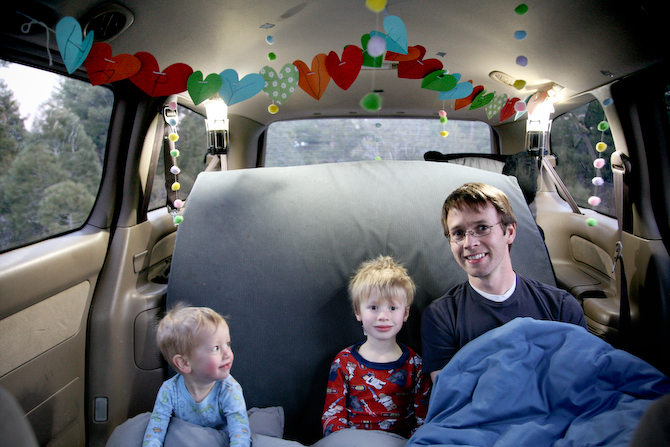 As we decorated we hatched the rest of our plan. The evening went mostly as planned, it unfolded like this:
Eat dinner at home (breakfast food with muffins).
Drive up to the forest to play games.
Get to the trailhead, immediately realize I remembered everything but my shoes. Hike in my socks.
Play Game 1: "Stick in a Bush", a game Ari invented all by himself. You hike down the trail, find a bush with leaves on it, stand far away from the bush and try to throw a stick in it. It was a hit. Until Isaac got hit in the head with a stray stick.
As soon as the sun starts to go down, head back to the van.
Lay out the bouldering pad, get PJ's on, unpack blankets and prepare for Game 2, the "surprise game".
Open the surprise game, realize it takes batteries, drive to a gas station, pay way too much for batteries, drive back into the forest.
Play Game 2: Lets Go Fishin' (with battery installed). Played by the light of the lantern while snacking on goldfish crackers and fruit.
Star gazing from the van with some help from the star walk app. Diiiiidn't go so well due to clouds, app failure, and Isaac all the sudden deciding he was afraid of the dark.
Drive home, kids fall asleep in their car seats. Perfect.
I dare say we just might have started some sort of tradition… I don't mind. It was definitely worth repeating. I highly recommend trying the van party.
Pics from the evenings festivities.