I sent the following email to my friend Amber the other day:
I'm thinking of doing a blog post about teaching kids to ski. I was wondering if you could help me out since my kids don't really ski (yet). Will you send me your 5 best tips/advice when it comes to getting kids off on the right track? Please. Pretty please?
This was her original reply…
#1. snacks
#2. snacks
#3. snacks
#4. sun
#5. patience
I can see why our kids are such good friends, they both speak the (probably universal) kid language of 'snacks'.
Then she sent me a few more ideas. I was thoroughly impressed, and think that a lot of her ideas could actually apply to teaching your kids pretty much any new outdoor sport.
Also, FYI: She has 3 kids. Ages: 0, 4 and 7.
_________________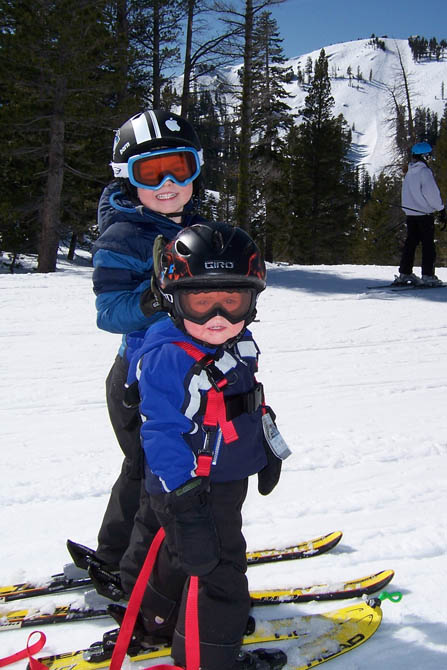 So you want to teach your kid how to ski? Nothing else can provide so much outdoor enjoyment during the cold, and hopefully snowy, winter months. But how to begin? I had to consult the practical, organized one in the family (my husband, Alex) to make sure all of the bases were covered and we came up with the following list… (Listed in order of importance. According to me).
1. SNACKS
For our children, everything is more enjoyable when there are snacks involved. Actually, everything's more enjoyable for me when there are snacks involved!
The adults are in charge of stuffing the pockets of their coats with snacks of various kinds. The key to choosing an appropriate snack is taking into consideration the "sticky when damp" factor. Fruit snacks hold up surprisingly well, candy cane pieces, not so well. It's also best not to take along candy that is individually wrapped (ex. Starburst), It's no fun explaining to your little skier that you can't go pick up the litter that is fluttering down to rest on the steep cliff beneath you on the lift.
We've found that it is necessary to be strategic with where snacks are administered: Ski lift…yes, ski run…no (it makes the run interminably long). Lodge…maybe (depending on how cold the day is). The lodge can be a black hole, once you venture in, the likelihood of getting back out onto the slope is poor. Our kids are usually good for only 2-4 hours of skiing. We feed them a good breakfast then tide them over with snacks until lunch time. We usually save the lodge for hot chocolate and lunch after the skiing is over. Or, if they let us get away with it, lunch in the car on the way back home.
Timing of snacks is key. Too many snacks and you have no leverage to encourage your tike to take one more run. Our system is to give 2 pieces of candy on the "baby lift", 3-4 on the "big kid" lift. Â It's amazing what kids will do for 1 or 2 more pieces of candy!
2. PATIENCE
As with any new activity you start with your child, patience is key to success (success in skiing = your child has fun and makes it home in 1 piece, you keep your sanity).
One of the ways we have found helps us (and our kids) to keep our patience is to keep our ski day short (initially at least). This gets more challenging as you add more skiers to your family. Our oldest could ski for hours longer than our youngest. It helps to have two adults in the group, one to  take the tired skier to rest while the other takes the excited one out for a few more runs.
Another important aspect to remember is that the little legs of kids wear out quicker than adult legs do. When your 2 or 3 year old says their legs are tired, listen. If they continue to complain even after all of your attempts at distraction ("oh look, there's the race track again…can we race one more time to see if I can beat you?"), call it a day. Or at least take a break.
Something else we've learned over the years is to not expect the most amazing day of skiing ever when you take your kids along. As a parent, you're there to help nourish the love of skiing and enjoying winter in your child. Recognizing this helps put a different perspective on your experience. Â That being said, the kids stay behind on the "powder" days. If all goes as planned, they will be there with you in a few years.
3. SUN
Especially in the beginning, it helps to save the great snow days for when your child is more advanced. Choose a nice, sunny day to take your child skiing for the first few times. Not only is it warmer (at least it seems warmer), but it makes the snow more manageable. It's not easy for little legs to plow their way through un-groomed snow. Â It won't be long before this doesn't matter as much, but at first, it's a good idea.
4. PROPER EQUIPMENT
The practical one in our family brought this up. Â It is essential that your little ones have the proper equipment. This includes:
Proper fitting boots and skis (no poles at this stage).
Clothing: Warm gloves (nothing is worse than having cold hands!), warm coat and ski pants (bibs are nice–they help prevent the snow from packing down into the underwear on the many falls your child will take).
It is important to dress your child in layers because the temperature can vary throughout the day.
A helmet (the nurse in the family has seen too many kids permanently altered because a helmet wasn't used).
Goggles, for sun and snow protection.
A ski leash for beginners, to prevent them flying down the mountain out of control.
A hat is not normally necessary because most helmets are insulated.
Another thing that is important to remember is to apply sunscreen to the exposed areas of your child's face!
5. MAKE IT FUN!!!
For yourself and your child. Play games.
One of our kids favorites is "follow the leader"–great for skill building. As they get more advanced they can follow each other over jumps, into powder, through the bumps, through terrain parks, etc.
They also like to "race" us and each other. This one can be done after you verify that they can stop…every time. And no "flying pizzas" as one of our friends likes to say. Make them turn.
We also like to have them do "obstacle courses", it makes them turn and adds a bit of fun.
We have loved being able to teach our kids to ski. We feel that it has enhanced their love of winter and heightened their anticipation of the snowy months between Christmas and spring.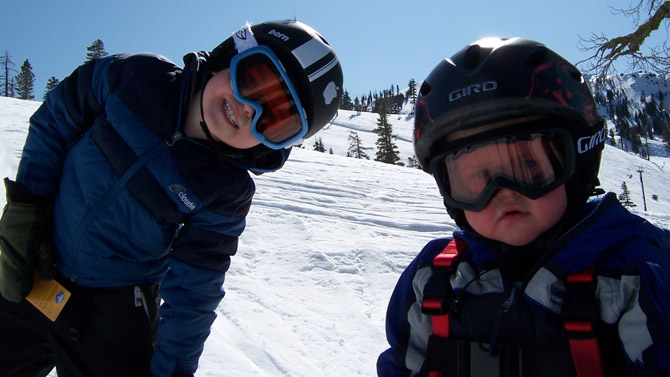 Good luck!
Any additional skiing tips for those of us who have yet to venture into the world of kid skiing?