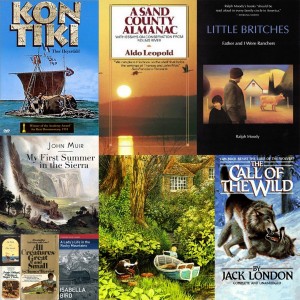 Here it is!  The final installment of our list of books about nature and the outdoors for your kids!  So far we've covered books you can read to your little ones, intermediate readers, and now we progress to advanced books, for the avid and proficient reader.
This was the hardest list yet for two reasons 1) advanced reader and adult book are hard to distinguish between (and in many cases are the same thing) which means that 2) there were a heckuvalot of books to choose from!  I've narrowed it down to ten (and okay, so I cheated and included a few extras) that are mild enough for the younger mind, who may be able to read adult literature easily, but may not be able to process some of the more… shall we say… complex outdoor themes found in books for adults.  For that reason I left off several good books that had any blatant political overtones about the natural world (i.e. Edward Abbey, much as I love him), a few of my favorites that had adult language or themes (Touching the Void, Botany of Desire, etc.).   (Perhaps I'll do an Adult reader list down the road?)
It is interesting to compare the three lists.  The book list for the younger reader shows an emphasis on nature, and changing seasons, and animal life.  The intermediate reader list emphasized adventure and survival.  This list has a little of both–but what is most distinctive about this list is that all but one of the books listed are true stories.  There are very few fictional nature stories for advanced readers (as far as I can tell).
I'd be interested to know of any that you've come across!
1.  My Family and Other Animals (and the rest of the series by Gerald Durrell)..    I've only read one of the series Durrell wrote, but I was so captivated that I fully intend to read the rest!  This story masterfully chronicles life after his mother moved the whole family to the Greek island of Corfu when he was a boy.  His stories of his family are perfectly meshed with stories of the natural history of the island.  Did I mention that it's hilarious?  Durrell went on achieve distinction as a zookeeper and establisher of wildlife centers.
2.  All Creatures Great and Small by James Harriot.  I read this book when I was 13… it's where I learned the word 'flatulence'… a condition an English bulldog was suffering from, much to the dismay of his ladylike owner.  Harriot was a veterinarian who worked with creatures of all kinds.  He also has a knack for telling a story, and they (almost) always end happily and making you love the character of your own pet just a little bit more.  If you like this book, Harriot has three others along the same lines, I think.
3.  A Sand County Almanac By Aldo Leopold.  I actually read this book when I was 17, but wish very much I'd happened upon it sooner.  My poor friends; I would quote lines from it to them, thinking Leopold's words would better emphasize an important point I was trying to make.  I'm sure I did it with a far off look in my eye, my nose pointed pompously in the air, my fingertips touching each other in the manner of all erudites.  I tell you this not to take away from one of the best books written in the last century, but to emphasize what a profound effect this book had on me.  It documents the area around Leopold's home in Wisconsin, emphasizing the natural history throughout the seasons, as well as the place of humans in this environment.  Did I mention that he's a poet?  And an environmental icon?
4.  The Call of the Wild by Jack London.  This is the story of a dog who is sold for 100 dollars and sent to Alaska during the gold rush.  It is a story of survival, and loyalty, and the fine line between civilized and wild.  I still remember the description in this book of Buck, the star (dog) of the book, pulling a load of over 1,000 pounds.  London is a fantastic writer, and this is a fantastic story.  Some of his descriptions are a little gruesome for the very young, but this story of a dog is one that all will enjoy.  (And if you like this, also check out White Fang; or if you'd rather read about the theme of tame vs. wild, but with horses, try Misty of Chincoteague).
5.  The Wind in the Willows by Kenneth Graham.  Okay, so this book anthropomorphizes its animals… not a little, but a lot.  So they're more human than me (as I lick the last of my lunch off my fingertips).  But the imagery is fantastic, and the theme of nature is in every sentence.  Graham achieves a sense of mysticism that plays out in the background even while his very human characters bumble around in the spotlight.  Wonderfully written… and there are little short stories in between (if you don't get an abridged version) which are great to read aloud!
6.  My First Summer in the Sierra by John Muir.  I thought about putting Thoreaus's Walden on this list, but it's a little dense–too thoughtful, and hard to plow through at times (though still good!).  It didn't seem right for this list.  But this book.  Man oh man.  I couldn't put it down!  Muir, it turns out, was a bit crazy; literally high on nature!  That's the sense I got from this well written book.  And his description of hiking up the side of an ice waterfall and then getting caught in an avalanche is incredible–especially his conclusion that that was kind of fun!  The best part is that his looniness is contagious.  I felt a bit giddy, with the urge to run, giggling, through a field of wildflowers after reading this book.
7.  Little Britches by Ralph Moody.  Oh how I loved this book.  I was 14 when I read it, and remember washing the dishes while having it propped open in the window so that I could read while I washed.  This may be the first book that made me cry; so for that reason I've put it on the advanced reader list.  This is the true story of Ralph, whose parents moved from the east to Colorado to become ranchers.  It's about what its really like to live as a homesteader.  A perfect combination of adventure, outdoor life, and family life.  Unforgettable.
8.  Pilgrim at Tinker Creek by Annie Dillard.  This is a wonderful book, full of amazing metaphors and descriptions that you understand with all your senses.  The emphasis is on awareness, and paying attention to the world around you.  This is the sort of book that makes you see things differently when you go hiking after you've read it.  It's also a bit philosophical, questioning the terrible ways that things die in the natural world, and how mother nature doesn't seem to care.  Important concepts for any growing kid to think about, but best understood by the older children I think (and if your kids like this, have them check out Indian Creek Chronicles–a little less philosophical (though it isn't absent), a little more adventurous, and gives a clear idea of what it means to actually work outside.  Great book!)
9.  Kon-Tiki:  Across the Pacific on a Raft by Thor Heyerdahl.  I was 19 when I read this, but it is completely appropriate for ages younger than that.   Thor is on a quest to see if Polynesian myths about people coming to their islands from South America, so he builds a raft and tries it out!  His recounting of life at sea, and the creatures he encounters will satiate the imagination for months after you've read it (and if this is interesting to your kids, have them check out the more sobering–but still amazing–book Adrift: Seventy-six Days Lost at Sea).
10.  A Lady's Life in the Rocky Mountains by Isabella Bird.  What a lady!  Here is a woman, in her early 40s, who decides to see the Rocky Mountains.  In the winter.  In the 1870s.  By herself.  On the back of a horse.  Wow!  She's humorous in her writing, easy to read, and incredibly inspiring!  (And if your kids like this, try Mrs. Mike–about a lady in Canada who marries a mounty.  This is how romance novels should be…  Also in this category:  Ruffles on my Longjohns, and I Married Adventure.)
So like the last two times, I'd love to hear your own favorites!  Leave them in the comments!